Taxis in Lyon
With more than 70 taxi ranks dotted around the city, finding a Lyon taxi couldn't be easier. Grabbing a taxi to move around the centre is a fantastic way of exploring the second most popular destination in France. Lyon is a vibrant metropolis with alluring architecture and a buzzing nightlife, a first-class choice for anyone who enjoys luxury. So if you are visiting the city for a few days and could use some extra time for sightseeing, consider taking a Lyon taxi for your transportation, especially if you are travelling with children or in large groups.
TRAINED DRIVERS
Hand picked & english speaking drivers
LOW PRICES
Same price as a regular Taxi from the line
FLIGHT MONITORING
Drivers are always on time
QUALITY SUPPORT
24/7 Email & Phone support
How much does a taxi cost?
Night time


(00:00 - 05:00)
FROM GARE DE LYON-PERRACHE TRAIN STATION TO LYON SAINT-EXUPÉRY TRAIN STATION
FROM LYON PART-DIEU TRAIN STATION TO GARE DE LYON-PERRACHE TRAIN STATION
FROM GARE DE LYON-PERRACHE TRAIN STATION TO ZOO DE LYON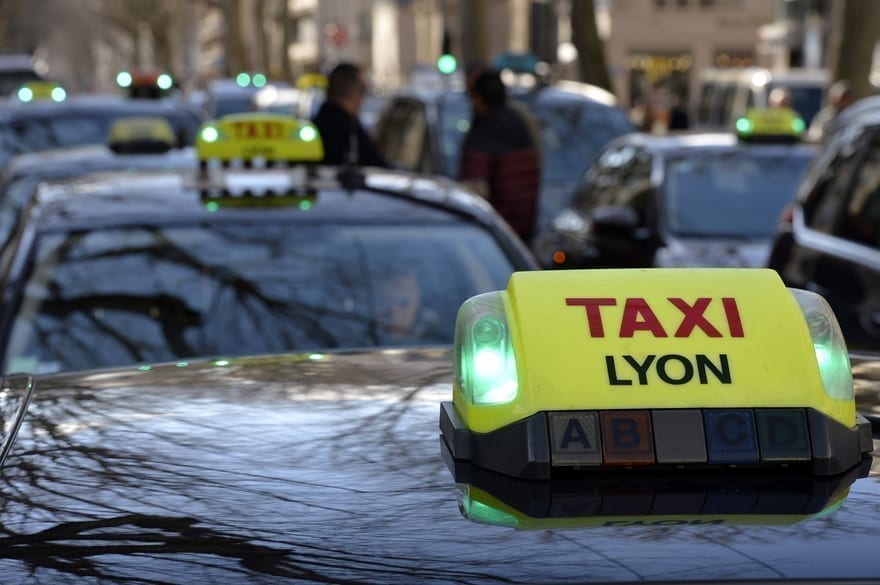 Cost of a Lyon Taxi
Exploring Lyon by taxi can be very convenient, but it's rarely cheap. Taxis in the city operate with taximeters and charge customers based on travel distance and waiting time.
Expect to pay a meter drop at €2 with the price per kilometre depending on the time of day. Traffic conditions may also affect the total fare of your journey.
The minimum price of a Lyon taxi is €7. Additional costs are applied for those travelling to airport or train stations (€1.62) or with animals and heavy baggage (€1.05). A journey from the airport to the city centre can cost anywhere between €50-€100, based on traffic flow and whether or not you booked the service in advance.
The fare per kilometre is fixed and depends on the day and time of your journey. Overall, there are four Lyon taxi prices:
Tariff A: 7:00 to 19:00, Monday to Saturday (with return)
Tariff B: 19:00 to 7:00 and on Sundays and public holidays (with return)
Tariff C: 7:00 to 19:00, Monday to Saturday (without return)
Tariff D: 19:00 to 7:00 and on Sundays and public holidays (without return)
The fare per kilometre is set accordingly:
Tariff A: €0.76/km
Tariff B: €1.14/km
Tariff C: €1.52/km
Tariff D: €2.28/km
Visitors should also keep in mind that there might be an occasional surcharge of €1.62, when traveling with more than 4 passengers and an extra of €0.81 for each luggage item.
What our customers say about Welcome
Where to get a Taxi in Lyon
Whether it's meandering the historic streets of Vieux Lyon or strolling around the innovative Musée des Beaux-Arts, the Capital of Lights has something for everyone. Choosing a Lyon taxi is the least time-consuming option for your transportation and will allow you to savour every experience this city has to offer. You can hail one of the 600 taxis driving around the centre, walk to the closest taxi rank, request a taxi via an app or call a local company.
Taxis hover in front of Lyon's train stations, on the place Bellecour, at the northern end of rue du Président Édouard Herriot and along Quai Romain Rolland in Vieux Lyon. You might also spot drivers waiting outside Terminal 1. With more than 70 ranks in the city of Lyon, finding the nearest one is your safest bet. Travellers that would rather wait inside might opt for a taxi app or call a local transfer company; Taxis Lyonnais, Taxi Lyon and Allo Taxi are the main providers for the city of Lyon.
Benefits of Booking a Lyon Taxi Transfer in advance
Booking your Lyon taxi transfer in advance with Welcome Pickups helps you explore the city at your leisure and guarantees a hassle-free transfer, thanks to our drivers' savoir-faire and friendly disposition. Finding your way in a new place can be a daunting experience, which is why you shouldn't leave anything to chance. Punctuality is our trademark and our local drivers will always be there when you need them. They will help you with your luggage and give you nifty recommendations that you won't find in any travel guide. If getting immersed in local culture sounds like your thing, book a Lyon taxi in advance with Welcome Pickups. It's not just a transfer, it's an experience.
Lyon Taxi Tips
Tipping the driver for your Lyon taxi services is not necessary, but it's always appreciated.
We recommend writing down your hotel address or destination in the city as most Lyon taxi drivers don't speak fluent English.
When you land in Lyon for the first time and don't know your way around the public network, you may be tempted to hail the first taxi you encounter. It's recommended to always make sure you have selected a registered, official taxi driver, to avoid surprises, or book a Lyon taxi in advance with Welcome Pickups for peace of mind.
Wheelchair Accessible Taxis in Lyon
Lyon as a whole is a very wheelchair-accessible city. However, regular taxis are not customized for travellers with mobility difficulties and are not equipped with special ramps or seating for wheelchair users. Having said that, there are some companies that offer full wheelchair accessibility with ramps or lifts. An example of such a company is TL. To book a wheelchair-accessible adapted taxi, visit the company's webpage.
Safety and Complaints for Lyon Taxis
Lyon taxi prices are monitored by the French government, so taxi services are generally reliable. However, if you do suspect you were overcharged because the driver took a longer route or experienced some other problem during your journey, collect your receipt, note down the driver's registration plate and contact the company you ordered the taxi from. Alternatively, you could also submit a complaint to the local police at +33 4 72 10 39 00.