Zadar Taxi Service
Situated on the Adriatic Sea, Zadar is one of the most beautiful and oldest cities in Croatia. It's a relatively small city so you can easily move around on foot but if you're visiting in the summer it can get very hot and busy, so ordering a Zadar taxi service might be best. There are plenty of taxi companies to choose from and for a relatively low fee, so you can reach your next point of interest quickly and comfortably. You can walk to a Zadar taxi rank in the city to find your ride, book your service online, or simply call one of the local taxi companies to request a pickup.
TRAINED DRIVERS
Hand picked & english speaking drivers
LOW PRICES
Same price as a regular Taxi from the line
FLIGHT MONITORING
Drivers are always on time
QUALITY SUPPORT
24/7 Email & Phone support
How much does a taxi cost?
Night time


(00:00 - 05:00)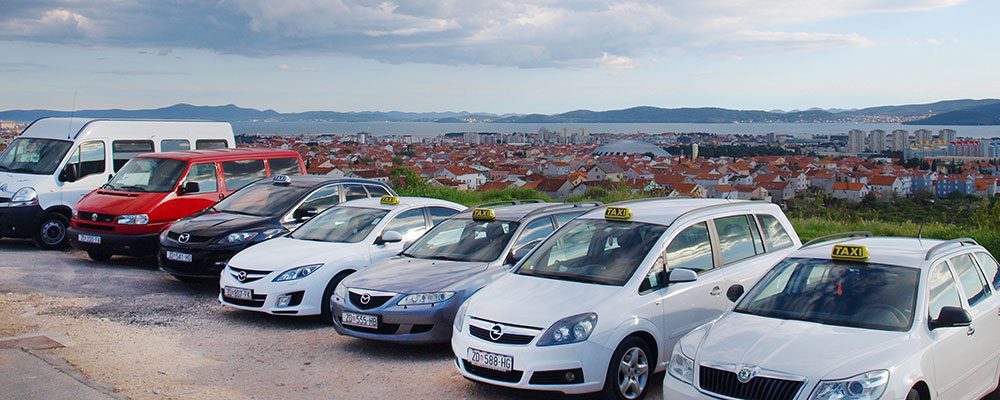 Zadar Taxi Prices
Even though many different taxi companies operate in the city, Zadar taxi prices vary among the different operators as there are no set fares; the rate is calculated using a taximeter but the state imposes no standard starting price or a standard price per kilometre. Thankfully, due to the competition, the different rates don't vary massively, whilst if you book your Zadar taxi in advance, you'll know precisely what you'll pay beforehand.
Avg. base fare – €1.20
Avg. rate/km – €0.86
Avg. rate/min – €0.86
Minimum tariff – €2.40
Taxis in Zadar don't charge extra for standard luggage, baby strollers or foldable wheelchairs that can fit in the trunk. Small pets can also be transported at no extra cost, as long as it's done safely. Also, it's worth noting that depending on the company, there might be extra fees for travelling late at night, on Sundays or major holidays.
What our customers say about Welcome
How to Get a Taxi in Zadar
Getting a taxi in Zadar is rather easy as there are multiple taxi operators to choose from. Depending on the company, the colour of each vehicle might vary but they all have the standard 'Taxi' sign on their roof. You can find several taxi ranks around the city, such as near the bus station on Liburnska Obala, the bridge connecting the Zadar peninsula to Branimirova Obala, or opposite the exit of Zadar Airport's International arrivals. If you're not close to any of these locations you can easily order a Zadar taxi either by calling one of the many different taxi companies that operate in the city or pre-booking online.
Some popular companies you can call are:
Dalma Travel: +385 91 330 8971
Taxi Zara: +385 99 316 87 85
EuroTaxi: +385 99 646 4884
Benefits of pre-booking your Zadar Taxi Service with Welcome
Walking around under the hot sun or waiting in long queues for a cab is far from ideal when you want to enjoy a beautiful destination like Zadar. Pre-booking your Zadar taxi service will help you relax and enjoy your trip without worrying about your transportation, hidden fees or large crowds.Welcome Pickups offers comfortable and reliable private transfers that you can use from the moment you land at Zadar Airport, while you explore the city and nearby destinations or when it's time to catch your return flight.
Zadar Taxi Tips
Writing down your hotel's address can help you ensure you find your way back to your accommodation, as most Zadar taxi drivers don't speak English.
Most Zadar taxi providers accept card payments at no extra cost.
Taxis in Zadar don't offer baby seats as standard. You can fit your own at no extra cost, or when arranging a pick-up, you may request the taxi company to provide you with one for a fee.
Rounding up your bill as a tip for the taxi driver is not expected, but it is appreciated if you were happy with the service.
Wheelchair Accessible Taxis in Zadar
Zadar is a wheelchair-accessible city for the most part. Most taxis should be able to fit a foldable wheelchair in the trunk at no extra cost. However, if you require a fully accessible vehicle, it is best to book a van in advance by contacting the Association of the Physically Disabled of the Zadar County at +385 23 213 885 or via email. Alternatively, bus and train stations are also wheelchair-accessible.
Zadar Taxi Safety and Complaints
Even though Zadar taxis are reliable in terms of safety, overcharges may apply from time to time. This is mainly because there are no set fares for taxis in Zadar, allowing each company and driver to set different rates. If you think you've been overcharged, make sure to ask for a receipt at the end of the ride and if possible get the driver's name and license plate so that you can address the matter with either the associated company or the Zadar Tourist Board that can guide you further.