Taxis in Frankfurt
There is something for everyone in Frankfurt, Germany's financial capital and Johann Wolfgang von Goethe's hometown. Frankfurt offers modernity but also cosiness, and you can spend time exploring the high-rise architecture downtown or you can wander through the many world-class museums in the city. Getting around by taxi is a piece of cake with Frankfurt's easy to spot government-regulated taxis. If you don't pre-book your ride, the fare is metered, and you can catch a taxi from one of the taxi ranks in the city or you can hail one from the street.
TRAINED DRIVERS
Hand picked & english speaking drivers
LOW PRICES
Same price as a regular Taxi from the line
FLIGHT MONITORING
Drivers are always on time
QUALITY SUPPORT
24/7 Email & Phone support
How much does a taxi cost?
Night time


(00:00 - 05:00)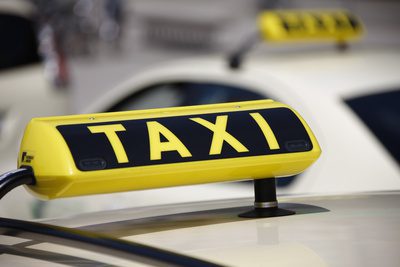 Frankfurt Taxi Prices
Taxis in Frankfurt are metered and rates are regulated by the government. Fares are determined by a base rate, the number of kilometres travelled, and the time it takes to reach your destination. Your fare can be calculated based on the following:
Base fare: €3.50
Price per km for the first 15 km: €2.00
Price per km after the first 15 km: €1.75
Hourly rate for waiting or for slow speeds: €33.00
The fare from Frankfurt airport to the city centre should cost between €45-50. There may be surcharges for extra or oversized luggage. Bigger taxis that can accommodate up to 7 people are available but the cost may be increased.
What our customers say about Welcome
How to get a Taxi in Frankfurt
Multiple companies offer taxi services in Frankfurt, and all official Frankfurt taxis are cream coloured with a taxi sign on the roof of the vehicle. You can readily get a ride from one of the taxi ranks in the city or you can hail a taxi from the street. You can also call one of the local taxi companies to request that a driver picks you up, or you can pre-book your ride online with one of those companies. In any case, you can also trust Welcome for your transfer with its friendly local professional drivers offering stellar service each time and no hidden fees.
Book your Frankfurt Taxi Transfer in Advance
If you book your Frankfurt taxi in advance, you can save yourself some stress and some time, and you can better budget for your transfer with a flat-rate fare. If the weather is iffy, you can relax inside until your driver arrives at the time you set, and then you can enjoy a comfortable trip to your destination. To ensure you get the best service with an English-speaking driver at a competitive rate, consider pre-booking your ride with Welcome Pickups.
Tips for your taxi in Frankfurt
More and more drivers are starting to accept payments by card. However, as that's not the case for all drivers, if you want to pay by card, ask if you can do so before beginning your ride.
Many taxi companies have apps that you can download to your smartphone to make requesting a ride and paying ahead easy.
Tipping your driver is at your discretion. If you had great service, you may consider leaving a tip of around 10%.
Wheelchair Accessible Taxis in Frankfurt
Frankfurt is known to be well equipped when it comes to accessibility. Several companies offer wheelchair accessible vehicles; you can pre-book an accessible taxi with Wheelchair Accessible Holiday Taxis, or you can find a list of companies that offer suitable vehicles here.
Frankfurt Taxi Safety and Complaints
Taxis in Frankfurt are the safest mode of transportation. Just like you would do anywhere in the world, you may want to double-check the route to your destination in advance, so that your driver doesn't take the "scenic route" to drive up the fare, and you should exercise the normal amount of caution. If an issue arises, be sure to record the taxi number and keep your receipt; you can then file a complaint with the taxi company you used or report any incidents to the local police. The company's phone number would be on the receipt, posted on the taxi, or can be found on the company's website.