Arusha taxi service
Arusha, located at the base of volcanic Mt. Meru in East Africa's Tanzania, is the ideal gateway to explore Tanzania's safari destinations. It's also close to Africa's highest peak, Mt. Kilimanjaro. Being home to unique wildlife and offering numerous activities, Arusha is certainly a bucket list destination for travellers who love nature and are seeking an adventurous vacation.
To explore everything the city and its surrounding areas have to offer, your best option is to move around with an Arusha taxi; a reliable and quick transportation option that is available 24/7. The local cab rates aren't fixed but the Arusha taxi service is a good value-for-money option; just make sure to ask for the estimated fare in advance. If you prefer a fixed fare that you'll know beforehand, you can always pre-book your taxi in Arusha with a company like Welcome Pickups and enjoy prompt pickup and hassle-free door-to-door service. 
TRAINED DRIVERS
Hand picked & english speaking drivers
LOW PRICES
Same price as a regular Taxi from the line
FLIGHT MONITORING
Drivers are always on time
QUALITY SUPPORT
24/7 Email & Phone support
How much does a taxi cost?
Night time


(00:00 - 05:00)
ARUSHA CITY CENTRE ➙ ARUSHA CLOCK TOWER
ARUSHA CITY CENTRE ➙ CULTURAL HERITAGE CENTRE
ARUSHA CITY CENTRE ➙ ILBORU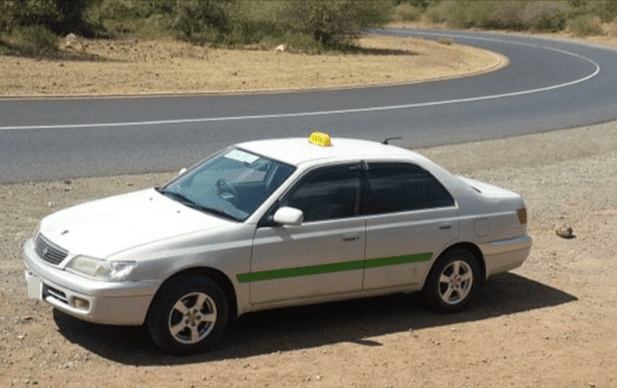 Arusha taxi fares
Arusha taxis are a reliable choice to get around the city or nearby destinations quickly. Even though most taxis hailed from the street aren't metered and rates can differ among operators, official taxis are regulated and scams are not common. If your taxi isn't pre-booked, make sure to agree on a price with the driver before setting off; the average rates below that apply in Arusha will help you estimate the total fare.
Avg. base fare: €1.60 (TZS 3,750)
Avg. rate/km: €1.70 (TZS 4,000)
Keep in mind that each provider might have additional fees depending on the number of passengers or pieces of luggage and that a higher rate could apply during the nighttime. If you want to ensure a competitive fixed rate and professional door-to-door service, you can pre-book your Arusha transfers with Welcome Pickups.
What our customers say about Welcome
How to get a taxi in Arusha
Taking a taxi in Arusha is a great way to get from one activity to the next quickly and comfortably. There are multiple official taxi companies providing reliable service and operating all day long. Most taxis have the standard taxi sign on the roof but the vehicle type might vary depending on the operator. You'll usually find taxis lined up at busy locations like the airport, bus stations or tourist attractions and you can also hail a taxi from the street. Alternatively, you can use any of the available applications to order a taxi online or order a taxi over the phone by calling one of the operators, such as:
Tarimo Taxi Service: +255 (756) 595 945
Arusha Taxi Service: +255 (753) 832 810
You can also pre-book your Arusha taxi with Welcome Pickups and enjoy reliable and personalised service for the whole duration of your trip.
Pre-book your taxi in Arusha
If you're looking for a convenient and quick option to move around the city and enjoy all you have planned during your trip at your pace, pre-booking your Arusha taxi service with Welcome Pickups is the way to go. With Welcome, you won't need to worry about carrying cash or negotiating the fare; you ensure a competitive, fixed fare and a comfortable ride with a professional, trained driver. From the moment you land at the airport until you're ready to say goodbye, Welcome provides reliable and personalised door-to-door service. The easy booking flow and the flexible cancellation policy, allow you to easily arrange all your transportation needs in advance and enjoy peace of mind during your trip.
Arusha taxi tips
Most taxis in Arusha aren't metered; make sure to ask how much the rate is before you get in.
Taxis hailed from the street might not accept card payments so make sure to carry cash in the local currency.
Tipping your taxi driver isn't customary in Arusha; if you were happy with the service you can round up the final fare.
If possible, ask for a receipt at the end of the ride in case you leave any personal items behind.
Wheelchair-accessible taxis in Arusha
Arusha is an accessible destination with suitable accommodations and activities. Regular Arusha taxis that you'll find on the street aren't fully accessible but if you're using a foldable wheelchair they'll most probably be able to fit it in the trunk. If you're using an electric wheelchair that doesn't fold, it's best to pre-arrange your transfers with a travel agency providing tailored services. Another option is to book a wheelchair-accessible transfer via Viator either online or by calling +1 (702) 648 5873.
Arusha taxi service safety and complaints
Arusha taxi service is a convenient and safe transportation option to use during your trip. Scams aren't a common occurrence but if you think you've been overcharged or you need to report the driver for inappropriate behaviour or dangerous driving, you can contact the taxi company you used directly. Make sure to write down as much information as possible, including the driver's name, registration number, and license plate. If the issue isn't resolved, you can also address the local police and they will advise you accordingly.