Taxis in Berlin
There are over 7,500 taxis in Berlin run by just over 3,000 individual taxi companies, this is more than any other city in Germany. Although this may sound a little complicated, thanks to the implementation of regulated fares, this fierce competition has actually made taxi fares in Berlin quite affordable. If you've only got a short amount of time in this beautiful city, or if you prefer to get from A to B in comfort, taking a Berlin taxi is a great option. You can very easily hail down a cab in the street, call one of the many taxi companies, or simply walk to a taxi rank at one of the main transportation hubs or tourist spots. 
Base Fare – €3.90
Minimum Rate /km – €1.50
TRAINED DRIVERS
Hand picked & english speaking drivers
LOW PRICES
Same price as a regular Taxi from the line
FLIGHT MONITORING
Drivers are always on time
QUALITY SUPPORT
24/7 Email & Phone support
How much does a taxi cost?
Night time


(00:00 - 05:00)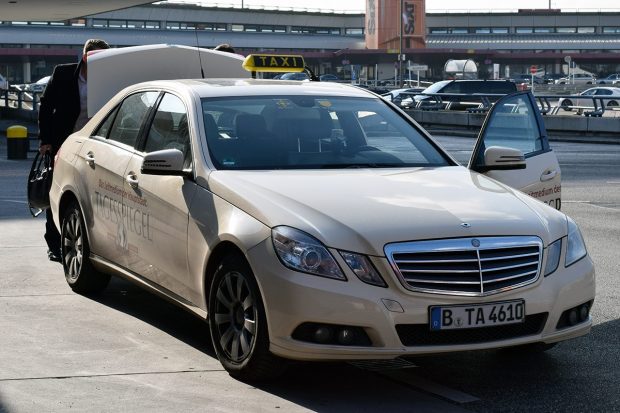 Berlin Taxi Prices
Taxi prices in Berlin are kept fairly low thanks to the high competition between taxi companies, however, all taxi fares are still regulated throughout the city. Berlin taxis use a taximeter based on distance to calculate your journey, so the further you travel in the city, the more expensive your ride will be. However, if you're planning to make a quick, short journey of less than 2km, you can take a Kurzstrecke. All taxis offer a 'special rate' of €5 if you're traveling anywhere within a 2km radius of your pickup point, making it extremely easy to rush around the city even on a low budget. 
Base Fare – €3.90
Rate/km for first 7km – €2
Rate/km after first 7km – €1.50
There are also extra charges for having five passengers or more (€5), keeping your taxi waiting for an hour (€30), large pieces of luggage (€1), and making a non-cash payment with a card (€1.50).
What our customers say about Welcome
How to get a Taxi in Berlin
Getting a taxi in Berlin couldn't be easier. Whether you want to call for your Berlin transfer, wave a taxi down in the street or take a stroll to your nearest taxi rank, you'll soon be on your way to the next exciting location. You can easily spot taxi ranks by the long line of ivory taxis with the classic yellow 'TAXI' sign on top waiting to pick you up. Although you can find taxi ranks all over the city at major transportation hubs, large hotels, and popular tourist attractions, some of the most common are at the Berlin Hauptbahnhof train station, Friedrichstadt-Palast, Deutsches Theater, Reichstag and the DDR Museum.
If grabbing a Berlin taxi from the street is more your speed, then you shouldn't have to wait very long either. There are thousands of taxis buzzing around Berlin city, all you need to do is look for a taxi with its yellow roof light on, hold out your hand, and wait for the driver to pull over to the side of the road to let you in. If you want to take a Kurzstrecke short trip, you can only do this by waving down a taxi in the street and then letting the driver know before they set the taximeter.
If it's raining and you don't want to wait outside for a taxi, or if it's late at night and you don't feel safe walking the streets, you can call one of the local taxi companies, and they will send a Berlin taxi to you in less than 10 minutes. Although there are many different companies that offer this style of pickup service, the most well known, English speaking is +49 30 20 20 21 22 0.
Book your Berlin Taxi Transfer in Advance
Knowing that your Berlin taxi will be waiting for you at a set time, in a set location and with a fixed price takes a lot of weight off your shoulders. If you prefer budgeting and planning your trip in advance, then you can book your Berlin transfer with one of the many pre-book taxi companies online. Bear in mind that many advance booking companies may have high fees, so to avoid steep rates and hidden charges, book your Berlin transfer with Welcome Pickups. 
Tips for your taxi in Berlin
It's customary to tip your taxi driver in Berlin around 10% of your total fee. If you take a Kurzstrecke Berlin taxi, then adding on a few cents is also appreciated but not obligatory.
Almost all taxis in Berlin accept cards, however, they do charge an additional 1.50€ for non-cash payments.
Make sure your driver resets his taximeter to the base fare of 3.90€ before you begin your journey.
After the first 7km, your rate per/km will fall to €1.50.
Taxis in Berlin don't have baby-seats available, but there's no extra cost to fit your own.
Be sure to ask for your receipt after your journey is complete in case you leave anything in the taxi.
Not all taxi drivers in Berlin speak English, so it's a good idea to write your address down or have it ready to show on Google Maps.
Wheelchair Accessible Taxis in Berlin
Although almost all taxis in Berlin have enough storage space to hold a foldable wheelchair, there aren't any wheelchair accessible Berlin taxis for electric wheelchairs or mobility scooters. However, if you wish to book a fully accessible taxi with spacious seating, large walkways and access ramps, you can contact RollstuhlTaxi. On the other hand, nearly all buses and metro stations in Berlin are wheelchair accessible, so this may be another great option.
Berlin Taxi Safety and Complaints
Although it's not common, sometimes your Berlin taxi driver can be rude, try to charge you extra or take you on a long journey to build up the fare. If this does happen to you, it's important that you keep your receipt, as it contains the taxi company address, the concession number, the fare, date, distance travelled and the driver's signature. You will then need to call the taxi company that your driver works for (this is usually shown on your receipt or on the outside of the taxi door) and speak to their complaints department.