Taxis in Dublin
Dublin has many different taxi operators; it is even said that there are more taxis in Dublin than in New York, with over 14 000 active taxi drivers roaming around the city. The different taxi companies around Dublin all operate different vehicles, making it difficult to recognise them; the only way to do so, is by spotting their black and yellow taxi rooftop sign. Moreover, there are two types of taxis in Dublin: licensed taxis and hackney cabs. You can hail a licensed taxi or find them at a taxi rank, whilst a hackney cab must be hired by phone or in person at a hackney office. A licensed taxi calculate their fares using a taximeter, whilst hackney cabs generally have a fixed price list for their different destinations. All this said, you will definitely not have any difficulty finding a taxi in Dublin.
TRAINED DRIVERS
Hand picked & english speaking drivers
LOW PRICES
Same price as a regular Taxi from the line
FLIGHT MONITORING
Drivers are always on time
QUALITY SUPPORT
24/7 Email & Phone support
How much does a taxi cost?
Night time


(00:00 - 05:00)
TRINITY COLLEGE - PHOENIX PARK
GUINESS STOREHOUSE - TEMPLE BAR
O'CONNELL STREET - DUBLIN CASTLE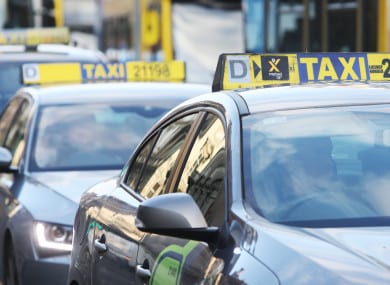 Dublin Taxi Prices
Official taxis in Dublin usually calculate their fares using a taximeter, based on the time and distance travelled. Additional fees may be added on, for example for extra passengers. To give an idea of approximate Dublin taxi prices, a taxi from the airport to the city centre costs between €30 and €40, whereas a standard journey within the city centre costs around €5 to €8.
Base Fare
Monday to Saturday: 08:00 – 20:00
Minimum fare: €4.10 (includes the first kilometre or 170 seconds waiting time)
Price per km: €1.03
Price per 1 min waiting time: €0.36
From the 15km or the 40 minutes, fares increase by 30%.
Sundays and Public Holidays: 
Minimum fare: €4.45 (includes the first kilometre or 170 seconds waiting time)
Price per km: €1.35
Price per 1 min waiting time: €0.48
Between 20:00 and 08:00 you can expect to pay approximately 10% on top of the daytime rates.
Additional charges:
Booking by phone: €2
Additional passenger onwards: €1
Tips: Taxi drivers expect a 10% tip.
What our customers say about Welcome
How to get a taxi in Dublin
Getting a Dublin taxi couldn't be easier, as there are many operating taxis in the city, with over 80 taxi ranks, available 24/7. The main taxi ranks within the city centre are located on O'Connell Street, up towards Parnell Square and on College Green opposite the Bank Of Ireland. There are additional nighttime taxi ranks that operate between 20:00 and 06:00 around several locations within the city centre, including Dame Street and Merrion Row. It is important to know that there can be long queues at taxi ranks after pubs close in Dublin. You can either try your luck by hailing a taxi down in the street or getting a taxi at one of the ranks. If the queues look interminable or if you are caught in rainy weather, you can always call a Dublin taxi company or book your taxi online.
A few of the Dublin taxi numbers are:
Castle Cabs: +353-1 8319000
Pony Cabs: +353-1 6612233
Speed Cabs: +353-1 4750800
Checkers Cabs: +353-1 8343434
City Cabs: +353-1 8731122
Book your Dublin Taxi Transfer in Advance
Knowing that your Dublin taxi will be waiting for you at a set time, in a set location and with a fixed price takes a lot of weight off your shoulders. If you prefer budgeting and planning your trip in advance, then you can pre-book your Dublin transfer with one of the many taxi companies online. Bear in mind that many advance booking companies may have high fees, so to avoid steep rates and hidden charges, book your Dublin transfer with Welcome Pickups.
Dublin Taxi Tips
It's customary to give a 10% tip to your taxi driver in Dublin.
Taxis in Ireland now accept payment by card, including Visa, Mastercard, American Express and digital wallets such as Apple Pay and Google Pay.
If you are taking an official Dublin taxi, make sure that your driver resets the taximeter and that it is running correctly before you begin your journey.
It is important to know that from 15 km or 40 minutes into your trip, fares increase by 30%.
From Monday to Saturday, there is a minimum fare of  €4.10 during day trips and €4.45 on Sundays and public holidays.
You will have to pay an additional €2 if you book your taxi on the phone.
Wheelchair Accessible Taxis in Dublin
Not all taxis in Dublin are wheelchair accessible, however there are over 900 vehicles roaming around the city that are. It is best to call a private taxi company in Dublin to make sure that your vehicle has the amenities for a wheelchair.