Taxis in Warsaw
The capital of Poland offers relaxing green spaces, historic sites and a touch of modernity for alternative travellers. It is a place worth discovering, whether you are looking for a dynamic and urban European city or a historical hub. Its lavish architecture is bound to take you back in time, while the unique tall Soviet skyscrapers will leave you in awe. To fully explore the beauty of this modern metropolis, aim to save as much time as you can by choosing a Warsaw taxi for your transfers. Especially if this is your first time in the city, Warsaw taxi services are a budget-friendly and convenient way to go from point A to B in style.
TRAINED DRIVERS
Hand picked & english speaking drivers
LOW PRICES
Same price as a regular Taxi from the line
FLIGHT MONITORING
Drivers are always on time
QUALITY SUPPORT
24/7 Email & Phone support
How much does a taxi cost?
Night time


(00:00 - 05:00)
WARSAW CHOPIN AIRPORT TO WARSAW
WARSAW CHOPIN AIRPORT TO WARSAW MODLIN AIRPORT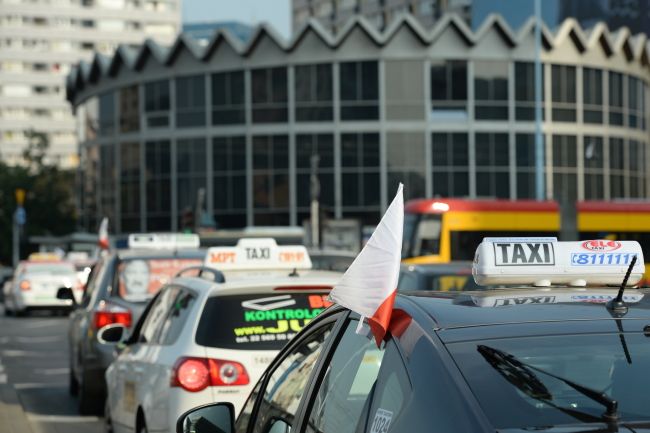 Cost of a Warsaw Taxi
Warsaw taxis are incredibly cheap and offer convenient solutions for your transfer. Drivers use taximeters to determine the final fare of your journey, which depends on traffic, distance and the time of day. The tariffs are official, as they are set by the government and are compulsory to follow for all companies.
Taxi base fare: €1.70 (PLN 8.00)
Taxi fare per 1 km: €1 (PLN 4.83)
Taxi fare for 1 hour of waiting: €8.50 (PLN 40.00)
Always remember to bring cash when taking a regular taxi, as you can rarely pay by card. Tipping the driver is not mandatory but is always appreciated for good services.
What our customers say about Welcome
How to get a Taxi in Warsaw
Warsaw taxis can be hailed anywhere, whilst there are also plenty of taxi ranks across the city. Simply raise your hand to stop a passing driver and make sure the taxi is official before getting in.
Officially registered taxis have their numbers printed on the vehicle's front doors, the roof sign and/or inside the driver's taxi license. They also have price information on the rear side window. Avoid taking non-official taxis in Warsaw, as they are very likely to overcharge you. Furthermore, always make sure that the taximeter is on, and don't accept fixed prices unless you know they are reasonable. There are, of course, other options if you don't want to walk to the nearest stop. You can download a taxi app, ask your hotel reception to order a cab for you or pre-book your transfer in advance.
Lastly, you may also call one of the local taxi providers to request a pickup. Warsaw Taxi (+48 60 119 1919) is one of the most popular companies you can phone to request a ride in the city.
Benefits of Booking a Warsaw Taxi Transfer in advance with Welcome
Getting around Warsaw can be a daunting experience for a first-time traveller or a family, seeing as not many residents speak English. If you'd rather spend more time sightseeing instead of using the complicated public transport network, there's no need to look any further for your transportation needs. Pre-booking a Warsaw taxi with Welcome is a walk in the park, as it offers various advantages, including local English-speaking drivers, competitive fares without hidden fees, on-time pickups and door-to-door transfers 24/7. Plus, we offer a handy mobile app for easy communication with your driver for your peace of mind.
Warsaw Taxi Tips
Tips are not expected in Poland, but they are highly appreciated. If you liked the service that a Warsaw taxi driver provided, adding anything between 5-10% on top of your final fare is more than enough.
Please bear in mind that most taxis do not have a card machine for debit and credit payments, so make sure you have enough cash for your ride.
For safety reasons we strongly advise you to use only licensed taxi services in Warsaw.
Wheelchair Accessible Taxis in Warsaw
Warsaw is not the most wheelchair-friendly city you can find, but nevertheless, there are still some options for people with mobility difficulties. Picking a wheelchair-adapted taxi is one of them. Choosing the right company is a must, as regular taxis driving around the city do not provide special ramps or enough space. To book a wheelchair-accessible Warsaw taxi vehicle, you can reach EkoTaxi online or at +48 22 644 22 22.
Safety and Complaints for Warsaw Taxis
Official Warsaw taxis pose no threat as they are clean, with polite drivers and fixed tariffs that are regulated by the government. For your safety, however, avoid getting into a cab with no numbers printed on the front doors or on the taxi signs, as there is a high possibility they are not licensed. If you believe you have been overcharged for a ride, then note down the driver's name and license as you leave the vehicle and head to the nearest police department to make a complaint.