Best Taxi Service in Kota Kinabalu
If you're looking for a vacation spot in Malaysia that has the perfect blend of white sand beaches, exotic natural beauty and rich local culture, Kota Kinabalu is the place for you. One side of this beautiful city is lined with long stretches of picturesque beach, while the other is backed by the lush rainforest, giving Kota Kinabalu its unique appeal. When it comes to travelling around this exciting city or getting to and from your hotel, the easiest way to travel is by taking a Kota Kinabalu taxi. You can easily hail one of the Kota Kinabalu taxis in the street, call one of the local taxi companies, or for the best taxi service in Kota Kinabalu, you can book your rides in advance.
TRAINED DRIVERS
Hand picked & english speaking drivers
LOW PRICES
Same price as a regular Taxi from the line
FLIGHT MONITORING
Drivers are always on time
QUALITY SUPPORT
24/7 Email & Phone support
How much does a taxi cost?
Night time


(00:00 - 05:00)
FROM BUS TERMINAL TO MASJID BANDARAYA MOSQUE
FROM HOTELS TO CITY MALL SHOPPING CENTRE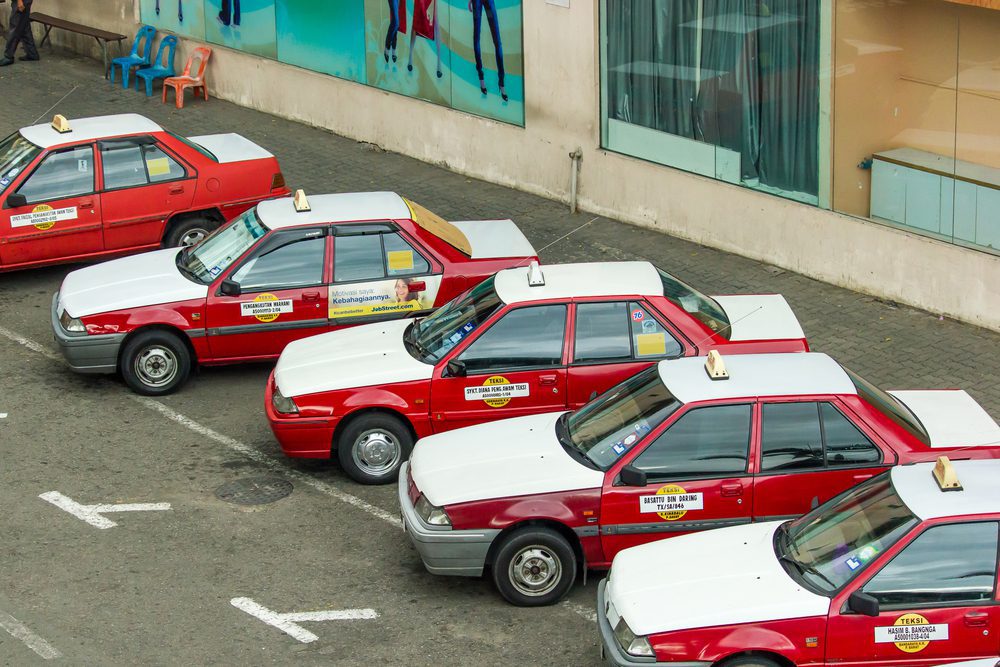 Taxi Fare in Kota Kinabalu
Although most Kota Kinabalu taxis are fitted with taximeters, local taxi drivers rarely use them. Usually, your driver will simply give you a fixed rate based on where you're travelling to in the city. However, if you take a Kota Kinabalu taxi from the airport, this journey will have a fixed rate cost of €6.50 (RM 30), this isn't left up to the discretion of your driver. 
Although this should be used as a loose guideline, if your driver does use their taximeter, the taxi fare in Kota Kinabalu will be calculated as follows;
Base fare (including first 3 km): €2.10 (10 RM)
Price per 100 m: €0.03 (0.12 RM)
What our customers say about Welcome
How to get a Kota Kinabalu Taxi
The easiest way to get a Kota Kinabalu taxi is by hailing one in the street or asking your hotel to book a ride for you. On the other hand, if you're shopping at one of the large malls or visiting one of the top tourist attractions, you may also find a small taxi rank with local drivers waiting outside. 
However, if you're travelling late at night or during bad weather and don't want to wait in the street, you can also book the best taxi service in Kota Kinabalu in advance, or call one of the following phone-dispatch Kota Kinabalu taxi companies; 
Kota Kinabalu Sabah Teksi: +60 12 867 0238
Luen Thung Tanjung: +60 88 269 500
Teksi Cab KK: +60 11 3128 2927
Book the Best Taxi Service in Kota Kinabalu with Welcome
As the local Kota Kinabalu taxis aren't very well regulated, the level of service you will receive and the taxi fare in Kota Kinabalu is not always reliable. If you'd prefer to take a taxi in Kota Kinabalu you know you can rely on, we suggest booking with Welcome Pickups in advance. We guarantee that our drivers will always be on time, while they're fluent in English, to avoid any miscommunication. At Welcome, we also offer competitive fixed-rate fares and 24/7 customer service for your comfort and convenience.
Kota Kinabalu Taxi Tips
Most Kota Kinabalu taxi drivers don't use a taximeter, be sure to agree on your fare in advance.
Standard Kota Kinabalu taxis can take up to 4 passengers.
Tipping your driver isn't expected but is always appreciated. You can round up your fare if you enjoyed the service.
The journey from the airport to the city has a set fare of €6.50 (RM 30).
Wheelchair-Accessible Kota Kinabalu Taxi
Unfortunately, the local Kota Kinabalu taxis aren't equipped to handle the transportation of wheelchair users. If you require a vehicle that is fitted with a ramp or hydraulic lift, you will need to book with a specialist wheelchair-accessible company in advance.
Kota Kinabalu Taxi Safety and Complaints
The Kota Kinabalu taxi services are governed by the LPKP Sabah Commercial Vehicles Licensing Board. However, for many years, this board hasn't been able to fully regulate taxi fares in Kota Kinabalu or control the levels of customer service. Because of this, if you have any issues during your Kota Kinabalu taxi journey, whether it's an unfair charge or unprofessional behaviour, you can report your driver and the company you used by calling +60 88 238 244 or via sending an email with your complaint.