Taxis in Rio de Janeiro
The phrase "city of contrasts" is the perfect way to describe Rio de Janeiro; a city with various natural wonders, including the world's largest natural bay. With its complex urban life, the city holds many experiences for adventurous travellers. Visit its striking beaches, epic hiking spots, the fascinating Christ the Redeemer, the waterfalls, and by all means don't miss out on the delicious cuisine. We recommend using a private Rio de Janeiro taxi to explore the city as comfortably as possible.
Taxis are the fastest and safest transportation option in the city, and they are easily hailed on the street. They mostly congregate at taxi ranks and around major hotels in the city. There are two types of taxis in Rio: yellow taxis and radio taxis. Yellow taxis are licensed taxis, and they are everywhere, meaning that you don't have to go far to find one. They are bright yellow with blue stripes on the side. On the other hand, radio taxis are usually white, red or blue, and the cars are usually larger and always air-conditioned. These taxis are offered by different private taxi companies and you can call up to request a pickup. 
TRAINED DRIVERS
Hand picked & english speaking drivers
LOW PRICES
Same price as a regular Taxi from the line
FLIGHT MONITORING
Drivers are always on time
QUALITY SUPPORT
24/7 Email & Phone support
How much does a taxi cost?
Night time


(00:00 - 05:00)
RIO AIRPORT TO COPACABANA
RIO CENTRE TO TIJUCA NATIONAL PARK
RIO CENTRE TO SUGARLOAF MOUNTAIN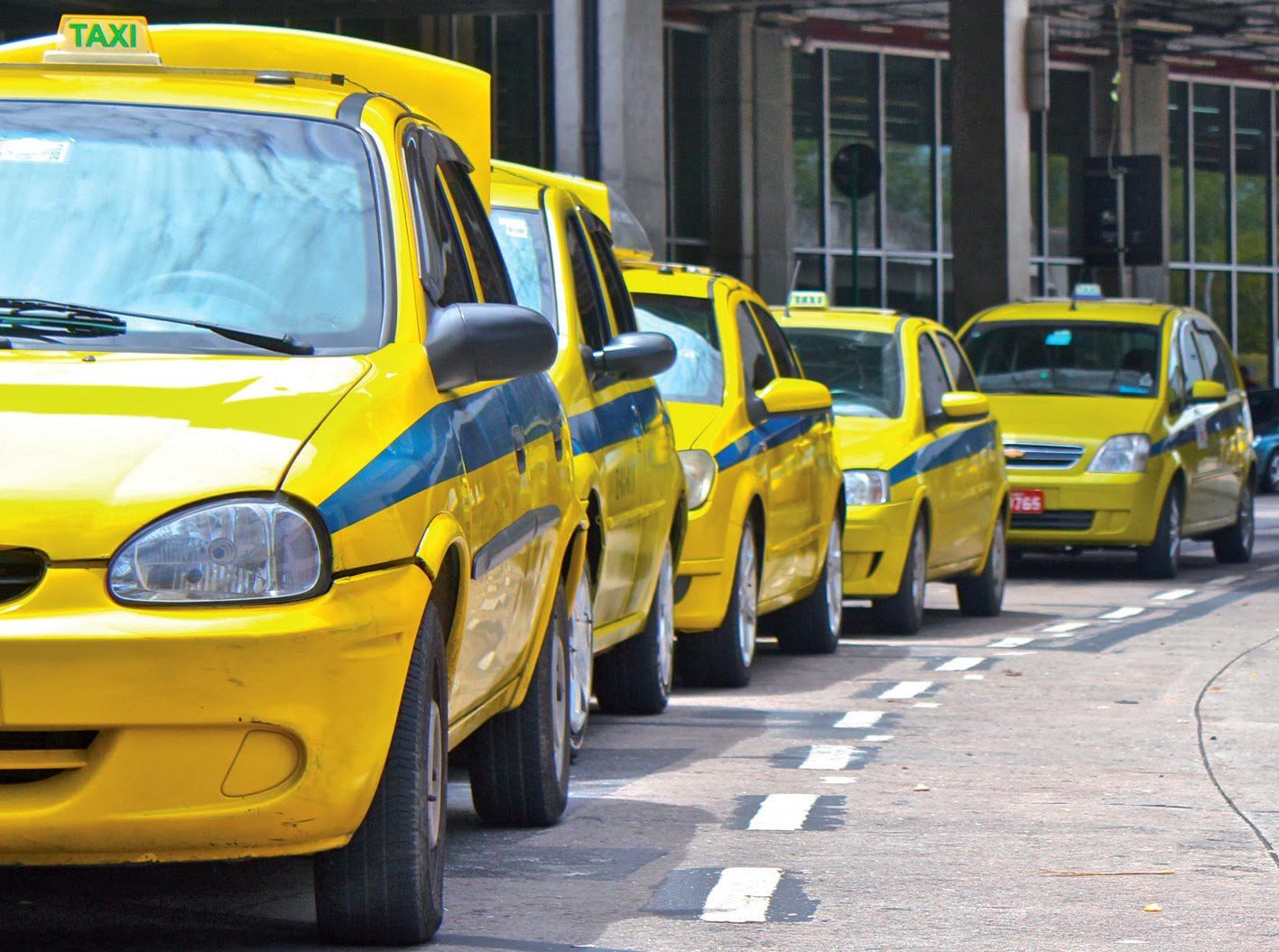 Rio de Janeiro taxi prices
Several factors influence the price of taxis in Rio de Janeiro, including journey length, distance to be travelled and the valid fare in the city. Yellow and radio taxis calculate their fares using a taximeter, however, it's worth keeping in mind that some radio taxis charge flat rates depending on your desired destination.
Here's a breakdown of the taxi prices in Rio de Janeiro:
Base fare – €1.10 (BRL 6)
Price per km – €0.60 (BRL 3)
Price per hour of waiting –  €6 (BRL 33.5)
*The fares increase from 21:00 to 06:00 between Monday and Saturday and all day on Sunday. During this time, the base fare and waiting price per hour remain the same, but the price per kilometre changes to €0.70 (BRL 3.70). Surcharges may also apply to these prices. 
What our customers say about Welcome
How to get a taxi in Rio de Janeiro
It's easy to flag down a taxi in Rio de Janeiro. You only need to raise your hand as a vacant taxi drives past you. If you don't want to hail a taxi off the street, you can call for one instead. Here are some of the most popular Radio Taxi numbers in Rio:
Yellow Coop Radio Taxi: +55 21 3895 9933
Coopertramo Radio Taxi: +55 21 2209 9292
Other options include booking online directly from the official website of each taxi company, hailing a local taxi from the street or in the ranks, or using a local taxi app such as TaxiRio. Just remember that it's important to keep an eye out for surcharges and booking fees when confirming a cab online to avoid any surprises!
Nonetheless, you can always rely on competitive set-rate fares and no hidden fees when booking in advance with Welcome Pickups.
Book your Rio de Janeiro taxi in advance
If you like to plan ahead of time, the idea of having a taxi waiting for you at a set location and time, all for a competitive fixed price, will offer you the utmost peace of mind.
To take some weight off your shoulders, you can book your Rio de Janeiro taxi in advance with Welcome Pickups. When you confirm your transfer, you can rest assured you won't need to worry about the language barrier or getting picked up on time; you can expect 24/7 door-to-door services at your requested time and friendly English-speaking local drivers.
Tips for your taxi in Rio de Janeiro
Yellow taxis operate on a taximeter, but you may need to remind the driver to turn on the meter and ensure it's set at the appropriate base fare.
For your safety, you should only take yellow taxis or radio taxis that are white, blue, or green.
Most hotels work with private taxi drivers to offer taxi services to their guests. The associated vehicles are usually unmarked and don't use the conventional pricing system. It's best to negotiate a flat rate if and when using these taxis, only if you feel comfortable doing so.
Having cash handy for your fare is always good. If your preferred payment method is by card, then ensure your driver can accommodate that before you start your journey.
Wheelchair-accessible taxis in Rio de Janeiro
Public transportation options are mostly wheelchair accessible in Rio de Janeiro, but they don't compare to the convenience of a taxi. There are taxi companies that offer accessible, efficient, and stress-free transportation within the city.
Especial Coop is a reputable company offering wheelchair-accessible taxis in Rio. Their vehicles have wheelchair lifts that can carry different types of wheelchairs. They can also be reached on +54 21 3295 9606.
Rio de Janeiro taxi safety and complaints
To avoid situations that can affect your safety, it's best to always take licensed yellow taxis as they are safe, honest and trustworthy. Always ensure that the taxi company details are outside the taxi, and hold on to any relevant information about your driver and the vehicle's registration. Should you face any issues, you can use that information to report the driver directly to the company they work for, or to local authorities for more serious cases.