Taxis in Dubai
Once in Dubai, it won't take you long to realise that getting around the city without using taxis would be extremely difficult. Dubai is a taxi centric city with very little public transport and extremely high temperatures for walking around on the streets. Luckily, finding a taxi in Dubai couldn't be easier and riding in one is extremely comfortable. You can flag down a Dubai taxi from the street, call for a radio-taxi or walk to one of the 50 official taxi ranks and hop in the cab at the front of the queue. The Government-licensed vehicles are all run by the Dubai Taxi Corporation and are fully air-conditioned, fairly inexpensive and use regulated taximeters. If you're looking for an easy, relaxing and safe way to explore the city, then taking a Dubai taxi is the way to go.
Base Fare – 2€
Minimum Rate /km – 0.45€
TRAINED DRIVERS
Hand picked & english speaking drivers
LOW PRICES
Same price as a regular Taxi from the line
FLIGHT MONITORING
Drivers are always on time
QUALITY SUPPORT
24/7 Email & Phone support
How much does a taxi cost?
Night time


(00:00 - 05:00)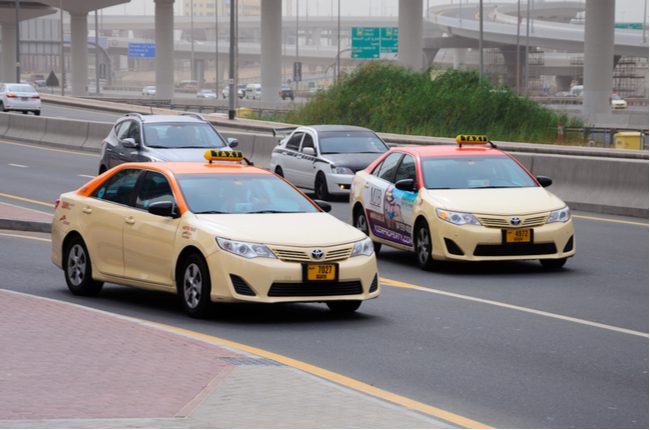 Dubai Taxi Prices
Average journey price in the city – 6€
Taxis in Dubai don't have set rate fees for journeys around the city, instead, they use a taximeter based on distance that is Government regulated. The base price for taking a Dubai taxi changes depending on your location and time of day, but the price per kilometre is always the same.
Rate per kilometre is always 0.45€ (1.82 AED).
6:00 to 22:00 – The base fare is 2€ (8 AED)
22:00 to 6:00 –  the base fare is 2.20€ (9 AED)
If you choose to have your hotel concierge call a taxi for you, the base fare of the ride will increase to 2.90€ (12 AED), but unlike most other major cities, the price per kilometre remains 0.45€ (1.82 AED).
If you keep your taxi waiting for one hour there will be an additional charge of 6€ (25 AED)
What our customers say about Welcome
How to get a Taxi in Dubai
Due to the high demand, there are plenty of taxis driving around Dubai just waiting to pick up their next customers, so you shouldn't have to wait out in the heat for too long before you're on your way. Taxis in Dubai are uniform, with a cream body and the Dubai Taxi Corporation logo on the door. However, different companies have different coloured roofs, including one just for women called Ladies Taxi, that sports a bright pink roof. When hailing a Dubai taxi from the street, be sure to check for the official logo and the 'TAXI' sign on the roof is lit up, this means the taxi is free. 
If you don't want to wait in the sun for a taxi to pass, you can head to the nearest taxi rank and grab the first cab in the line. Although there are over 50 official taxi ranks all over the city of Dubai, you can find the main ones outside of the main shopping centres and transport hubs, such as Al Hamriya Shopping Centre, Dubai Grand Hotel, Uptown Center and Al Sabkha Bus Station.
It's worth noting that not many taxi drivers in Dubai speak English and they don't usually know the names of the roads in the city. Instead, they will find your destination based on the landmarks near it, so you may want to do a little research before hopping into a taxi.
Book your Dubai Taxi Transfer in Advance
When it comes to booking your Dubai transfer in advance, you can choose to use a local Dubai Taxi Corporation car, or book through a private provider. Booking with a local taxi company means that you will need to pay a 2€ (8 AED) surcharge during the day and 2.90€ (12 AED) during peak times. Your fare will then be calculated based on distance at the usual rate per kilometre. 
If you'd prefer to have a fixed rate Dubai transfer and know exactly how much it's going to cost, you can book through a private transfer service such as Welcome Pickups. Not only will you avoid any hidden costs, but all of their drivers speak fluent English, so nothing will get lost in translation.
Dubai Taxi Tips
It's not obligatory to tip your taxi driver in Dubai, but they are always appreciated. If you enjoyed your journey, giving an extra 5 or 10 AED will make a great tip.
Be sure to carry small bills with you as taxi drivers don't usually carry much change.
Major credit cards are widely accepted in Dubai taxis.
Most taxi drivers in Dubai are expats from countries like South Asia, so they don't speak much English or know the city roads well. It's common practice for your driver to find your destination based on the nearest landmark, so be sure to look this up before your journey.
Make sure your driver resorts the taximeter to the correct base fare before you begin your journey.
It's safe for women to ride in taxis in Dubai, but be sure to sit in the back seat only as sitting in the front seat can be easily misunderstood.
There are women's only taxi companies with only female drivers, these are called Ladies Taxis and have pink roofs.
Dubai Taxis don't offer baby-seats as standard, so be sure to bring your own.
Wheelchair Accessible Taxis in Dubai
The Dubai Taxi Corporation started the Al Khair Ride initiative in early 2019, where people with disabilities are able to ride for free. All of the vehicles in the Al Khair Ride group are fully equipped and wheelchair accessible thanks to specialist ramps and chair lifts. To ensure the safety of all handicapped passengers, the drivers are also all trained to assist people with disabilities. 
If you wish to book an Al Khair Ride taxi, you can call:
Tel: 042080808
Dubai Taxi Safety and Complaints
Although not common, sometimes your taxi driver may try to charge you the wrong fare, be rude or cause problems during your Dubai transfer. If this happens, you can make a complaint to the Road and Transport Authority (RTA) via email or phone. You can expect a reply by email in 3 days and a resolution over the phone within 7 days. 
RTA:
Email: [email protected]
Tel: 8009090
Before you make your complaint, be sure to write down the date, time of day, cost and route of your journey and the licence number and name of your driver. You should also ask for a receipt from your taxi driver as most of this information can be found there.