Taxis in Santiago
Santiago is a cosmopolitan metropolis, home to sophisticated festivals, versatile parties and flavourful cuisine. If you are a night owl and have come to the city to party non-stop, your search is over. A Santiago taxi will add value to your vacation and escort you during your nighttime adventures in the city. For a truly unforgettable time, book a convenient vehicle and step right into a world of luxurious transportation.
TRAINED DRIVERS
Hand picked & english speaking drivers
LOW PRICES
Same price as a regular Taxi from the line
FLIGHT MONITORING
Drivers are always on time
QUALITY SUPPORT
24/7 Email & Phone support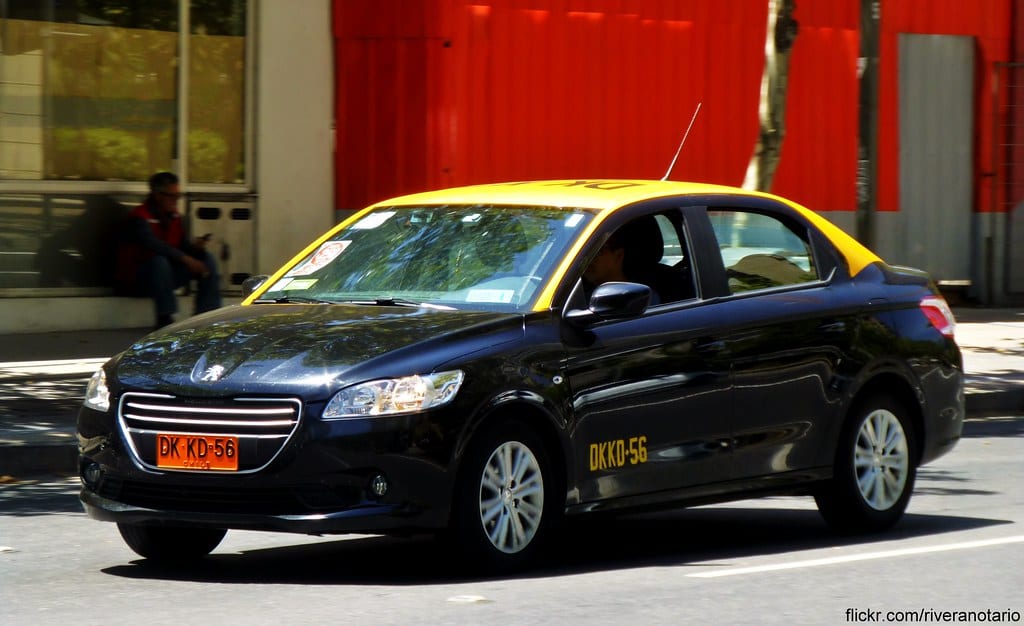 Cost of a Santiago Taxi
Santiago is full of cabs, all black with yellow roofs. Taxis in Santiago use taximetres to determine the total fare for your ride. However, since tariffs are not regulated by the prefecture, you might need to haggle the prices with local drivers.
Flag fall – CH$300 (€0.33)
Tariff per kilometre – CH$150/200m (€0.16)
Tariff per minute – CH$150/200m (€0.16)
Kindly note that for longer rides, ex. from the city centre to the airport, you can negotiate flat fares.
In Santiago, Chile, there are also shared taxis, called Collectivos. These are pretty affordable taxis which are quite common in most Latin American countries. Collectivos are generally a better option than metered taxis. They charge around CH$2000 (€2.07) for a trip in the city.
What our customers say about Welcome
How to get a Taxi in Santiago
Taxis are abundant in Santiago, so getting one would be no problem at all. You can stop a driver on the spot, walk to the nearest rank, call a radio taxi company or download an app.
It's generally safe to hail cabs in the street, though hotels and restaurants will readily call you one, too. Most Santiago taxi drivers are reliable, courteous and discreet, but a few may also take roundabout routes, so make sure you use Google Maps beforehand. Colectivos taxis are black with roof signs and may be a little more affordable. You can find them in main squares, outside major landmarks such as Santa Lucia Hill, La Moneda Palace, and Plaza de Armas. You can also find airport taxis waiting outside the arrivals terminal.
If you'd rather not risk waiting to find a taxi on the street, taxi apps may also be a good alternative.
Benefits of Booking a Santiago Transfer in advance
When you are in a whole new city, it's better not to take any risks with your transportation. You might get lost in the intricate public network and waste precious time that you could be spending enjoying the city with your friends and family. With Welcome Pickups, you can relax and savor this destination without pressure, as your city savvy driver shares all the local tips you need and the coolest places to visti. So book your Santiago taxi today and enjoy a trip you'll never forget!
Santiago Taxi Tips
Check online how much a taxi ride in Santiago will cost before negotiating rates.
Have small bills, as travellers often complain of being short-changed by drivers.
Always pay in Chilean pesos. There are continuous fluctuations of currency value, so you may be overcharged if you decide to pay in foreign currency.
Wheelchair Accessible Taxis in Santiago
As you might suspect, Santiago is not a very wheelchair accessible city. Therefore, conventional taxis do not have ramps or spaces to accommodate wheelchair users. To book a private adapted vehicle by calling +56 9 9895 6990.
Safety and Complaints for Santiago Taxis
Even though taxis are considered safe in Santiago, some of them are unlicensed, so it is better to steer clear of them to avoid unpleasant surprises. The licensed taxis have the logo of the company on their car. If you think you have been taken advantage of by a local driver, contact the Santiago Police Department at +56 2 916 3000.