Taxis in Ho Chi Minh
Ho Chi Minh is one of the most popular tourist destinations in Vietnam and has long attracted visitors with its fascinating culture, classy architecture, and sleek skyscrapers. In such a vibrant city, it's easy to feel lost especially if you are a newcomer. So picking a taxi for your transportation is perhaps a wise choice thanks to its numerous advantages including safety, comfort and speed. Get to your destination on time and enjoy your vacation without compromising your budget by booking a Ho Chi Minh taxi in advance today.
TRAINED DRIVERS
Hand picked & english speaking drivers
LOW PRICES
Same price as a regular Taxi from the line
FLIGHT MONITORING
Drivers are always on time
QUALITY SUPPORT
24/7 Email & Phone support
How much does a taxi cost?
Night time


(00:00 - 05:00)
Tan Son Nhat International Airport to Ho Chi Minh City Museum
Tan Son Nhat International Airport to Ho Chi Minh City, Vietnam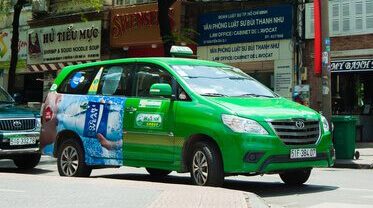 Cost of a Ho Chi Minh Taxi
You might wonder if taking a taxi in Vietnam is an affordable option for your transportation. Fortunately, taxi fares in Vietnam are officially set by cities or districts.
The taxi fare in Ho Chi Minh City was last set in January 2017 and published in the official tariff ordinance. It is binding for all taxis and taxi companies within the compulsory driving area and may not be exceeded or undercut. This is ensured by officially calibrated taximeters.
Base Fare: 12,000.00 VND (€0.45)
Rate/km: 13,000.00 VND (€0.49)
Rate/hour: 30,000.00 VND (€1.14)
From the airport, the tariff to most hotels in District 1 should be around 150,000 – 170,000 VND (€5.68 – 6.44) and you will have to pay extra 10,000 VND (€0.38) to cover the Airport surcharge. When entering the taxi, always ask the driver to turn the taximetre on.
What our customers say about Welcome
How to get a Taxi in Ho Chi Minh
With more than 30,000 taxis in Ho Chi Minh, finding one shouldn't be hard. Ho Chi Minh city taxis are generally affordable and can be hailed anywhere. Travelers can walk to the nearest taxi rank, stop a taxi on the street or call a trustworthy local company such as Mai Linh or Vinasun.
Ho Chi Minh taxis provide safety in a place where heavy traffic and pickpocketing are daily phenomena. They are also comfortable and air-conditioned, keeping passengers away from the sun and rain.
Around many tourist attractions, hotels and shopping malls in Ho Chi Minh you can see drivers waiting in queues for their customers, so you can easily hop on a taxi. You can also wave at a passing taxi. The driver will pick you up if they are available. However, if you don't want to hail a taxi on the street, you can ask the receptionist at your hotel to help you call a taxi and negotiate the fare. Taxi drivers don't usually speak English, so having the address written down in Vietnamese will come in handy.
Benefits of Booking a Ho Chi Minh Taxi in Advance
Ho Chi Minh can be an intimidating place, particularly if you are coming here for the first time or travelling with young kids. The crazy rhythm of this chaotic metropolis may shock even the most experienced traveller. For the best and most reliable Ho Chi Minh taxi service, book in advance with Welcome Pickups. Our knowledgeable drivers know the best shortcuts to avoid heavy traffic and will tour you around this gorgeous city in total comfort. For a seamless airport pickup, book in advance with Welcome and enjoy the city at your leisure.
Ho Chi Minh Taxi Tips
Most Vietnamese drivers don't speak English so having the address of your destination written down in Vietnamese may be handy.
You may encounter taxi scams: fake taxis or drivers with non-reliable taximetres, deliberately making the trip longer for more money. Be careful when entering the taxi and ensure the taximetre is on throughout the ride.
Make sure to call a taxi company during rush hours as there are queues and waiting times may be longer than usual.
Wheelchair Accessible Taxis in Ho Chi Minh
The city as a whole is a very wheelchair accessible place. However, typical taxis you will find driving on the streets don't have any special ramps or seating for wheelchair users. If you need a fully accessible vehicle, reach out to Mai Linh and order your personalized vehicle today.
Safety and Complaints for Ho Chi Minh Taxis
It's quite common for taxi drivers to take longer routes, negotiate the fare before setting the taximetre or increase the base fare. If you believe this has happened to you, you should write down the taxi number and driver's unique ID number, ask for your receipt and get out. You can then call the local police at +84 28 3836 9131.