Taxis in Lanzarote
Getting a taxi in Lanzarote is inexpensive and simple, even though there aren't many taxi companies on the island. Taxis services on the island are restricted to people with taxi licenses, mostly owner-operated. There's a wide range of vehicles used for taxis in Lanzarote, including 8 and 9 seaters, saloons, estate cars, and disabled accessible taxis. The most common car used for taxis in Lanzarote is the Mercedes E Class. 
The taxis in Lanzarote have different colours because different municipalities on the island license them. For example, Playa Blanca taxis are red, San Bartolome taxis are white with red roofs, and Arrecife taxis are white with a green and red stripe on the door. Whether you want a comfortable ride on the island or a quick and convenient way to get from Lanzarote airport to the city centre, taxis are your best option on Lanzarote island.
TRAINED DRIVERS
Hand picked & english speaking drivers
LOW PRICES
Same price as a regular Taxi from the line
FLIGHT MONITORING
Drivers are always on time
QUALITY SUPPORT
24/7 Email & Phone support
How much does a taxi cost?
Night time


(00:00 - 05:00)
LANZAROTE AIRPORT TO ARRECIFE
LANZAROTE AIRPORT TO PUERTO DEL CARMEN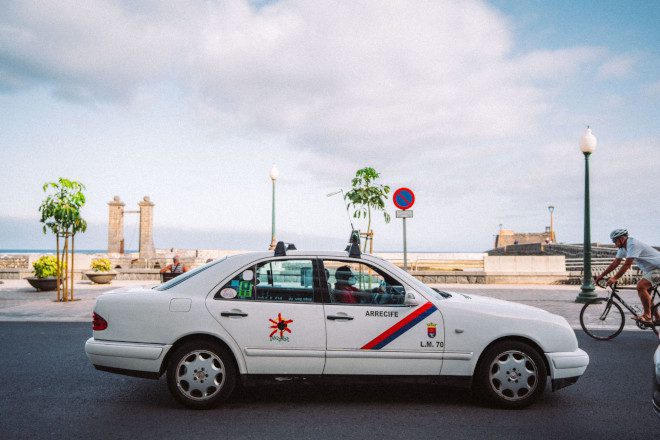 Lanzarote Taxi Prices
Unlike other parts of Spain, living in Lanzarote is a lot cheaper. Taxis in Lanzarote are metered, and they operate on a strict fare structure. This is generally influenced by distance, time and day. Therefore, your fares will be more expensive if you're travelling for longer distances, night trips, and public holiday transfers in Lanzarote. 
Here's a breakdown of Lanzarote Taxi Prices
Rate per unit – €0.05
Day price per km (06:00 to 22:00) – €0.54
Night price per km (22:00 to 06:00) – €0.60
Supplemental charges are also added to these prices, and they include:
Arrival or departure at the airport: €1.65
Christmas and New Year Eve (22:00 to 08:00) – €5
It is important to note that you'll pay an extra charge of €14.53 if you keep your driver waiting for up to an hour.
What our customers say about Welcome
How to Get a Taxi in Lanzarote
Getting a taxi at the airport and in ports is easy because they are always available. However, you may need to wait a bit on busy days, but they come around real fast. You'll find different handlers who will ask you if you need any assistance and help you get a suitable taxi. Taxis are also available in villages, towns, and resort areas on the island. 
Depending on your preference, you can book a taxi online, call for a local taxi, or hail a taxi. Hailing a taxi isn't always easy because only taxis from the municipality you are currently in can pick you up. 
You can call local taxi offices if you would like a taxi to pick you up, to for door to door services.
Arrecife: +34 928 803104
Puerto del Carmen: +34 928 524220
Costa Teguise: +34 928 524223
Playa Blanca: +34 928 524222
Book your Lanzarote Taxi Transfer in Advance
It's always a great thing to know that a Lanzarote taxi is waiting to transfer you to any destination and at a fixed price. Booking a Lanzarote taxi in advance is a great way to avoid unforeseen circumstances like cases where it becomes really hard to get a taxi. You can book a Lanzarote transfer from any taxi company online, but you need to note that this may come with hidden charges and steep rates. We recommend booking your Lanzarote transfer with Welcome Pickups to avoid all this stress.
Lanzarote Taxi Tips
Always ensure that the taxi driver resets his taximeter before the journey begins.
Taxis in Lanzarote don't carry child seats or booster cushions. Therefore, you should bring your own if you need one.
Not all taxi drivers in Lanzarote speak English, and you may need to write down your address or have it ready on Google Maps.
Wheelchair Accessible Taxis in Lanzarote
Most of the taxis in Lanzarote have enough space for foldable wheelchairs, but you can also find wheelchair-accessible taxis for mobility scooters and electric wheelchairs. In addition, you can book a fully accessible 8 or 9 seater taxi with access ramps, large walkways and spacious seating. Regardless of your destination, you'll find wheelchair-accessible taxis in Lanzarote. A reputable company called Wheelchair Accessible Holiday Taxis provides wheelchair-accessible vehicles, and you can reach them by calling +44 (0) 203 585 4040
Lanzarote Taxi Safety and Complaints
Even though taking a Lanzarote taxi is safe, fast and convenient, you're likely to encounter rude drivers or even a potential scammer. If you come across a rude driver or scammer, the best thing to do is to get the driver's name, taxi number, and ID number and take them to the local police to lay down your complaints. You can get this information from your receipt, which is why it's always good to request one. Alternatively, you can call the taxi company where the driver works and speak to their complaints department.