Taxis in Toulouse
From spaceships to picturesque cloisters, from the Capitole to Cassoulet, Toulouse is a city of contrasts for the young at heart. It is a sunny wonderland of lively bistros and laid-back locals that are bound to make you feel welcome. And what better way to save time for sightseeing than to witness it all from the comfort of your own private taxi? If you would rather spend your time strolling along the medieval bridges than dragging your luggage in some crowded bus, then a trip with a Toulouse taxi is sure to make your day.
TRAINED DRIVERS
Hand picked & english speaking drivers
LOW PRICES
Same price as a regular Taxi from the line
FLIGHT MONITORING
Drivers are always on time
QUALITY SUPPORT
24/7 Email & Phone support
How much does a taxi cost?
Night time


(00:00 - 05:00)
MATABIAU STATION TO CITY OF SPACE
MATABIAU STATION TO PONT NEUF
TOULOUSE CENTRE TO BLAGNAC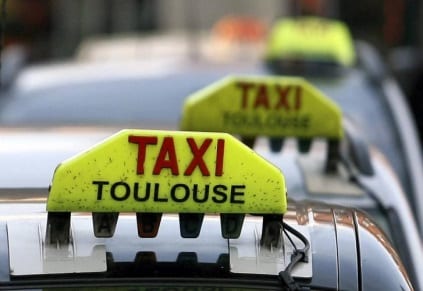 Cost of a Toulouse Taxi
Taxis in France use a taximeter that records the length of your journey. The taxi fare is then calculated according to the total distance. Customers pay per kilometer traveled, and these amounts vary depending on the length of the ride. The metered rate does not include any extra charges applicable to the journey. It is highly recommended that passengers discuss the fare with the driver before hopping on the taxi.
Base fare – €7.10
Price per kilometre (day) – €1.70
Price per kilometre (night) – €1.80
Kindly note that waiting time is charged at €32.20 per hour.
A taxi from Toulouse Airport to the city centre will cost approximately €35, while a trip to Colomiers, Sesquières or Mirail will be around €23. Travellers should also bear in mind that additional costs may apply for things like excess luggage, extra passengers or travelling during public holidays.
What our customers say about Welcome
How to get a Taxi in Toulouse
Several taxi stations are dotted around popular tourist spots: Taxi ranks can be spotted on Wilson square, Capitole, Esquirol, Saint-Cyprien, Carmes, Jeanne d'Arc and Boulevard de Strasbourg.
Taxis are available for transport from Toulouse Blagnac Airport to the city centre, and there are taxi ranks located at the main bus and train stations. You may also find them near the more popular public areas of the city. Taxis may be called to come and collect you from your location as well.
Benefits of booking a Toulouse Taxi in advance
If the mere thought of figuring out the local transportation network in a foreign city makes you sigh, then look no further. Welcome will make sure you have the best possible transfer experience, and offers perks such as English speaking drivers, flat pre-paid fee equivalent to a taxi from the line and flexible cancellation options.
Toulouse Taxi Tips
If you are travelling in large groups, you should keep in mind that in France, taxis carry up to 9 passengers.
Before hopping on the taxi, you should negotiate an amount for the journey with the taxi driver. However, they are nonetheless legally obliged to turn on the taximeter.
The taximeter must indicate which type of tariff is being used to calculate the taxi fare. Before the ride, make sure that the taximeter is set correctly.
Wheelchair Accessible Taxis in Toulouse
Toulouse is a very wheelchair accessible city. Almost half of the metro network lines are totally accessible by people with reduced mobility. Buses are also adapted for this purpose and have low floors. However, regular taxis in Toulouse don't have any special ramps or seating for wheelchair users. If you want to book an adapted taxi for people with mobility difficulties, you can do so via Lourdes Transports.
Safety and Complaints for Toulouse Taxis
Toulouse taxi fares are set by the prefecture, however it's not uncommon for taxi drivers to take a longer route for higher charges or use Tariff 2 during the day. If you believe you have been a victim of overcharging, you should write down the taxi number and driver's unique ID number, ask for your receipt and call the police as soon as possible at +33 5 61 12 81 97.