Trustworthy and Reliable Taxi in Yerevan
If you're looking for a cultural city break, visiting Yerevan in Armenia will be an incredible choice. Yerevan is one of the oldest continually inhabited cities in the world, making it uniquely historical and modern at the same time. From the country's top museums and cultural institutions to world-class restaurants and boutique hotels, there's so much to see and do in Yerevan. When it comes to travelling around this amazing city, the easiest choice is to take a quick and reliable Yerevan taxi. You can very easily hail a taxi in the street, walk to a taxi rank, use a Yerevan taxi app or book your rides in advance.
TRAINED DRIVERS
Hand picked & english speaking drivers
LOW PRICES
Same price as a regular Taxi from the line
FLIGHT MONITORING
Drivers are always on time
QUALITY SUPPORT
24/7 Email & Phone support
How much does a taxi cost?
Night time


(00:00 - 05:00)
CENTRAL RAILWAY TO CITY CENTRE
CITY CENTRE TO SEVAN MONESTARY
KILIKIA BUS STATION TO CITY CENTRE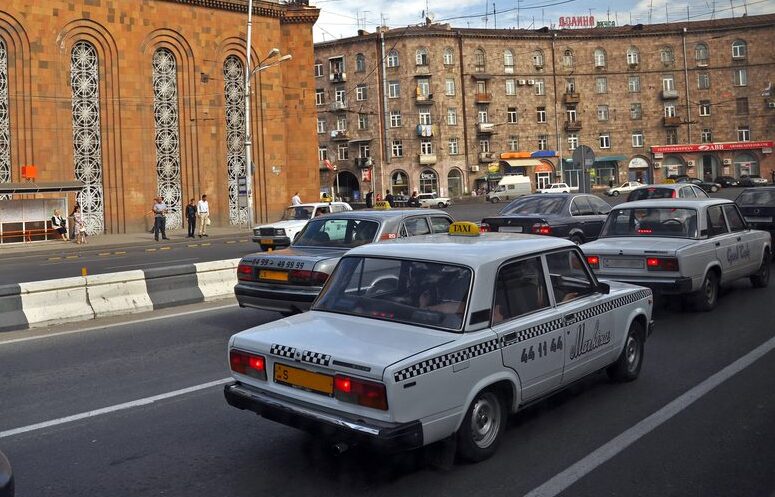 Cost of a Taxi in Armenia's Yerevan
Generally speaking, taking a Yerevan taxi is very affordable compared to cab prices in many other major cities. However, there's no set rule for how taxis in Yerevan will calculate their fares. Some drivers will give you a fixed fare based on your destination, others will switch on their taximeter to calculate your final fare. If your driver does use a taximeter, your journey will be calculated as follows:
Price for first 4 km: €1.50 (AMD 600)
Price per km: €0.25 (AMD 100)
What our customers say about Welcome
How to Get a Taxi in Yerevan
Unlike many other cities, you can't call a phone-dispatch Yerevan taxi company. Instead, you can choose to hail one in the street or walk to a taxi rank; taxi stands are located outside all the main transport hubs and tourist attractions. However, as there are many illegal vehicles and drivers claiming to be taxis in Yerevan, it's important to make sure you are travelling with a licensed driver for your security and protection. Ensure your driver has an official ID on display and that the taxi number is clearly visible before you enter a cab. The best way to ensure you're taking an official taxi in Yerevan is to book your rides in advance, or use a Yerevan taxi app for on-demand service. Two of the top apps are GG Taxi and Yandex Taxi.
Why Book your Taxi in Yerevan with Welcome Pickups?
Having to haggle with local Yerevan taxi drivers or trying to explain addresses to non-English-speaking drivers can be stressful and difficult. To avoid these common issues, why not book your taxi in Yerevan in advance with Welcome Pickups? All of our drivers are fluent in English, drive modern and fully regulated vehicles, offer competitive fixed-rate fares and always guarantee an on-time pickup.
Yerevan Taxi Tips
For long journeys, ask your Yerevan taxi driver to give a fixed fare, not to use the taximeter.
Taxis in Yerevan don't accept card payments, you will need to pay by cash.
There's no extra charge for bringing luggage or large items that fit in the trunk of the car.
It's not common to call a taxi in Armenia - Yerevan, instead, try using one of the local apps.
Wheelchair-accessible Taxi in Armenia, Yerevan
If you're in need of a fully wheelchair-accessible taxi in Yerevan, you will need to book with a specialist provider. For example, VMA Assistance provides wheelchair-accessible transfers all over Armenia, including Yerevan. They also have a 24-hour service line for bookings and assistance; +374 (060) 50 99 00.
Yerevan Taxi Safety and Complaints
There are quite a few unlicensed drivers that operate throughout the city. Because of this, it's extremely important to ensure you're travelling in a legal and registered Yerevan taxi vehicle and with a legitimate driver. The official taxis in Yerevan will always have a taxi number on display and the driver will have their unique ID with a photo visible too. If you do encounter any issues with an illegal driver, you can report them to the local authorities.