Travel safely with Welcome Pickups
Net Safety Score
We've introduced a metric indicating how safe travellers feel when using our services during the COVID-19 pandemic. After every ride, we ask each traveller to leave a review.
20 minute gap between transfers

Following each ride, our drivers have at least 20 minutes to thoroughly clean the surfaces of the car and ventilate the cabin.

Regular Car Sanitisation

Our drivers thoroughly sanitise and disinfect cars according to Welcome Safety Protocol

Contactless ride

When you book, you can request to have zero contact with the driver during the transfer with just one click. In this case, the driver won't help you with your luggage or shake hands.

Sanitiser in every car

We provide hand sanitisers and hand wipes for all our travellers. Our drivers have their own sanitiser, which they use before and after every ride
Taxis in Riga
Riga, Latvia's capital city, is located in the east part of the country on the Baltic Sea. Known for its UNESCO Historical city centre, the city is home to wonderous architecture, bustling markets and natural wonders. With over 8 million annual visitors, Riga is the perfect holiday destination for all, which is why taking a Riga taxi is the best way to get around town.
TRAINED DRIVERS
Hand picked & english speaking drivers
LOW PRICES
Same price as a regular Taxi from the line
FLIGHT MONITORING
Drivers are always on time
QUALITY SUPPORT
24/7 Email & Phone support
How much does a taxi cost?
Night time


(00:00 - 05:00)
FROM RIGA TO RAGAKAPAS PARK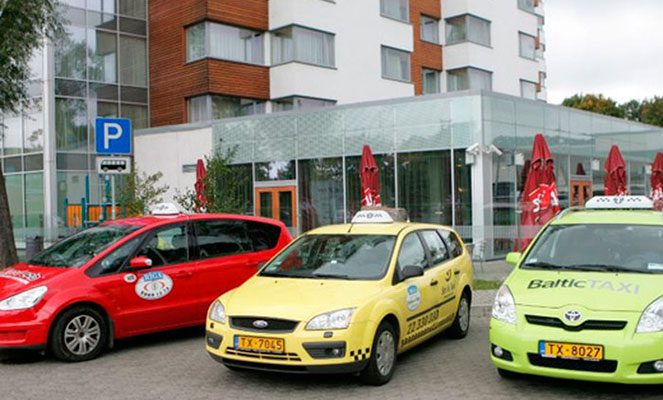 Riga Taxi Prices
Taxis in Riga are a great transportation option, as they are reasonably priced and available 24/7. Latvian cabs calculate their fares using a taximeter based on the time and distance travelled to your exact location in town.
Different taxi companies operate in and around Riga and have their own pricing system. However, the most common prices are as follows:
Base fee: €1.70
Price Per Kilometre: €0.64
Waiting time per hour: €7.80
Nevertheless, if you prefer to travel with a trusted company at a set fare and with no hidden fees, you can pre-book your Riga private transfer with Welcome Pickups.
What our customers say about Welcome
How to get a taxi in Riga
Taxis in Riga are easy to come by as many can be found roaming the streets or in ranks near major tourist hubs and hotels. Alternatively, if you prefer ordering a taxi online, on a mobile app or even via phone, you can contact any of the following taxi cab companies:
Red Cab: +371 8383 / +371 6000 8383
Baltic Taxi: +371 2000 8500
Smile Taxi: +371 2233 0330
GINX Taxi: +371 6800 0006
The Benefits of Booking a Riga Transfer in Advance
Getting around a new city in the comfort of a private vehicle is priceless, especially if you are travelling in a group and/or with children. The last thing you want is to get lost in Riga's public transport or waste your time looking for a taxi rank around. That is why pre-booking your private transfer with Welcome Pickups is the best way to start your holiday.
Welcome provides premium customer support, guaranteed on-time pickups, a fast and simple booking process and local English-speaking drivers handpicked and trained by our team.
Riga Taxi Tips
Tipping your taxi driver in Latvia isn't expected; however, it is always nice to round up your fare to the higher euro.
Only two official taxi companies can operate at Riga International Airport: Red Cab and Baltic Taxi.
Always ensure that the taximeter has been turned on and reset before starting your journey.
There is no price difference for day, night or weekend trips in Riga.
Riga Wheelchair Accessible Taxis and Transfers
RedCab, the main taxi service in Riga, offers reliable wheelchair-accessible vehicles.
Ensure you book your taxi 3 to 4 hours in advance as they only have a few vehicles available. You can book your accessible cab by calling +371 8383 on a local number or +371 6000 8383 on a foreign number.
Riga Taxi Safety and Complaints
If you, unfortunately, encounter a bad experience during your Riga taxi journey, you can file a complaint directly with the taxi company you travelled with. Just ensure you're able to provide as much information as possible relating to your driver (name, registration etc.) and the time/date/location of your pickup/drop-off.