Taxis in Oslo
Oslo is the financial and governmental centre of Norway. The city is also a hub of Norwegian trade and industry and is known for its architectural wonders. If you are here for a few days and would rather visit the Viking Museum twice than spend your entire day trying to figure out how to get around by metro, then opt for an Oslo taxi. Taxis in Oslo are by far the best method to explore this stunning destination, without compromising your budget or comfort.
TRAINED DRIVERS
Hand picked & english speaking drivers
LOW PRICES
Same price as a regular Taxi from the line
FLIGHT MONITORING
Drivers are always on time
QUALITY SUPPORT
24/7 Email & Phone support
How much does a taxi cost?
Night time


(00:00 - 05:00)
OSLO AIRPORT TO DOWNTOWN AREA
OSLO AIRPORT TO VIKING MUSEUM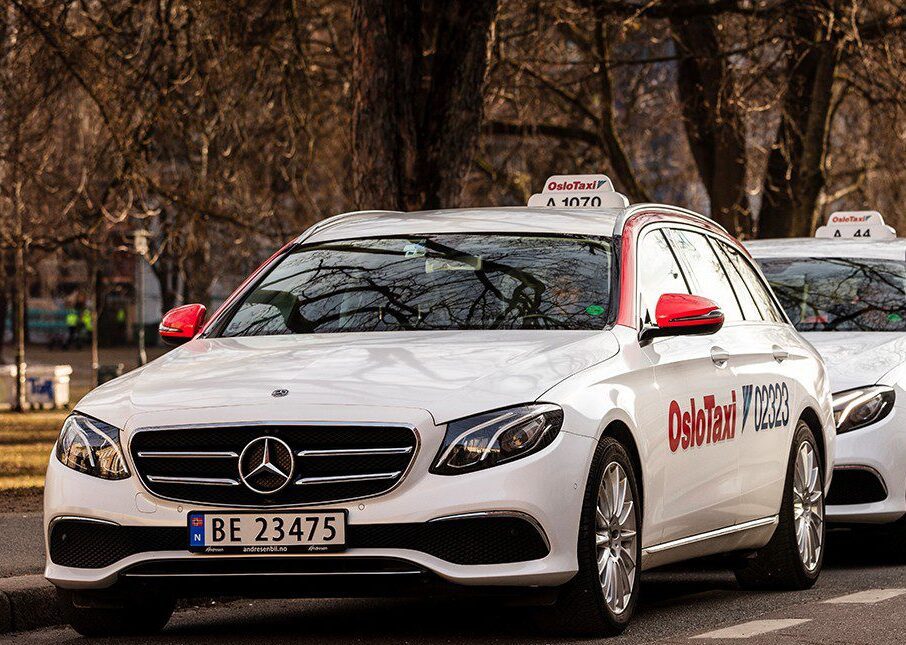 Cost of an Oslo Taxi
Admittedly, Oslo's taxi prices are a bit high but fortunately, fares are regulated by the local government in the Norwegian capital.
All taxis in Oslo use taximeters. The taximeter starts at 30 NOK if you hail a taxi from the street, or 50 NOK if you book one by phone or online. After this, you pay about 20 NOK per kilometre, and 7 NOK per minute. The base fare is about 80 NOK during the day, and 160 NOK at night.
Oslo taxis accept major credit and debit cards. In some cases, your Olso taxi driver will ask you to swipe your card at the beginning of the journey, to check whether or not it is active. The card is then swiped again when you arrive at your destination, this time, for payment. If you'd like to tip your Oslo taxi driver, you can round up the fare.
What our customers say about Welcome
How to get a Taxi in Oslo
Taxis are usually available around the clock. You can wave at the driver, walk to the closest taxi stop or even call a local company and book in advance. Taxis can be stopped anywhere, but there are also taxi stands, marked "taxi" or "drosje". They don't have specific colours, and are recognisable by the white signs on the roof, which are lit when the driver is available.
Oslo taxis can typically be seen outside major city landmarks, in popular districts or five-star hotels. It is highly recommended to ask the price before hopping on the taxi. Drivers are usually polite and keep their vehicles very clean.
During rush hours or bank holidays, booking a taxi in advance via an app or phone would be your best bet. Oslo Taxi is the largest and most reliable company for the Norwegian capital.
Benefits of Booking an Oslo Transfer in Advance
Finding a taxi in Oslo may not be the easiest task during cold months or after midnight. If you want to see this architectural wonderland in all its glory, then don't put your transportation on the back burner. Our friendly and knowledgeable drivers will show you around the city and take you from point A to B conveniently and effortlessly, with our 24/7 availability. Travel like royalty with Welcome and book a taxi in advance today.
Oslo Taxi Tips
Taxi stands are available at Oslo S, shopping centres and city squares, but only a taxi with a lit sign is available for hire.
Trains in the city run from 05:35 to 00:35 every 10 minutes. After that time, taxis and night buses are the only possible means of transfer.
Make sure to ask the driver for an approximate price for your destination before entering the vehicle.
Wheelchair Accessible Taxis in Oslo
Wheelchair-accessible taxis are available in Oslo. These wheelchair-accessible vehicles allow a passenger to enter the taxi via an extended ramp and remain seated in their wheelchair for the entire journey. Each accessible Oslo taxi has securement space for one manual or powered wheelchair with safety tie-downs or straps. A relatively affordable option is the provider Oslo Taxi as they have some suitable vehicles in the it fleet.
Safety and Complaints for Oslo Taxis
Norwegian taxi drivers speak English as a rule, and usually won't try to overcharge tourists so you can expect your Oslo taxi driver to be courteous and polite. However, if you think that a driver may have attempted to overcharge you or has taken a longer route than anticipated, stop the vehicle, request your receipt which will contain all the relevant ride details and contact the company you travelled with directly to escalate the matter, or visit your nearest police station if you wish.