The most luxurious way to travel - a private Verona taxi
Between the medieval Old Town and vibrant history entwined with Shakespeare, Verona is the perfect place to dive into authentic Italy. Be sure to check out the 14th-century 'Juliet's House' and the impressive Verona Arena – a 1st-century Roman amphitheatre. When it comes to exploring all the exciting sites this city has to offer, the best way to get around is to take a Verona taxi. You can either hail a taxi in Verona in the street, prebook your rides, call for a phone dispatch taxi or use a local Verona taxi app.
TRAINED DRIVERS
Hand picked & english speaking drivers
LOW PRICES
Same price as a regular Taxi from the line
FLIGHT MONITORING
Drivers are always on time
QUALITY SUPPORT
24/7 Email & Phone support
How much does a taxi cost?
Night time


(00:00 - 05:00)
FROM AIRPORT TO CITY CENTRE
FROM VERONA PORTA NUOVA STATION TO JULIET'S HOUSE
FROM HOTELS TO VERONA ARENA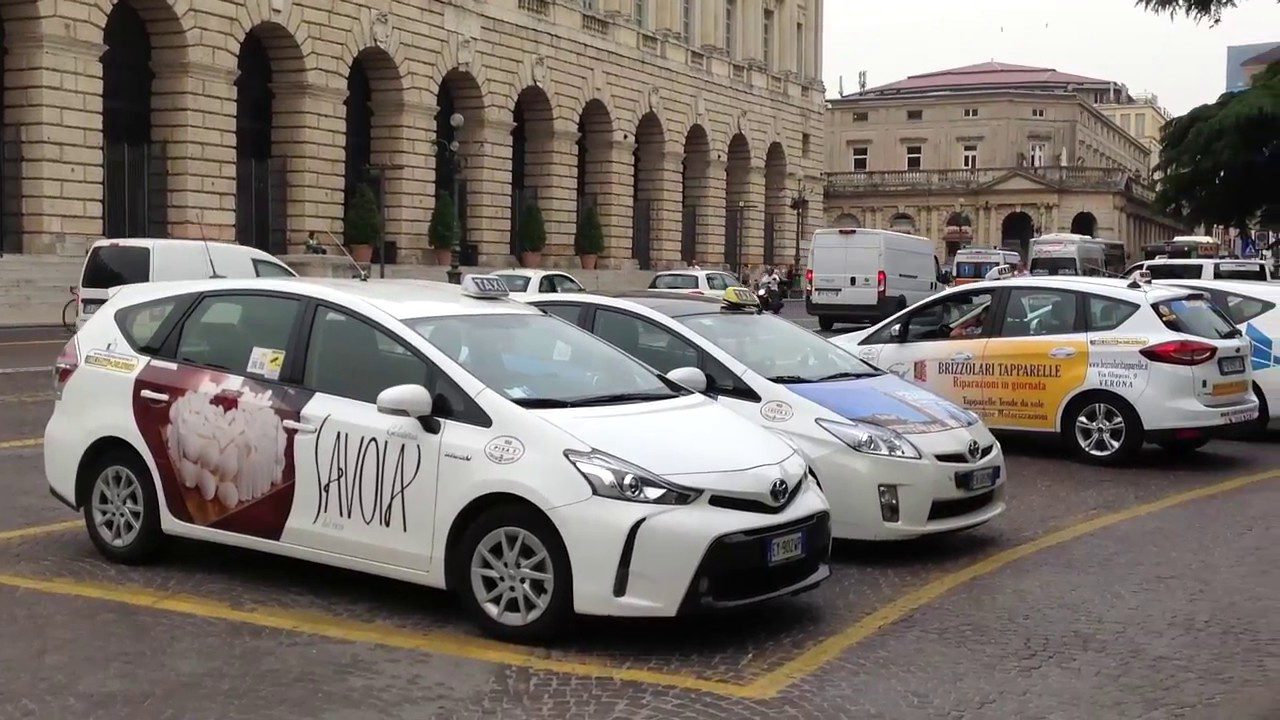 Cost of a taxi in Verona
Taxis in Verona are supposed to use a taximeter to calculate the cost of your journey. However, most drivers choose to turn off their meters and give you a fixed rate based on your destination. Travelling during the high season and at night will be more expensive than travelling during the winter months or during the day. If your driver is using their taximeter, you can expect to be charged as follows;
Daytime base fare (06:00 to 22:00): €3.73
Nighttime base fare (22:00 to 06:00): €5
Price per km: €1.46
Waiting per 1 hour: €24.89
What our customers say about Welcome
How to get a taxi in Verona
There are both private and local Verona taxi companies running throughout the city, so grabbing a taxi in Verona couldn't be easier. The local taxis can be found at ranks located at the transport hubs and major tourist attractions or can be hailed in the street.
For a more personalised transfer, you can also book your Verona taxi in advance, call one of the private phone dispatch companies or use a Verona taxi app. Some of the more popular Verona taxi companies that are available over the phone are;  
Unione Radiotaxi Verona: +39 045 532 666
Taxi Privato: +39 392 252 9627
Legal Shuttle Verona: +39 370 303 7077
Why book your Verona taxi with Welcome
Avoiding miscommunication that may result in stress and overcharging is necessary when booking your transfers in a foreign country. That's why the easiest way to travel during your time in Verona is with Welcome Pickups. All of our Verona taxi drivers are local to the area and speak fluent English. We also offer guaranteed on-time pickups, competitive set rates that can be paid in advance, and 24/7 customer support, should you need us during your trip. 
Verona taxi tips
If your Verona taxi driver doesn't have their meter on, be sure to agree on a price before beginning your journey.
You can fit up to 4 passengers in a standard taxi in Verona.
Most Verona taxi drivers don't accept card payments, be sure to bring cash with you.
During the summer months, the cost of a taxi in Verona may increase.
Wheelchair-accessible taxi in Verona
Although the standard Verona taxis aren't wheelchair accessible, there are a few companies that offer outfitted vehicles for wheelchair users. If you're looking for a taxi in Verona with a ramp or hydraulic lift, you can book with a company such as Taxi Gallo or Unione Radiotaxi Verona in advance.
Verona taxi safety and complaints
Taking a taxi in Verona is usually a safe and pleasant experience. However, with many different private companies operating in the city, the quality of service can vary. If you do experience any issues such as overcharging or a rude driver, you can first report it to the company you travelled with, then escalate it to the local police, if needed, by calling +39 045 809 0411.