Taxis in Casablanca
You can easily get a taxi in Casablanca, as there are many available vehicles of different types operating in the city. Official taxis in the Moroccan city feature a sign with the word taxi on the top of the vehicle and are either white or red. White taxis are called "grand taxis" and they are bigger than red taxis that are called "petit taxis". The safest way to get a taxi in Casablanca is to head to the taxi ranks. Alternatively, you can hail down a cab in the street. Taxis are also available at Casablanca Airport, offering a timely transfer to the city centre.
TRAINED DRIVERS
Hand picked & english speaking drivers
LOW PRICES
Same price as a regular Taxi from the line
FLIGHT MONITORING
Drivers are always on time
QUALITY SUPPORT
24/7 Email & Phone support
How much does a taxi cost?
Night time


(00:00 - 05:00)
FROM CASABLANCA TO CASA VOYAGEURS TRAIN STATION
FROM CASABLANCA TO MARRAKESH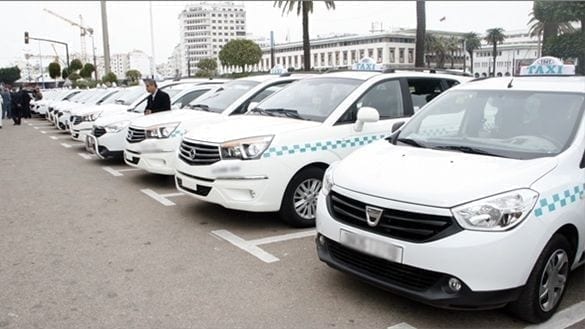 Casablanca Taxi Prices
Taxi prices in Casablanca are quite affordable and many locals and visitors use them to get around the city. In most cases, locals share their taxi with other passengers to reduce the final fare. You can choose to pay for the whole ride and travel in privacy instead. Casablanca taxis are metered. This means that the final fare is indicated on the taximeter at the end of your ride. Some people prefer to decide on a prefixed fare with the driver before starting the trip. The base fare for a taxi ride is an average of €0.7 (MAD 7.5), while the minimum price per km is €0.8 (MAD 8). Please, note that after 20:00 there is a 50% surcharge to the final fare.
Base Fare – €0.7 (MAD 7.5)
Minimum Rate / km – €0.8 (MAD 8)
Petit taxis are more affordable than grand taxis. Also, the final fare can be higher if you're travelling on a public holiday.
What our customers say about Welcome
How to get a taxi in Casablanca
Getting a taxi in Casablanca is simple. You can catch a ride 24/7. Although taxis are a bit scarcer during the night, a ride is almost always available at the popular spots around the city. If you want a transfer outside the city of Casablanca, you should ride with a grand taxi as petit taxis are only allowed to travel within the city centre limits. Bear in mind that petit taxis are rather small and there is no luggage space.
Book your Casablanca Taxi Transfer in Advance
Casablanca is a city full of energy and life. Public means of transport get quite crowded and it is not easy to find your way around if you're new to Morocco. By booking a taxi transfer in advance, you make sure that a vehicle picks you up at your chosen location. You pay a fixed fare and you can request special services for a private and smooth ride. Prebooking with Welcome Pickups, you are guaranteed a safe and enjoyable trip in the city centre of Casablanca or to your desired destination in Morocco.
Casablanca Taxi Tips
Ensure that the taxi driver activates the meter and that it is set to the correct time of the day. Taxi prices are 50% higher at night, so you can end up paying more than you should.
It is a good idea to learn some basic words and phrases in the local language, so that you communicate more efficiently with your driver.
Sharing a taxi ride is very common in Casablanca. If you want the vehicle to yourself, you can ask to pay for the whole taxi. In that case, the driver will not stop to pick up any more passengers.
Always carry change in Moroccan dirhams, the local currency. The vast majority of Casablanca taxis do not accept credit cards.
Riding a taxi in Casablanca can feel intimidating for visitors. Streets can get crowded and some drivers tend to ignore traffic rules. If you feel your driver is driving recklessly, you can politely ask that they slow down.
Wheelchair Accessible Taxis in Casablanca
Neither petit nor grand taxis are suitable for passengers using a wheelchair in Casablanca. Petit taxis have very limited storage room and there is not enough seating space for a safe and comfortable ride. With grand taxis you can store foldable wheelchairs or trolleys. To get a wheelchair-friendly transfer in Casablanca you can prebook a ride with a private transfer company. Companies such as Morocco Accessible Travel Consultants and Vert Taxis offer spacious vehicles with enhanced accessibility features.
Casablanca Taxi Safety and Complaints
Getting around Casablanca with taxi may feel like an intense experience. The red petit taxis of the city are usually quite old and they do not always offer a relaxing journey. Additionally, some drivers may try to scam passengers with increased fares or by taking longer routes. It is recommended that you have a look at your route before the ride and that you only ride with an official taxi.