Taxis in Sydney
The quickest and most comfortable way to get around Sydney's buzzing city is by taking a cab. Not only do they offer door-to-door transportation, in the comfort of a private vehicle, but you also won't need to find your way around Sydney's public transportation. Moreover, finding a Sydney taxi is very easy as there are lots roaming around the streets, happy to stop and take you to wherever you wish to go.
However, if you prefer avoiding the hassle of getting a taxi in the busy streets of Sydney, or if you prefer travelling at a fixed rate fee, you can pre-book a private transfer online.
TRAINED DRIVERS
Hand picked & english speaking drivers
LOW PRICES
Same price as a regular Taxi from the line
FLIGHT MONITORING
Drivers are always on time
QUALITY SUPPORT
24/7 Email & Phone support
How much does a taxi cost?
Night time


(00:00 - 05:00)
FROM SYD - TO CITY CENTRE
FROM SYD - TO DARLING HARBOUR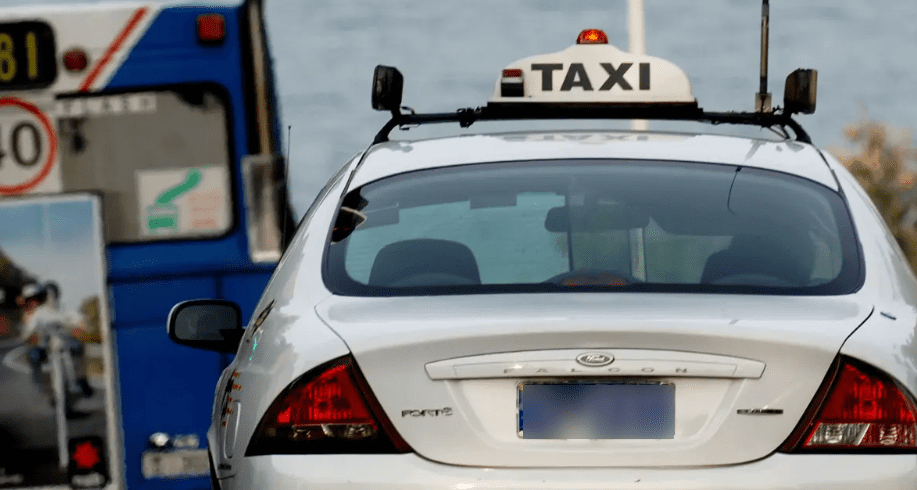 Taxi prices in Sydney
Sydney taxis calculate their fares using a taximeter, based on the time and distance travelled; and like most cities in Australia, there are three different tariffs that regulate the taximeters: the standard day fee, the night and public holiday fee, and the "Night Owl" rate.
Tariff 1 (06:00 – 21:59):
Initial fee: €2.20 ($3.60 AUD)
Per Km: €1.35 ($2.19 AUD)
Waiting time: €0.50 ($0.82 AUD/minute)
Tariff 2 (22:00 – 05:59 / Public Holidays):
Initial fee: €2.20 ($3.60 AUD)
Per Km: €1.60 ($2.63 AUD)
Waiting time: €0.50 ($0.94 AUD/minute)
Tariff 3 – Night Owl Rate (22:00 – 05:59 on Friday, Saturday only)
Initial fee: €2.20 ($3.60 AUD) + €1.50 ($2.50 AUD)
Per Km: €1.60 ($2.63 AUD)
Waiting time: €0.50 ($0.82 AUD/minute)
Keep in mind that all passengers leaving Sydney International Airport will have to pay an airport surcharge of €2.50 ($4.10 AUD) and any tolls encountered during their trip.
What our customers say about Welcome
How to get a taxi in Sydney
Sydney taxis are very easy to find as there are many roaming around the city streets. If you see a vacant taxi vehicle, you can raise your arm and directly hail the taxi. If you prefer getting your Sydney taxi at an official city taxi rank, there are many around the city, at big hotels, shopping malls and tourist attractions. Moreover, if all else fails, or if you simply wish to ensure a taxi at a fixed time and location, you can call one of the taxi companies and book one in advance.
Book your Sydney taxi service in advance
Knowing that your Sydney transfer is waiting for you at a set time, in a set location and at a fixed price takes a lot of weight off your shoulders. In addition to this, if you want to budget and plan your Sydney trip in advance, then pre-booking a door-to-door transfer, with a local, friendly driver is the best travel option.
Not only will you be avoiding extra hidden fees and long waits, but you will have a highly trained driver waiting for you if you book your private Sydney transfer with Welcome Pickups.
Tips for your taxi in Sydney
Make sure your driver resets the taximeter to the base fare and appropriate tariff before you begin your journey.
Tipping your taxi driver in Sydney Australia isn't expected, but is always appreciated. A good rule of thumb is to tip 10% of the final bill, or you can also let the driver "keep the change".
Please note, that all tolls along the way are payable by the passengers.
All taxis in Sydney accept cash and credit card payments.
As Sydney taxi trips can get quite costly, it is highly recommended to use a private transfer company when travelling longer distances, as they offer set rate fares.
Wheelchair accessible cabs in Sydney
Wheelchair-accessible taxis are easy to book or find around the city. You can book a private vehicle in advance via a company's website or by calling them, alternatively, you can go to any taxi rank and request a maxi taxi. Please note that the maxi taxi fee is not charged if the taxi ride involves a person using a wheelchair or disability scooter.
Sydney taxi safety and complaints
If you would like to file a complaint or report an issue related to your taxi driver, you can directly contact the service provider, and if that does not lead to anything, you can file an official complaint with the local Syndey police.