Taxis in Fortaleza
One of the biggest cities in Brasil, Fortaleza, has a lot to offer: the sandy beaches and party atmosphere mix well with its rolling dunes and fishing villages. The bohemian vibe is bound to dazzle visitors willing to chill on the beaches of this developing city. Seeing as in most of Brazil summer tends to be very hot, with temperatures rising to 43°C (110°F) and high humidity, waiting in line for public transport can get unbearable. Besides, why brave the heat when you can sit in your own air-conditioned vehicle and get to your destination with ease? This is why booking a Fortaleza taxi is a very good idea if you want to enjoy the South American summer, relax and truly escape without compromising your budget.
TRAINED DRIVERS
Hand picked & english speaking drivers
LOW PRICES
Same price as a regular Taxi from the line
FLIGHT MONITORING
Drivers are always on time
QUALITY SUPPORT
24/7 Email & Phone support
How much does a taxi cost?
Night time


(00:00 - 05:00)
FORTALEZA AIRPORT TO CITY CENTRE
FORTALEZA AIRPORT TO FORTALEZA BEACH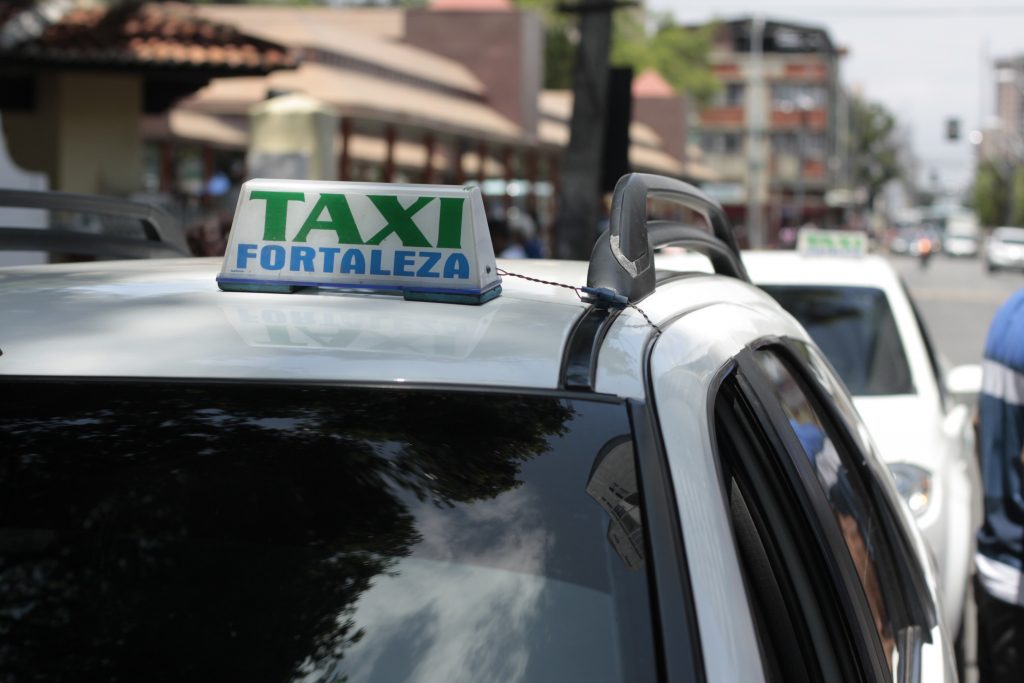 Cost of an Fortaleza Taxi
Taxis in Fortaleza are quite affordable for locals and travellers alike. Tariffs in Brazil are officially set by cities or districts and were last updated in March 2013 and Fortaleza taxis use a taximeter to determine the total value of your journey. The official fares are binding for all individual drivers and taxi companies operating within the area of Fortaleza and they are as follows:

Base fare: €0.67 (BRL 3.62)
Fare per additional 1km: €0.33 (BRL 1.81)
Standing or Waiting Time: €3.34 (BRL 18.1)
Keep in mind that there might be some taxi drivers who don't speak English, so it is advisable to have the name of your destination written down in Portuguese along with the agreed fare. It should be also noted that fares do not change, so the same fees apply for bank holidays and after-midnight rides.
What our customers say about Welcome
How to get a Taxi in Fortaleza
Taxis in Fortaleza can be found practically everywhere. According to the department of transportation, there are currently 4392 registered taxis and 53 designated taxi stands in Fortaleza. Most of them are located near important landmarks and highly populated areas such as Futuro Beach (Praia do Futuro), Metropolitan Cathedral and Canoa Quebrada. To pick up a cab in the city, walk to the nearest stand or phone a local company, such as Coopertáxi at +55 85 3477 5549. You can also try downloading an app or asking the reception desk at your hotel to book one for you.
Fortaleza taxi drivers usually prefer using a taximeter as opposed to negotiating a fare. Before entering a vehicle, make sure you have picked an officially registered driver. It is mandatory that all taxis in Fortaleza operate under a red license plate and therefore it's not advised to enter any vehicles without one.
Advantages of Booking a Fortaleza Taxi in Advance
Finding a taxi in a foreign country can be really stressful, especially with heavy bags or if travelling with children. Book ahead with Welcome Pickups and enjoy the best all-inclusive service and no surprises. Welcome offers reliable rides from the airport to popular spots along the coast of Brazil and is safe, comfortable and competitively priced. Your door-to-door service will be provided by friendly, local professional drivers who have been handpicked and trained by Welcome for the perfect travel experience.
Fortaleza Taxi Tips
If you don't speak Portuguese, write your destination on a piece of paper and hand it to the driver. Make sure you have agreed on the price with them before taking off, or that the taximeter has been reset to the correct base fare.
Before entering a vehicle, make sure you have picked an officially registered driver by checking if there is a red license plate on the back of the car.
Do not get in any unmarked taxis, especially if someone has solicited a ride for you.
The general rule is that you don't need to tip taxis. Of course, rounding up the fare for good service is always welcomed.
Wheelchair Accessible Vehicles in Fortaleza
Fortaleza has improved its status as a wheelchair-accessible city in recent years. Although it cannot compete with European cities that offer endless facilities for people with disabilities, efforts have been made to improve irregular sidewalks, holes in the streets, etc. To fully benefit from a wheelchair-accessible taxi service, please contact Táxi para cadeirante em Fortaleza at +55 85 98641-7865.
Safety and Complaints for Fortaleza Taxis
Taxis in Fortaleza are generally safe, with the occasional exception of unregistered drivers. As mentioned, ensure the vehicle has a red license plate before entering a taxi in Fortaleza. Also please check that the taximeter is on and visible throughout the ride. If you face any issues, note down the number of the license plate and the name of the driver and contact the associated company directly, or head to the nearest police department to file a complaint.