Hong Kong Taxis
In a lot of cities, balancing price and convenience when it comes to your mode of transport can be difficult. That's why taxis in Hong Kong are a great choice. They are safe, clean, air-conditioned and cheap, making them the best option for if you want to see more of this fascinating city. Taxis in Hong Kong use taximeters to calculate the fare of each journey and the rates are separated into three taxi types;
Red Urban Taxis operate throughout most of Hong Kong, this is the largest fleet in the city.
Green New Territory Taxis can only operate in the newer areas of the city and Disneyland.
Blue Lantau Taxis operate on Lantau Island only. 
First 2 km – €2.86 
Price per 200m – €0.20
TRAINED DRIVERS
Hand picked & english speaking drivers
LOW PRICES
Same price as a regular Taxi from the line
FLIGHT MONITORING
Drivers are always on time
QUALITY SUPPORT
24/7 Email & Phone support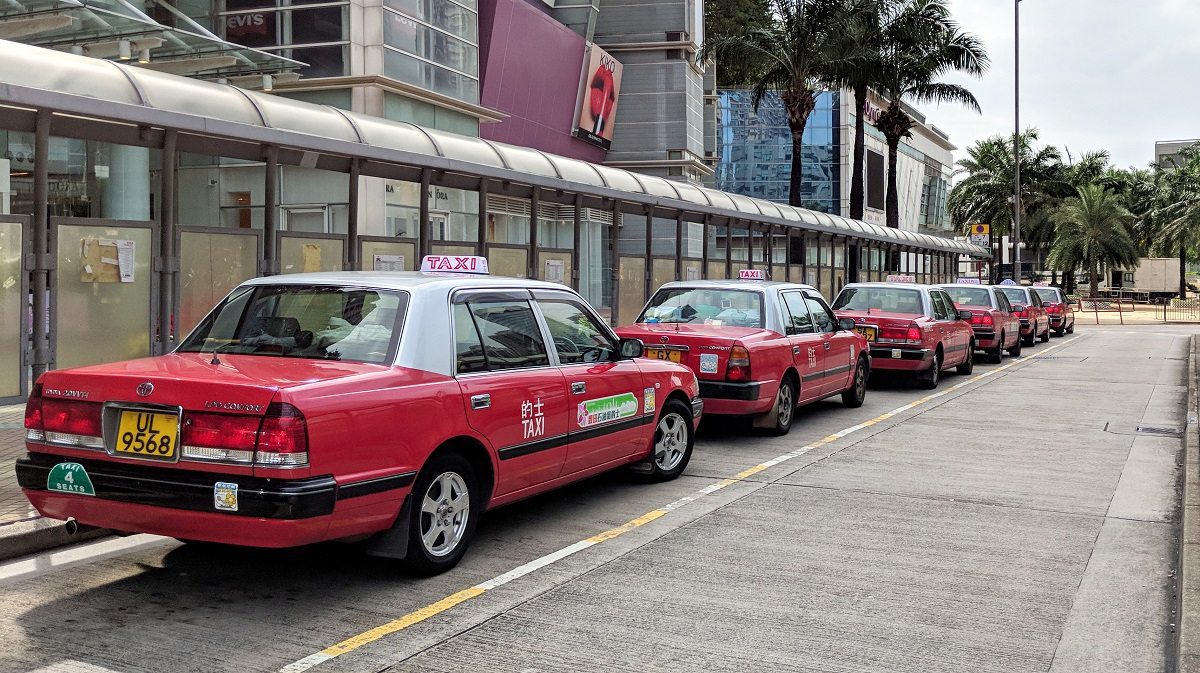 Price of a Hong Kong Taxi
Although there are almost 20,000 taxis in Hong Kong, each one is regulated by the Road Traffic Regulations set in place by the government. Each Hong Kong taxi is required by law to carry a taximeter, which is to be used to calculate the fare of your journey based on distance travelled or time taken. Each of the three different types of taxis has their own set pricing system. 
Urban Taxi 
First 2 km – €2.86 ($24 HKD)
Price per 200m (after first 2km) – €0.20 ($1.7 HKD)
New Territories Taxi 
First 2 km – €2.44 ($20.50 HKD)
Price per 200m (after first 2km) – €0.18 ($1.5 HKD)
Lantau Taxi
First 2 km – €2.26 ($19 HKD)
Price per 200m (after first 2km) – €0.18 ($1.5 HKD)
There are also extra charges for things such as large luggage (€0.71), carrying animals (€0.60), travelling during the major holidays, booking over the phone (€0.60) and pick-up from the airport. 
What our customers say about Welcome
How to get a Taxi in Hong Kong
As there are over 20,000 taxis operating throughout the centre and outskirts of Hong Kong, getting a cab couldn't be easier. You can choose to hail one from the street, walk to a taxi stand or call the 24-hour hotline. If you choose to hail a Hong Kong taxi from the street, you simply need to make sure you're not standing in an illegal stopping zone (double yellow lines) and then stick your arm out when you see an empty taxi. 
If you'd prefer to walk to a taxi stand, they are dotted around the city at major transport hubs and tourist areas, such as Ocean Park, Ocean Terminal, Victoria Peak, Disneyland, Repulse Bay, Mong Kok, Yau Ma Tei and Tsim Sha Tsui. Finally, you can call the Hong Kong taxi hotline any time of day to book a taxi. The number to call is +852 8109 2222. Keep in mind that there is an extra charge for booking a taxi over the phone. 
Booking your Hong Kong Taxi in Advance
Hong Kong is an extremely large and exciting city, so worrying about finding an available taxi while you're out exploring is the last thing you need. Instead, why not book your Hong Kong taxi in advance so you can better plan and budget your trip? To secure a flat-rate fee and unbeatable service, we suggest booking your Hong Kong taxi in advance with Welcome Pickups. 
Hong Kong Taxi Tips
It's rare for a Hong Kong taxi driver to speak English. If you get stuck, you can speak to the radio base controller and they will translate for you.
Taxi drivers in Hong Kong must carry change for $500 and $1,000 HKD bills. They don't have to accept anything larger than that.
You are required by law to wear your seatbelt at all times while in a moving taxi.
Exit your taxi on the left-hand side of the car only.
Keep in mind that the red, green and blue taxis all have a different price per 200m.
If you feel your driver is taking a wrong turn or your journey is longer than expected, check your route on GoogleMaps.
Wheelchair Accessible Taxis in Hong Kong
In Hong Kong, standard taxis don't have wheelchair ramps. You can, however, fold and store your wheelchair for free in all Hong Kong taxis. If you need a fully wheelchair accessible taxi, you can contact either Syncab or Diamondcab.
Hong Kong Taxi Safety and Complaints
Hong Kong taxi drivers are amongst some of the most honest in the world. The entire taxi fleet in Hong Kong is heavily monitored by the government, so scams and theft are extremely rare. Having said this, if you have an unpleasant journey or if you feel you have been charged the incorrect amount, you must ask for your receipt and make a complaint by calling +852 2889 9999.