Vilnius Taxis
Vilnius, the capital of Lithuania, is a city rich in culture, history, art, architecture, and gastronomy. It offers visitors an exciting and varied experience with must-see attractions like the UNESCO-listed Old Town, the Gediminas Castle Tower, the Zoo Park, and the eerie KGB museum. The city is also home to many museums, art galleries, food markets and craft breweries that are well worth a visit.
With so much to do and see, you need to be able to get around the city quickly and easily, so we recommend using a Vilnius taxi. Taxis in Vilnius are plentiful so you won't have trouble finding one, there are official taxi ranks throughout the city but keep in mind that not all of them are reliable, especially regarding the use of official taximeters. Alternatively, you can opt to book a taxi or private car in advance for a guaranteed set-rate transfer with no hidden fees.
TRAINED DRIVERS
Hand picked & english speaking drivers
LOW PRICES
Same price as a regular Taxi from the line
FLIGHT MONITORING
Drivers are always on time
QUALITY SUPPORT
24/7 Email & Phone support
How much does a taxi cost?
Night time


(00:00 - 05:00)
Vilnius Old Town to Museum of Occupations and Freedom Fights
MO Museum to Gediminas Castle Tower
Vilnius Old Town to Trakai Island Castle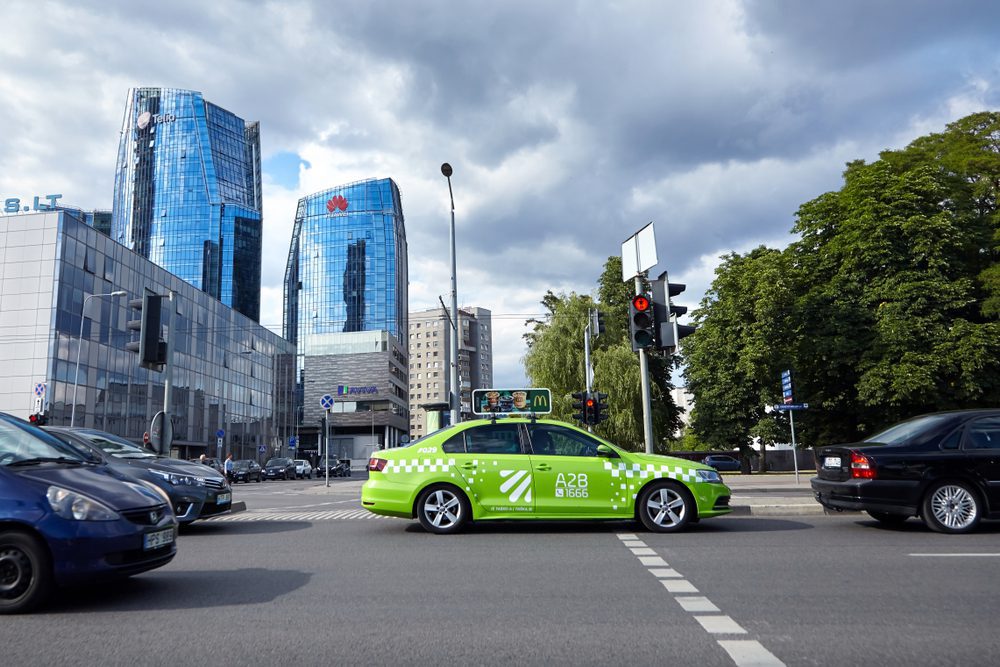 Vilnius taxi prices
Local taxis in Vilnius are easy to find and quite affordable. However, it's important to note that they are not well regulated. A general recommendation is to use official taxi companies as it is both cheaper and safer than hailing one down in the street. When using a local Vilnius taxi, it's advised that you agree upon a price and check that the metre is on before setting off. Then, once you've reached your destination, ask for a receipt.
Initial fare: €1,80
Waiting fee: €0,45 per minute
Day prices (06:00 to 22:00)
Price per km: €1,45
Night prices (22:00 to 06:00)
*These fares also include weekends and public holidays.
Price per km: €1,80
Please note that these rates are subject to change and that there could be surcharges for airport transfers, routes with tolls, or transfers on national holidays.
What our customers say about Welcome
How to get a taxi in Vilnius
Getting a taxi in Vilnius is easy to do as there are lots of them. What can prove to be difficult is finding one with a reliable taximeter. For this reason, visitors are advised to use an official taxi company instead of catching one of the many lime-green coloured cars in the street.
Several private taxi firms are operating in Vilnius and you can book a taxi with them by calling one of the following numbers. Keep in mind that there could be an additional fee for this service.
Taksi 1820: +370 5 250 0500
TaksiNet: +370 800 88 888
You can also opt for a private transfer company like Welcome Pickups to ensure a reliable and convenient service. Some of Welcome's most popular routes include Vilnius Airport to the city centre, as well as to Kaunas.
Pre-book your Vilnius taxi service
When you arrive in Vilnius, chances are you will want to go straight to your hotel to rest or drop off your things before you start exploring this exciting city. The fastest, easiest, and most comfortable way to do that is to book a private Vilnius Airport transfer in advance with Welcome. We offer guaranteed on-time pickups, personalized transfers, 24/7 customer support and, above all, a level of trust and quality service that will allow you to enjoy your holiday in Vilnius to the fullest.
Vilnius taxi tips
Visitors are advised against taking taxis from the street, in favour of the safer and cheaper option of booking with an official taxi company.
Before you begin your journey, make sure the metre has been reset to the initial fare.
Ask the driver for an estimated cost for your transfer before you get in, as taxis in Vilnius are known to overcharge tourists.
Most Vilnius taxis accept credit and debit card payments, but it's wise to have some cash on you just in case.
Always ask for a receipt at the end of your trip.
Wheelchair-accessible taxis in Vilnius
Asistentinis Taksi is a Vilnius-based company that offers assisted transportation for seniors and people with disabilities. Their vehicles are fully equipped to handle the needs of wheelchair users, their drivers are trained to support passengers from start to finish, and they also offer a wheelchair rental service. They can be reached at +370 617 60760.
Vilnius taxi safety and complaints
Other than the fact that Vilnius taxis are known to overharge tourists, it's a safe and pleasant city to visit. However, should you have an issue with a taxi that you want to make a formal complaint about, your best bet is to contact the Vilnius Police Department directly by calling the Information Service at +370 700 50314.