Austin taxi service
Austin Texas is the perfect mix of old-school country vibes, modern cosmopolitan sites and natural beauty. The eclectic mix of live music venues, world-class restaurants, fascinating museums and beautiful green spaces and parks makes it hard not to fall in love with this vibrant city. With so much to see and do, you need a quick and efficient way to travel within the city, that's why we suggest taking an Austin taxi. You can easily hail a yellow cab in the street, call one of the many Austin taxi service phone dispatch companies or book your ride in advance.
TRAINED DRIVERS
Hand picked & english speaking drivers
LOW PRICES
Same price as a regular Taxi from the line
FLIGHT MONITORING
Drivers are always on time
QUALITY SUPPORT
24/7 Email & Phone support
How much does a taxi cost?
Night time


(00:00 - 05:00)
FROM CITY CENTRE TO MCKINNEY FALLS STATE PARK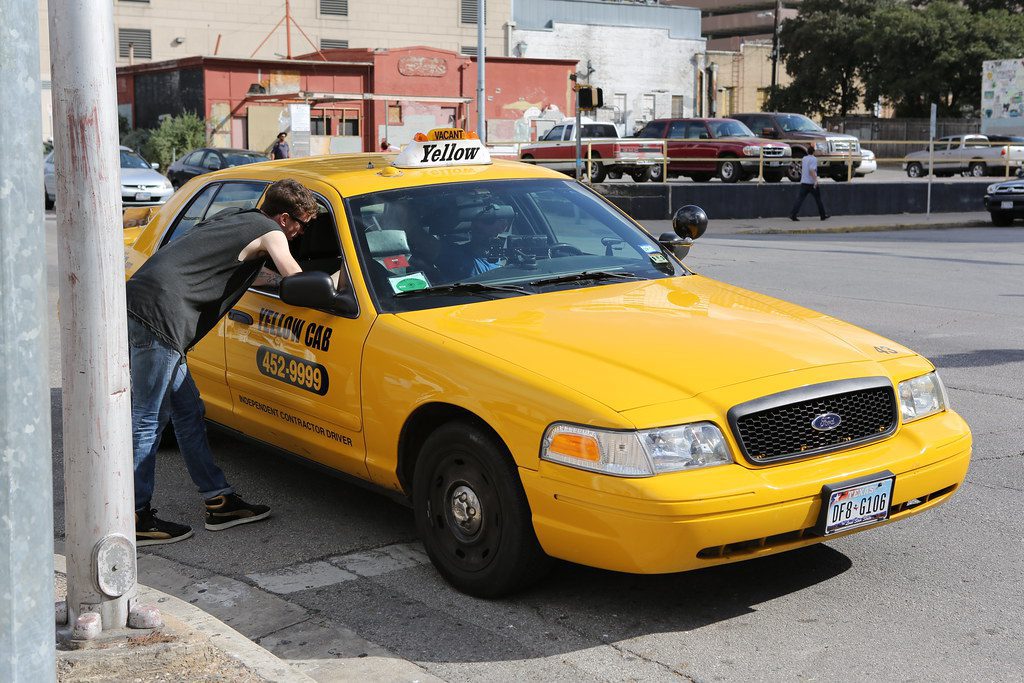 Cost of a taxi in Austin
The Austin taxi prices are set by the government and published in the official taxi ordinance. In Austin, the last update was in 2012, where it was compulsory for all drivers to have officially calibrated taximeters installed in their taxis and they must adhere to these regulated prices.
The cost of your journey will depend on a few factors, such as the distance you travel, the amount of time your driver needs to wait and the traffic conditions, but the fares are calculated as follows: 
Base fare: $2.50 (€2.20)
Price per km: $1.50 (€1.30)
It's worth noting that there may be additional charges, for things such as keeping your driver waiting for an hour ($29 (€27)), and rates may increase during major holidays such as Christmas and New Year. 
What our customers say about Welcome
How to get a taxi in Austin
Getting a taxi in Austin is extremely easy and a very convenient way to get around. You can simply hail one of the many taxis in the street by looking out for the famous green or yellow cabs in Austin and holding out your hand. Or, If you'd prefer a more personalised service of a phone dispatch company, or you're travelling late at night and want to avoid waiting in the street, you can call one of the local Austin Taxi companies. Some of the top phone dispatch Austin taxi services are:
Yellow Cab Austin: +1 512 452 9999
Austin Express Cab Service +1 512 666 41410
Pronto Rides: +1 512 580 3779
Benefits of booking your Austin taxi service in advance
Being late for dinner reservations because there aren't any free taxis, or having to wait around to explore the city because your phone dispatch taxi is delayed, can really put a damper on your vacation. Instead of waiting around for a local taxi, why not book your Austin taxi service in advance with a world-renowned company like Welcome Pickups. We offer guaranteed on-time pickups, personalised transfers and 24/7 customer support, all at an unbeatable price. Let Welcome take care of all your transfer needs so you can make the most out of your time in Austin.
Austin taxi service tips
Ensure your Austin taxi driver resets the taximeter to the base fare before you begin your journey.
Make sure you carry change or small bills when taking a taxi as the drivers don't always have change for large bills.
It is customary to tip your taxi driver around 15% in Austin.
Wheelchair accessible taxis in Austin
Unfortunately, the local taxi drivers in Austin don't use wheelchair accessible vehicles as standard. If you or someone you are travelling with is in need of a wheelchair accessible vehicle, you will need to contact a private taxi company and request such a vehicle. There are many companies that offer ramp or hydronic lift vehicles for wheelchair users such as Lone Star MTC, Guardian Medical Transportation and Lakeway Mobility.
Austin yellow cab safety and complaints
Taxis in Austin are extremely well regulated and safe. However, if you do experience any problems during your Austin taxi journey, or if you feel unsafe at any point, you can contact the Government Ground Transportation Unit by filling in this online form or emailing them at [email protected]. Be sure to note your driver's name, ID and taxi number if possible as this will allow them to help you with your report much more efficiently.