Taxis in Milan
Italy's second-largest city often gets written off as being more cosmopolitan than Italian. But give it time and you'll discover that Milan is not just about mainstream fashion and money. Less romantic than Rome, but still a joy to behold, this savvy metropolis has hidden treasures, which can only be unlocked from the comfort of a cosy taxi. So if you are visiting the city for your annual shopping spree and would rather visit Corso Venezia twice than lose your way in the underground, spare yourself some trouble and hop on a white Milan taxi. Because what else would you do in Milan except travel in style?
TRAINED DRIVERS
Hand picked & english speaking drivers
LOW PRICES
Same price as a regular Taxi from the line
FLIGHT MONITORING
Drivers are always on time
QUALITY SUPPORT
24/7 Email & Phone support
How much does a taxi cost?
Night time


(00:00 - 05:00)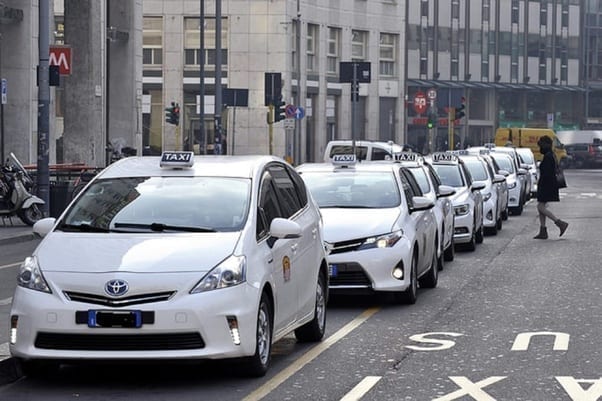 Cost of a Milan Taxi
Taxis in Milan are relatively expensive, although they aren't as expensive as in other European cities. Tariffs in this city are officially established by the Municipality of Milan and are binding for all companies. This is ensured by mechanically calibrated taximeters installed in the taxis. The following taxi fares apply for the centre of Milan:
Base fare (weekdays, 06:00 – 21:00) – €3.30
Base fare (public holidays, 06:00 – 21:00) – €5.40
Base fare (night) – €6.50
Price per kilometre – €1.09
Taxis from Malpensa airport to Fieramilano charge approximately €65 for each journey, while a trip from Malpensa airport to Milan city centre has a fixed price and costs €95. Travellers should also be aware of additional charges that apply only for the city of Milan. When the taximeter reaches €13.25, the fare per kilometre increases to €1.50, while the price per hour of waiting time is also higher, at €39.27.
What our customers say about Welcome
How to get a Taxi in Milan
Taxis in Milan are not very easy to flag down as drivers are not used to picking up passengers off the street. The best thing to do is walk to the nearest taxi stand, call a local company or download a Milan taxi app. Ranks are located in Piazza Duomo, Piazza Repubblica, Piazza Duca D'Aosta, near Garibaldi railway station, Piazza Castello, and Largo Augusto, as well outside train stations and at the airport.
During rainy days or periods when the Fiera Milano has events, taxis are almost impossible to find, so waiting times may be longer. When calling a radio taxi company, the meter starts running as soon as the driver gets the call.
Reliable taxi companies in Milan include Etaxy, that can be reached at +39 02 8191 and Radio Taxi Freccia. The latter can be contacted by phone at +39 02 4000.
Benefits of Booking a Milan Transfer in advance
Sacrificing precious time to locate a taxi rank is not one of the smartest things you could do if you are looking for a convenient transfer. Nothing spells luxury vacation better than exploring Milan in a fancy and clean taxi with a Welcome driver that will take you to the best places, while you enjoy the Italian stradas. So book a Milan taxi in advance with Welcome and soak in all the goodness with a customised ride that will wash all your troubles away.
Milan Taxi Tips
Remember that many taxi drivers don't speak fluent English, so learning a few words in Italian is certainly a good idea!
When booking a taxi, travellers should bear in mind that there is an obligatory charge consisting of the time the taxi takes to reach you.
Most taxis drivers in Milan accept credit cards, but it's better to ask before getting in the car.
Taxis cannot be flagged down as they pass you along the street unless their 'taxi' light is on.
Wheelchair Accessible Taxis in Milan
90% of Milan taxis are not suited for wheelchair users. If you're comfortable folding up your wheelchair, you can store it at the back and book a regular service. In Milan, there are 50 taxis accessible to people with mobility restrictions, marked with the Easy Taxi logo.
These are vehicles set up to accommodate and load a wheelchair. You can find more information on the official website of the Municipality of Milan.
Safety and Complaints for Milan Taxis
Some drivers have a reputation of taking advantage of travelers who are jet-lagged and travel-weary or new to the city of Milan. Although this is not often the case with most Milan taxis, if you suspect you have been a victim of overcharging, make sure you ask for a receipt, note down the license plate and Milan taxi number and contact the local police at +39 02 7727 2200.