Taxis in Nice
With more than 500 taxis driving around the centre, getting a taxi in Nice will take you just about anywhere. With its mix of downtown buzz, architectural opulence, old-world charm, and year-round sunshine, no place compares to Nice. Witness Promenade des Anglais, gaze at the marvels of the French Riviera or stroll around the Old Town and you will soon understand why locals call their birthplace La Belle Nice.
TRAINED DRIVERS
Hand picked & english speaking drivers
LOW PRICES
Same price as a regular Taxi from the line
FLIGHT MONITORING
Drivers are always on time
QUALITY SUPPORT
24/7 Email & Phone support
How much does a taxi cost?
Night time


(00:00 - 05:00)
OLD NICE TO PROMENADE DES ANGLAIS
NICE-VILLE STATION TO CASTLE OF NICE
NICE PORT TO MUSÉE MATISSE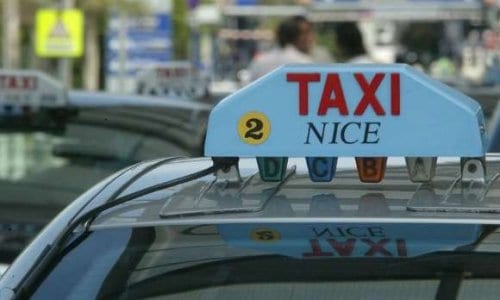 Cost of a Nice taxi
Taxis in Nice, France are more expensive than in other European coastal cities. Fares are calculated using a taximeter and taxi tariffs in France are officially set by cities or districts. However, journeys to and from the airport operate on fixed rates.
The minimum fare for a Nice taxi is as high as €7.50 and additional costs include a charge of €2 per item of luggage and a supplement of €2.50 for the fifth passenger. That being said, fares are calculated as follows:
Base fare – €3
Per km (day) – €2.08
Per km (night) – €2.60
*The fare from Nice Airport to the city centre is fixed and comes at the price of €32.
Please note that it is possible that local taxi drivers won't want to move for less than €15. Although this claim is more or less true, things have improved in the last few years and drivers even accept credit cards, although they would rather be paid in cash and tipped 2-5%.
What our customers say about Welcome
How to get a taxi in Nice
Finding taxis in the city is fairly easy. You can make a reservation for taxis in Nice, hail one from the street or find the nearest taxi rank. They can also be spotted near famous monuments, hotels and attractions. Drivers hover around Vielle Ville, Musée Matisse, Palais des Expositions and other key areas. Another option is to hop in an Uber taxi, Nice has plenty of Uber drivers roaming the streets and you can easily hail one using the app.
Taxis queuing at ranks are the least appealing option for travellers as they are more likely to overcharge tourists. While it is generally true that drivers have improved their transfer services overall, local taxi companies are more professional.
Top providers in Nice:
Taxi Nice French Riviera – +33 (141) 276 699
G7 – +33 (493) 891 273
Benefits of booking a private Nice taxi in advance
Nice is a Mediterranean gem and travellers need time to savour every single experience without rushing. If unbeatable prices with no hidden fees and a friendly smile are what you are looking for, consider booking your Nice taxi in advance with Welcome Pickups.
We offer fully personalised transfers with trusted, English-speaking drivers, door-to-door pickups, the use of our mobile app and plenty of extra perks.
Nice taxi tips
Upon entering the taxi, start the conversation with the all important greeting "Bonjour Monsieur/Madame", otherwise the driver might feel offended.
If the meter is obscured, the driver is trying to overcharge you. Politely ask to see the meter to let them know they can't get away with it.
Check that the taximeter is set correctly to day or at all. Some drivers attempt to fool newcomers and quote a flat price instead.
Drivers may actually refuse short trips and and move on to the next passenger or neglect to give you a receipt.
Wheelchair-accessible taxis in Nice, France
Moving around Nice is rather uncomplicated, as the pavements are in great condition, making it a very accessible city. Regular taxis in Nice, however, don't have special ramps or seating for wheelchair users.
ETSI Transportation offers vehicles for people with mobility difficulties and can be contacted by phone at +33 (492) 944 200.
Safety and complaints for Nice taxis
Whilst radio taxi companies in Nice have a fairly good reputation, taxis cruising the streets or waiting at ranks can be hit and miss. It's not uncommon for Nice taxi drivers to increase the base fare, take a longer route or charge night rates during the day.
If you believe this has happened to you, you should write down the taxi number and driver's unique ID number and ask for your receipt. You can then call the company that you travelled with or call the local police at +33 493 535 353.