Travel safely with Welcome Pickups
Net Safety Score
We've introduced a metric indicating how safe travellers feel when using our services during the COVID-19 pandemic. After every ride, we ask each traveller to leave a review.
20 minute gap between transfers

Following each ride, our drivers have at least 20 minutes to thoroughly clean the surfaces of the car and ventilate the cabin.

Regular Car Sanitisation

Our drivers thoroughly sanitise and disinfect cars according to Welcome Safety Protocol

Contactless ride

When you book, you can request to have zero contact with the driver during the transfer with just one click. In this case, the driver won't help you with your luggage or shake hands.

Sanitiser in every car

We provide hand sanitisers and hand wipes for all our travellers. Our drivers have their own sanitiser, which they use before and after every ride
Taxis in Bratislava
Bratislava's quirky spirit will definitely dazzle you. The city never loses its quaint charm, thanks to the four-tower castle overlooking the city, the pastel 18th-century buildings, and the centuries-old churches in the old town. If you are in a hurry to catch your flight at the airport or want to get to your hotel safely, hail or book a Bratislava taxi and arrive safe and relaxed at your destination.
TRAINED DRIVERS
Hand picked & english speaking drivers
LOW PRICES
Same price as a regular Taxi from the line
FLIGHT MONITORING
Drivers are always on time
QUALITY SUPPORT
24/7 Email & Phone support
How much does a taxi cost?
Night time


(00:00 - 05:00)
Bratislava city centre to Bratislava Airport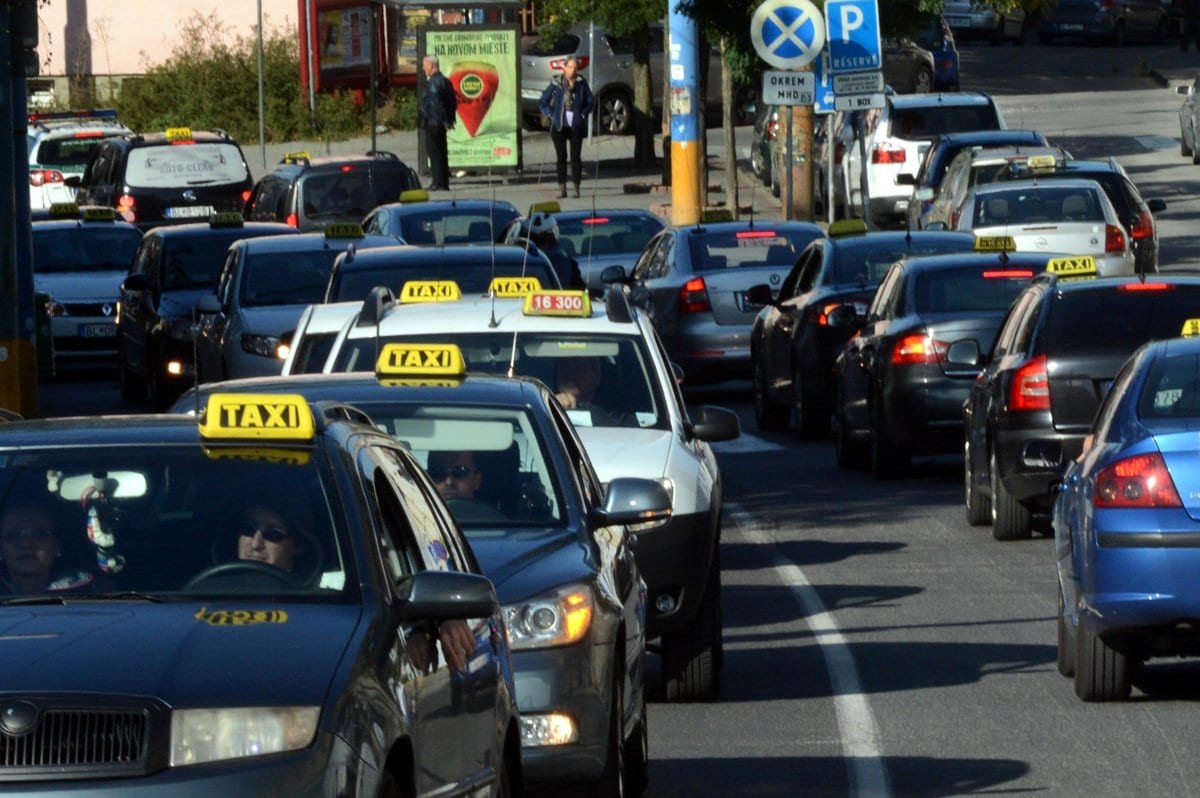 Cost of a Bratislava Taxi
All taxis in Bratislava are metered and calculate the total fare based on the length of your ride. However, if your chosen taxi does not have a metre, then hopping on is not safe. The metered rate does not include extra charges applicable to the journey. We highly recommend to agree on the price before getting in the car.
Minimum fare – €3,50
Price per kilometre – €0,50
Short distance trips are charged at minimum €4. To get to the city centre from the airport, it should not cost you more than €21. Ideally, better avoid stopping a car from the street, as it is much cheaper to order a taxi by phone. Good news is, Bratislava taxis have the same rates during daytime and nighttime hours, so you don't need to worry about paying more when exploring the city's buzzing nightlife.
What our customers say about Welcome
How to get a Taxi in Bratislava
Taxis in Bratislava are black and yellow and can be found at convenient taxi stands throughout the city, usually near shopping centres, major tourist sites and popular transport hubs. Of course, they are easy to identify thanks to the signature "taxi" sign on their roof.
If you do not want to take a taxi from a rank, you can hail one on the street or download a Bratislava taxi app. The general recommendation is to avoid taxis which do not have the company name and telephone number written on the doors, as they might not be official, licensed taxis.
As a general rule of thumb, taxis waiting at a stand or are hailed on the street are relatively expensive (€15 or more, even for short trips). If you want to call a taxi from a local company, bear in mind that the waiting time for the vehicle is usually 5-10 minutes. Two of the most reliable local taxi providers you can phone for a pickup are Happy Taxi (+421 2 16 223) and Hello Taxi (+421 2 16 321).
Benefits of Booking a Bratislava Taxi in Advance
Knowing that your Bratislava taxi will be there waiting when you need it and provide you with a set-rate fee is something every traveller needs when arriving in a new city. Booking your taxi in advance not only helps you to plan and budget your trip but also, ensures a hassle-free experience for everyone involved. To avoid high booking fees and guarantee a competitive set-rate fare, we suggest booking your transfers in Bratislava with Welcome Pickups ahead of time. We offer 24/7 customer support, on-time pickups and safe door-to-door transfers whenever you need them.
Bratislava Taxi Tips
It is always better if you discuss about the price before you get in.
Most Bratislava taxis only accept cash.
Generally you should avoid hopping on cabs in major tourist spots, as you can come across individual drivers who try their luck with tourists and then charge them double or triple prices.
Wheelchair Accessible Taxis in Bratislava
Bratislava is a little bit behind compared to other European capitals when it comes to facilities for people with mobility issues, which is why regular taxis driving around the centre do not have special ramps. To book a roomy, fully accessible, wheelchair-friendly vehicle, you will need to call Bratislava's information centre at +421 2/544 194 10 and specify your requirements. It's important to book in advance to ensure vehicle availability.
Safety and Complaints for Bratislava Taxis
Taxis in Bratislava are convenient and readily available and the local taxi drivers are friendly and polite. Having said that, as the service you receive depends on the particular driver or company you've chosen to travel with, quality may vary. If you face any issues, we recommend that you write down the taxi number and driver's unique ID number (this should always be on display in the taxi) and ask for your receipt. You can then call the company that you travelled with or head to the Bratislava Tourist Police and file an official complaint.