Taxis in Bologna
The quickest and most comfortable way to get around the stunning historic city of Bologna is by taxi. Not only will you cut out the need to wait for public transportation, but you can enjoy the local knowledge of the drivers. It's easy to grab a taxi in Bologna by calling a local company or walking to one of the many taxi stands around the city.
TRAINED DRIVERS
Hand picked & english speaking drivers
LOW PRICES
Same price as a regular Taxi from the line
FLIGHT MONITORING
Drivers are always on time
QUALITY SUPPORT
24/7 Email & Phone support
How much does a taxi cost?
Night time


(00:00 - 05:00)
BOLOGNA CITY CENTRE TO PIAZZA MAGGIORE
BOLOGNA CITY CENTRE TO VIA DI SAN LUCA
BOLOGNA CITY CENTRE TO AIRPORT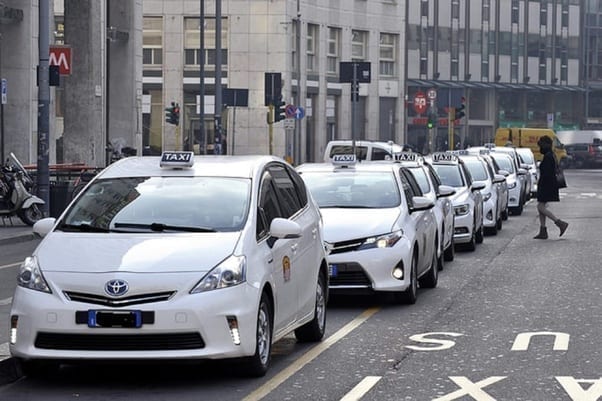 Bologna taxi prices
Like all cities in Italy, Bologna taxi prices are set by the city and district. All taxis in Bologna operate using a taximeter based on distance and must display a list of prices in the vehicle. The only exception to this rule are Bologna airport taxis which charge a set-rate fee from the airport to the city centre.
Base fare day (06:00 – 22:00) – €3.40
Base fare night (22:00 – 06:00) – €6.10
Price per km – €1.25
It's worth noting that there are extra charges for things such as luggage (€0.50 per piece), keeping your driver waiting for an hour (€27.00 during the day and €24.30 at night) and travelling during the holidays.
What our customers say about Welcome
How to get a taxi in Bologna
Unlike most other large cities in Italy, you can't hail a Bologna taxi in the street. Instead, you will need to call a local taxi company or walk to one of the many taxi stands scattered around the city.
The main taxi company in Bologna is Cotabo and you can reach them on +39 051 372727. They will pick you up at any location you chose, but they start the taximeter as soon as they begin their journey to you. If you're staying in a hotel, you can also ask the concierge to order a taxi for you, although this is usually more expensive than calling yourself.
If you'd prefer to walk to a taxi stand, you can find them at most tourist spots, Via Indipendenza, Piazza Malpighi, at the Church of San Petronio, the train station and Guglielmo Marconi airport. Simply look for the long line of white Bologna taxis and walk to the front of the queue.
Book your Bologna taxi service in advance
As you can't hail a Bologna taxi in the street, during peak hours or bad weather, there can be long wait times when you call for a taxi. To make sure you don't waste any of your time in this beautiful city, you should book your Bologna taxi service in advance. If you're looking for English-speaking drivers, guaranteed on-time pickups and competitive prices, why not book your Bologna taxi in advance with Welcome Pickups.
Bologna taxi tips
Make sure your driver resets the taximeter to the base fare before you begin your journey.
You can usually pay for your Bologna taxi fare with a credit card, but be sure to check with your driver first.
All Bologna taxi drivers must display their prices clearly on the dashboard.
Bologna taxis don't come with a baby seat as standard but you can bring and fit your own for free.
Wheelchair accessible taxis in Bologna
Although the standard taxis in Bologna don't offer wheelchair accessible vehicles, you can easily get one by calling the priority taxi service for disabled people on +39 051 372525. These vehicles are complete with a ramp and adequate space inside for a wheelchair user and other passengers. You can request a taxi to your location or book one in advance for another time. The wheelchair accessible vehicle hotline is open for advance bookings Monday to Friday from 08:00 to 17:00.
Bologna taxi safety and complaints
Taxis in Bologna are considered very safe as they are well regulated and monitored. The fact that you can't take a Bologna taxi from the street also means that there's little chance of you encountering an illegal cab or driver. However, if you do experience any issues during your taxi ride, you can report your driver to the local police by calling +39 051 266626 or visiting Polizia Municipale, via Enzo Ferrari, 42 – 40127. Make sure you have your driver's ID number, the taxi number and time of your ride to hand.