Taxis in Marrakech
Taking a taxi in Marrakech is extremely easy and convenient. The first thing you should note is that there are two types of Marrakech taxi, Petit and Grand. Petit taxis can fit up to 3 people and function like regular taxis, but can only run within the city ring. On the other hand, Grand taxis can fit up to 8 people and they have set routes within the city and between cities, much like a minibus. You can easily catch a Marrakech taxi by hailing one from the street or walking to a taxi rank.
TRAINED DRIVERS
Hand picked & english speaking drivers
LOW PRICES
Same price as a regular Taxi from the line
FLIGHT MONITORING
Drivers are always on time
QUALITY SUPPORT
24/7 Email & Phone support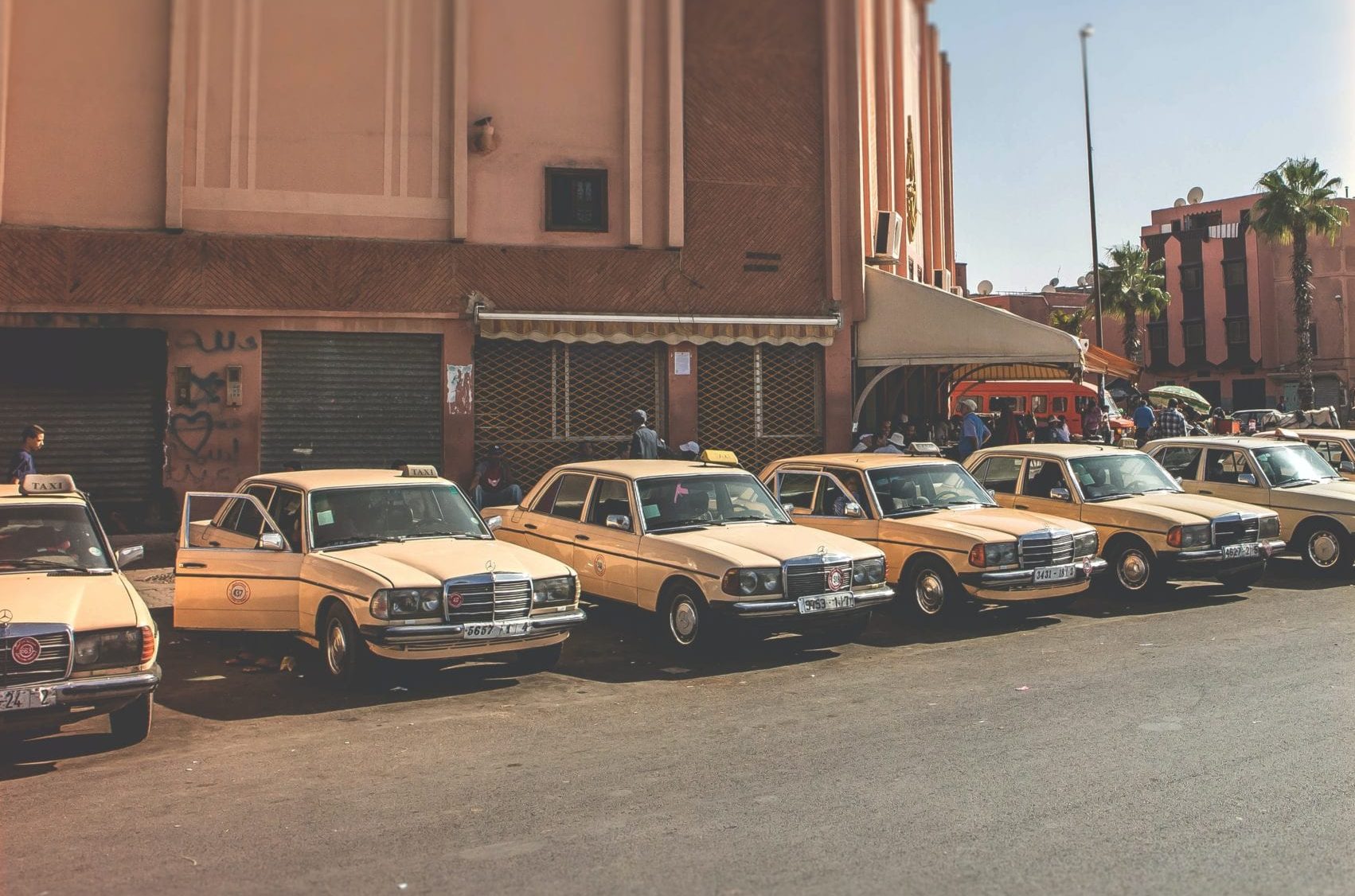 Cost of a Marrakech taxi
If you choose to take a Petit taxi, you will be charged using a taximeter based on the distance you travel. However, if you choose to take a Grand taxi, you will be charged a set fee for that specific journey. For the Petit taxi, you have a base fare and then an additional cost for every km you cover and all prices should be shown on a card in the taxi window.
Base fare – €0.66 
Price per km day (06:00 to 20:00) – €0.18
Price per km night (20:00 to 06:00) – €0.37
Please keep in mind that there may be additional fees for things such as travelling during major holidays, excess luggage, keeping your driver waiting, transfers from Marrakech airport and booking your Marrakech taxi over the phone.
What our customers say about Welcome
How to get a taxi in Marrakech
Taking a Marrakesh taxi is very easy. To hail one in the street, all you need to do is locate one of the beige taxis with the yellow 'TAXI' sign on top and stick out your arm. You can also walk to one of the designated taxi ranks which can be found throughout the city, at tourist spots, at plaza Djemaa el Fna, Bab-Doukala, and the Bab-Ghmat urban centre. Usually, the ranks carry both Petit and Grand taxis, so if you're unsure of which to take, be sure to ask.
Book your Marrakech taxi service in advance
There's nothing better than knowing all your Marrakech transfer needs are taken care of. No need to wait outside for a taxi to pass you or walking long distances to a taxi rank. Instead, you can enjoy an on-time Marrakech taxi service by booking in advance. At Welcome Pickups we offer English-speaking drivers, unbeatable prices and stellar customer service for your pre-booked Marrakech taxi service.
Marrakech taxi tips
Most Taxis in Marrakech don't have seat belts, this is something to bear in mind when travelling with children.
Marrakech taxi drivers don't accept credit cards, so keep change in the local currency to hand.
It's rare for drivers in Marrakech to speak English and many destinations sound similar, so be sure to write down your destination and hand it to the driver.
Tipping your taxi driver isn't expected, but if you had a great experience, you can round up to the nearest 5 or 10 dirhams.
Wheelchair accessible taxis in Marrakech
Unfortunately, the petit and grand Marrakech taxis aren't wheelchair accessible. If you require this service, you will need to book with someone like Wheelchair Accessible Holiday Taxis. This Europe based company have vehicles in Marrakech that are fully equipped with electronic lifts and ramps. To book your wheelchair accessible Marrakech taxi, call them on +44 0800 644 6062 or  +44 203 585 4040.
Marrakech taxi safety and complaints
Generally speaking, yes, it's safe to take a Marrakech taxi. However, drivers are known to operate a few scams when they know an inexperienced tourist is in their cab. This is usually something like taking a longer route, pretending they don't have change, claiming their taximeter doesn't work or quoting you a set-rate fee that is much higher than the journey should cost. To avoid this, make sure you know where you are travelling to, never enter a taxi that doesn't have a meter showing and working, make the driver aware that you know the tariff and carry small change. If you do come across any problems, take down your driver's ID number and the taxi number and report it to the Tourist Police on +212 693 276 207.