Taxis in Riyadh
Riyadh is a fascinating city with centuries-old history and ancient architecture mixed with a modern city with high-raised buildings and a vibrant contemporary art scene. As the biggest city in Saudi Arabia, the best way to get around town is in a Riyadh taxi.
TRAINED DRIVERS
Hand picked & english speaking drivers
LOW PRICES
Same price as a regular Taxi from the line
FLIGHT MONITORING
Drivers are always on time
QUALITY SUPPORT
24/7 Email & Phone support
How much does a taxi cost?
Night time


(00:00 - 05:00)
FROM RIYADH TO AL NAKHEEL MALL
FROM RIYADH TO RED SAND DUNES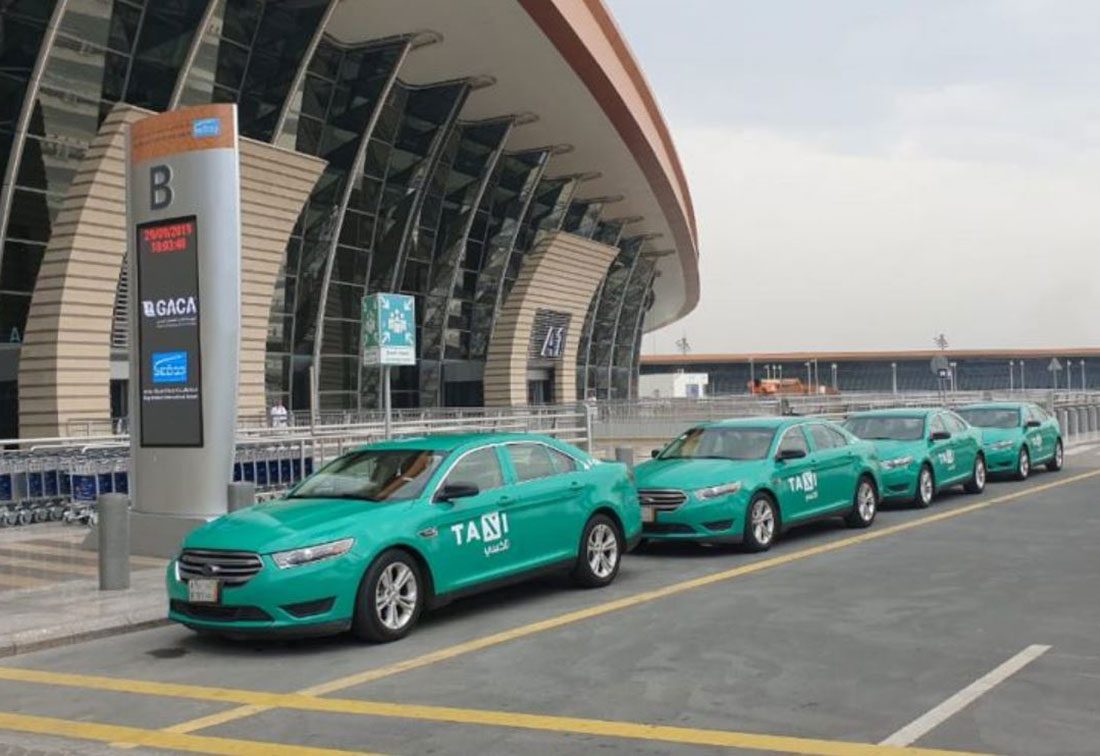 Riyadh Taxi Prices
Taxis are the most common way of getting around the city, and many Riyadh taxi services are available to choose from. Furthermore, taxis in Riyadh calculate their fares using a taximeter based on the time and distance travelled to your location, with no price difference for day or night trips.
Initial fare: €2.68 (SR 10)
Price per km: €0.55 (SR 2.10)
Waiting time per minute: €0.24 (SR 0.90)
Having said that, it is important to know that taxis leaving King Khalid International Airport offer flat rate fares to various destinations, so don't be surprised if your driver offers a set fee.
What our customers say about Welcome
How to get a taxi in Riyadh
Finding a taxi in Riyadh is easy as many companies operate in the city, though it is best to avoid hailing a cab from the street. Most companies and providers of taxi services in Riyadh have easy-to-use mobile applications and websites, making it straightforward to book your taxi. The most popular local taxi company you can call for a pickup is SAFWA Taxi – Green Taxis, reachable at +966 92 001 0068.
Of course, if you want to travel with a top-rated company, at a set, competitive rate with no hidden fees, it is recommended to pre-book your Riyadh taxi with Welcome Pickups.
Benefits of booking your Riyadh taxi with Welcome
Arriving in a new city can be stressful, especially after a long flight. That is why taking a taxi to your Riyadh hotel is the best way to start your holiday. At Welcome Pickups, we provide stress-free, personalised services and guaranteed on-time pickups. Our drivers are friendly local English speakers, handpicked and trained by us.
Avoid the stress of unknown public transportation, and pre-book your premium transfer with Welcome Pickups.
Riyadh taxi tips
Most taxis in Riyadh accept card payments, although it is best to check with your driver beforehand.
It is good to know that SAFWA Taxi is the only authorised taxi company to operate at Riyadh Airport.
It is customary to leave a 10% tip to your taxi driver in Saudi Arabia.
It is possible to haggle your taxi fare; however, if you want to travel using the taximeter, ensure it is switched on and has been reset.
Wheelchair accessible taxis in Riyadh
It is good to know that most taxis in Riyadh can accommodate people with disabilities, with taxis available at all domestic and international terminals and the rest of the city too. Moreover, if using Careem taxi services, the option for an accessible vehicle is available so ensure you choose the appropriate option for your needs when booking.
Riyadh taxi safety and complaints
If you have, unfortunately, had a bad taxi experience, you can file a complaint with the taxi company you travelled with directly, or you can call the following toll-free number 938 to discuss any incidents in detail.