Taking a taxi in Nantes
Nantes is a city in western France, located on the Loire River in the region of Upper Brittany. It combines historical landmarks with contemporary venues and a rich culinary scene. Taking a taxi in Nantes is a great option to explore as much as possible during your trip and make sure you don't waste time using public transport. Pre-booking your taxi in Nantes will provide an even smoother experience as you'll have a driver waiting for you no matter where you are or what time it is. If you feel like being more spontaneous, there are many different operators providing taxi services 24/7 and you can hail a taxi on the street or look for a taxi rank near busy locations downtown. If there are no taxis around, you can use your mobile to order a taxi online or call one over the phone.
TRAINED DRIVERS
Hand picked & english speaking drivers
LOW PRICES
Same price as a regular Taxi from the line
FLIGHT MONITORING
Drivers are always on time
QUALITY SUPPORT
24/7 Email & Phone support
How much does a taxi cost?
Night time


(00:00 - 05:00)
NANTES CITY CENTRE TO Château des ducs de Bretagne
NANTES CITY CENTRE TO Les Machines de l'Île
NANTES CITY CENTRE TO Grand Blotterau Parc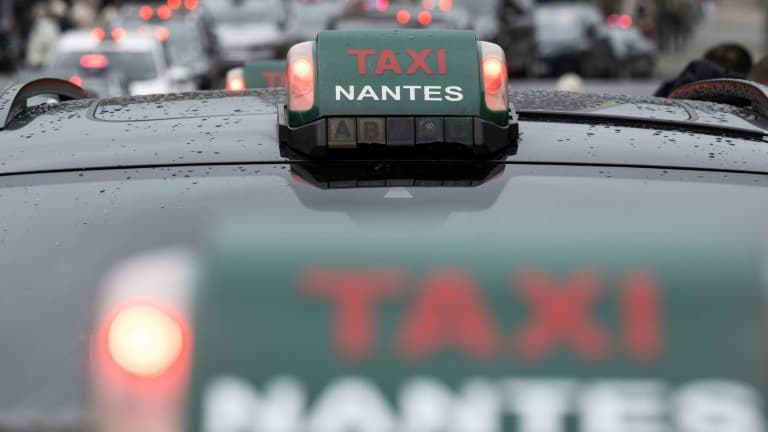 Nantes taxi fares
Taking a taxi in Nantes is safe and reliable as the state regulates all official operators. All taxis must be equipped with a taximeter, which records the fare based on the total distance driven. There are four different tariffs depending on whether it's a round trip or a one-way trip, and also the time of the day and the day of the week.
Base fare – €2.21
Round trip
Tarif A (Monday-Saturday 07:00-19:00)
Rate/km – €0.84
Tarif B (Monday-Saturday 19:00-07:00, Sunday, public holidays)
Rate/km – €1.26
One-way trip
Tarif C (Monday-Saturday 07:00-19:00)
Rate/km – €1.68
Tarif D (Monday-Saturday 19:00-07:00, Sunday, public holidays)
Rate/km – €2.52
Note, that besides the per kilometre rate, there can be additional charges; the airport pickup fee is €3.22, the waiting-time fee is €25.52 per hour, and there is an extra charge of €1.69 for the fourth passenger. Also, there is a baggage fee of €0.86 for any items that don't fit in the boot of the vehicle and a fee of €1.09 for pets. To ensure a fixed, competitive fare and pay for your ride in advance, you can always pre-book your Nantes taxi with Welcome Pickups.
What our customers say about Welcome
How to find a taxi in Nantes
Nantes taxis are the most convenient transportation option to explore the city at your pace during your visit and get from one attraction to the next quickly and comfortably. You will find taxis available 24/7 all around the city, including busy locations like Nantes Airport, train or bus stations, and other popular tourist spots. Most of the official operators have the typical taxi sign on the roof, which is lit if the taxi is available. There are many applications that you can use to order a taxi online on the spot, or you can make a reservation for a taxi in Nantes over the phone by calling an official operator like the ones below:
Taxi AC Nantes: +33 69 853 3339
Abarth Taxi: +33 60 762 6469
Taxi Zen: +33 68 543 5739
If you have a fixed itinerary, you can save time and ensure a fixed-rate fare by pre-booking your Nantes taxi with Welcome Pickups.
Pre-booking your taxi in Nantes
Enjoying a comfortable ride around the city instead of waiting for any type of crowded mode of public transport, is certainly a great way to upgrade your travel experience. By pre-booking your taxi in Nantes with Welcome Pickups, you ensure reliable and friendly service with a professional, English-speaking driver from the moment you land at the airport until you need to catch your flight home. Welcome guarantees a fixed, competitive rate so you can book all your transfers in advance while planning your trip and stay within budget. You can also enjoy peace of mind without worrying about any last-minute changes; Welcome provides a flexible cancellation policy so you can take care of all your transportation needs as early as you'd like.
Nantes taxi tips
Not all taxi drivers in Nantes speak English; it will help to write down your address or any other important information in French.
Once you enter the taxi, make sure that the taximeter is set to the base fare of €2.21 and that it stays on during the ride.
Not all taxis accept card payments; make sure to carry some euros, just in case.
Tipping your taxi driver isn't mandatory but it's always appreciated; you can round up the total fare or leave a tip of around 10% if you were happy with the service received.
Wheelchair-accessible taxis in Nantes
Nantes is a wheelchair-friendly destination, like most major cities in France. Standard taxis that you'll find on the street can fit a foldable wheelchair in the trunk but in most cases, they're not equipped with ramps that allow wheelchair users to board the vehicle. To ensure comfortable transportation and enjoy all the activities you have planned during your trip, it's best to book your taxi in Nantes in advance with a company like G7; you can call them at +33 14 127 6699 to arrange all your transfers during your stay in Nantes with a fully accessible vehicle.
Nantes taxi safety and complaints
Nantes taxi service is a reliable and safe transportation option, used both by locals and tourists. Official operators are regulated by the state so scams aren't a common occurrence.
However, if you think that you have been overcharged or you need to report your driver for unprofessional behaviour or reckless driving, you can first contact the company the driver works for. If they don't provide a satisfactory solution, you can escalate the issue further at your local police station or visit a tourist office around the city; they'll be able to guide you on how to proceed with your complaint. It's important to write down as much information as possible about the incident – including the driver's name, registration number, and license plate.