Get the Best Guadalajara Taxi Service
Guadalajara is an exciting city in western Mexico. Although this city is famous for its regional tequila and Mariachi music, there are also plenty of historical and cultural sites to explore too. When it comes to making your way around this huge city, the best way to travel is by taking a Guadalajara taxi. Taxis are available 24/7 and you can easily hail one in the street, walk to a taxi stand, call a phone dispatch company or book your Guadalajara taxi service in advance. 
TRAINED DRIVERS
Hand picked & english speaking drivers
LOW PRICES
Same price as a regular Taxi from the line
FLIGHT MONITORING
Drivers are always on time
QUALITY SUPPORT
24/7 Email & Phone support
How much does a taxi cost?
Night time


(00:00 - 05:00)
FROM CITY CENTRE TO AIRPORT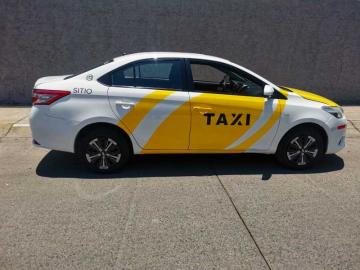 Guadalajara Taxi Fares
Taxis in Guadalajara are supposed to be fitted with working, officially calibrated taximeters. However, as these devices sometimes don't work or your driver might prefer not to use theirs, if you're uncertain, it's best to agree with your driver on a set fare before beginning your journey. If your driver does have a working taximeter, the fares will be calculated as follows. 
Base price: €1.50 (MXN 30)
Price per km: €0.50 (MXN 10)
Waiting / per 1 hour: €10 (MXN 200)
It's worth noting that taking a Guadalajara taxi at night will have a 15% increase in the fare. If you're taking a taxi in Guadalajara but outside the main city ring, the fare will increase by 40%.
What our customers say about Welcome
How to get a Taxi in Guadalajara
Taking a taxi in Guadalajara couldn't be easier. There are thousands of taxis roaming around the city 24/7, so you can easily hail one in the street or walk to one of the taxi stands, known locally as 'Sitios'. The Sitios are located at all the tourist hot spots, outside the bus and tram stations, large parks and main shopping areas. 
On the other hand, if you're trying to take a taxi from outside the main city ring, or if you're travelling late at night, you may wish to call a Guadalajara taxi phone dispatch company to request a pickup. Some of the most recommended ones are:
Taxi Seguro: +52 55 8397 5052
Taxistas Economicas: +52 33 1597 6860
Taxi Ejecutivo GDL: +52 33 1668 1534
Booking your Guadalajara Taxi Service with Welcome
Exploring a new city can be stressful if you don't know your way around or how to navigate the public transport options. That's why when it comes to making the most out of your time in this exciting Mexican city, we recommend booking a Guadalajara taxi with Welcome Pickups. We offer guaranteed on-time pickups, door-to-door services, English-speaking drivers and fixed rate fares that you can count on. Let us take the stress out of your transfers in Guadalajara, so you can concentrate on having the best time. 
Guadalajara Taxi Tips
Not all Guadalajara taxi drivers use their taximeter, be sure to ask for a set price before beginning your journey.
You can pay for your taxi in Mexican Pesos or USD in cash only.
Tipping isn't expected, but if you had a great Guadalajara taxi service, you can add 10% to your fare.
Travelling at night will be 15% more expensive than during the day.
Wheelchair Accessible Taxi in Guadalajara
Unfortunately, you won't be able to simply grab a taxi in Guadalajara that's wheelchair accessible. The standard cars aren't fitted with wheelchair ramps or hydraulic lifts. If you require a Guadalajara taxi service that offers completely wheelchair-accessible vehicles, you will need to book this in advance with a specialist provider.
Guadalajara Taxi Safety and Complaints
Taking a local taxi in Guadalajara is a fairly safe and stress-free way to travel. The only thing you may need to watch out for is the cost of your ride; it's recommended to always agree on a fare before setting off. If you do experience any issues during your journey, you can report them directly to the Highway Assistance and Tourist Help 'Green Angels" by calling 078.