Taxis in Sharm El Sheikh
Sharm El Sheikh is a top-rated holiday destination in Egypt. The beach resort city is situated at the southeastern tip of the Sinai Peninsula, along the shore of the Red Sea. It offers sandy beaches and turquoise waters, an exciting nightlife, rich entertainment options and a whole world of diving galore that makes it a premium international scuba diving destination; there is truly much to do and see. Although there are buses that run to most parts of the city, the waiting time can be difficult under the hot sun. The most convenient and worry-free way of getting around is taking a Sharm El Sheikh taxi.
TRAINED DRIVERS
Hand picked & english speaking drivers
LOW PRICES
Same price as a regular Taxi from the line
FLIGHT MONITORING
Drivers are always on time
QUALITY SUPPORT
24/7 Email & Phone support
How much does a taxi cost?
Night time


(00:00 - 05:00)
SHARM EL SHEIKH INTERNATIONAL AIRPORT (SSH) ➙ SHARM EL SHEIKH CITY CENTRE
SHARM EL SHEIKH INTERNATIONAL AIRPORT (SSH) ➙ NABQ BAY
SHARM EL SHEIKH INTERNATIONAL AIRPORT (SSH) ➙ DAHAB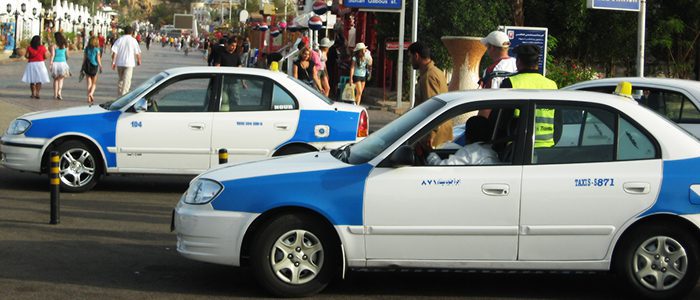 Sharm El Sheikh Taxi Prices
Taxis in Sharm El Sheikh are among the most affordable ones globally. Prices are way lower than the rates people pay in Europe and America. The fares depend on the distance travelled and the time of the day. By law, drivers must use the taximeter to calculate the total fare at the end of the ride.
Charges are as follows:
Base fare: €0.50 (EGP 10)
Rate per km: €0.25 (EGP 5)
There are no officially regulated night rates, but be prepared to pay a customary extra 20% for your late evening travels.
What our customers say about Welcome
How to get a Taxi in Sharm El Sheikh
Getting a taxi in Sharm El Sheikh is as easy as it gets. In fact, you couldn't avoid them even if you wanted to! They are the blue and white cars that roam the streets and the most popular spots of Sharm El Sheikh, all day and night long, attempting to find customers. Even if you haven't flagged one down yourself, it's not uncommon for drivers to approach you on the street and ask you if you need a taxi.
There are ranks near the major landmarks, outside of hotels and nightclubs/restaurants, and around all the popular tourist attractions. You can just hail a taxi on the street, go to one of the ranks or call one of the local taxi companies to secure a ride. Taxi drivers are friendly, and you won't face any problems in most cases.
However, if you would like to avoid the hassle and potential hidden costs, you can always pre-book your Sharm El Sheikh taxi with Welcome Pickups.
Benefits of Booking a Sharm El Sheikh Transfer in Advance
First contact with a foreign culture, especially in the countries of the East where the usual Western standards are not the norm, can be a bit intimidating even for seasoned travellers. Haggling is part of everyday life in the Middle East, and taxis are no exception. This could make Westerners feel a little uncomfortable. Add the humid weather and high temperatures to the mix, and the benefits of pre-booking your transfer with Welcome Pickups become obvious. That way, you're guaranteed a competitive fixed-rate fare, personalised transfers and no hidden fees.
Wheelchair Accessible Taxis in Sharm El Sheikh
Regular blue and white taxis in Sharm El Sheikh are not equipped with special ramps or custom seating for wheelchair users. You can easily store your folded wheelchair in the taxi's boot if it suits you. If you need a fully accessible vehicle, try contacting one of the local private companies, such as Maro Tours and make sure you state your requirements when arranging your pickup.
Taxis in Sharm El Sheikh do not charge extra for luggage. It's included in the price.
Before boarding the taxi, make sure you agree with the driver that the price is per vehicle, not per person.
Ensure and insist that the taximeter is on and reset at the beginning of the journey. You may also ask about the ride's estimated cost before getting in the vehicle.
Be ready to have cash with you as cards are rarely accepted in regular Sharm El Sheikh taxis.
Taxi Safety and Complaints in Sharm El Sheikh
In general, people in Sharm El Sheikh are very hospitable and welcoming towards foreigners. The city relies heavily on tourism, so most taxi drivers would not risk being hostile to visitors, as they are their primary source of income. Safety issues are more than rare, and the worst thing that could happen to you is having to haggle for a better fare. If something unwelcoming, uncomfortable or unsafe happens to you, note down the driver's ID and license plate, and report the incident to the nearest station or the associated taxi company.