Taxis in Zanzibar
Zanzibar, Tanzania is one of the most beautiful islands in Africa and is visited by over 500,000 travellers a year. Known for its rich culture, stunning turquoise waters, incredible marine wildlife and characteristic cuisine, it is a wonderful holiday destination. With so much to explore, it is highly recommended to get around the island in a Zanzibar taxi.
TRAINED DRIVERS
Hand picked & english speaking drivers
LOW PRICES
Same price as a regular Taxi from the line
FLIGHT MONITORING
Drivers are always on time
QUALITY SUPPORT
24/7 Email & Phone support
How much does a taxi cost?
Night time


(00:00 - 05:00)
FROM STONE TOWN TO MANGAPWANI
FROM STONE TOWN TO JOZANI FOREST
FROM STONE TOWN TO THE ROCK RESTAURANT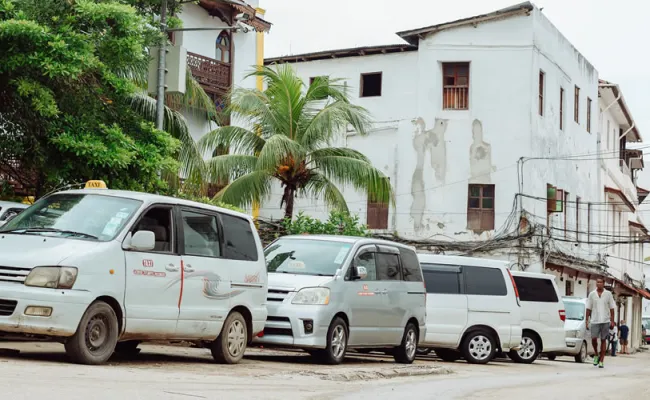 Zanzibar Taxi Prices
Taxis in Zanzibar are mostly privately owned, whilst various companies operate on the island. Thus, Zanzibar taxi prices are usually set and do not work off a taximeter. Moreover, most companies offer the same transfer prices. For instance, the 15-minute trip from Zanzibar International Airport to Stone Town typically costs $15 (€14.80).
However, if you want to travel with a highly reputable company, you can pre-book your Zanzibar taxi with Welcome Pickups.
What our customers say about Welcome
How to get a taxi in Zanzibar
Unlike most cities, hailing a cab off the streets of Zanzibar is unadvised, as some taxis are not licensed. To get a taxi in Zanzibar, it is recommended to call or pre-book a trusted taxi company. Some of the popular local enterprises are:
Zan Island Taxi: +255 777 577 207
ZTrans: +255 777 041 191
Zanzitaxi: +255 773 104 273
Nevertheless, if you want to travel with a friendly, local English-speaking driver, it is highly recommended to pre-book your Zanzibar taxi with Welcome Pickups.
Benefits of Booking a Private Transfer With Welcome Pickups
When arriving in a new city, the last thing you want to do is get lost in the streets, haggle with unlicensed taxi drivers or waste your time trying to get from A to B.
Pre-booking a Zanzibar private transfer with Welcome Pickups is the best way to travel around the island. Welcome Pickups guarantees on-time pickups, premium customer service, fully personalised transfers, and friendly local English-speaking drivers, handpicked and trained by us.And now, with our mobile application, yo u can book your Zanzibar taxi in under 60 seconds!
Zanzibar Taxi Tips
It is helpful to know that most private taxi companies in Zanzibar also operate as tour companies.
It is uncommon to tip your taxi driver; however, it is appreciated. Most travellers round up their end fare to the higher dollar.
Be aware that many unlicenced taxis operate around the island; ensure you book an official and reputable transfer company.
Most taxis in Zanzibar cannot accommodate credit card payments. However, you can use your credit card if you pre-book your transfer online.
Zanzibar Wheelchair Accessible Taxis and Transfers
Most taxi vehicles in Zanzibar are minivans and can accommodate wheelchairs. However, confirming this beforehand with your driver or the taxi company you choose is always best, so ensure you specify your needs when booking a trip.
Taxi Safety and Complaints in Zanzibar
Zanzibarian taxi drivers are known to be very friendly and accommodating. Nonetheless, bad experiences may happen. If this is your case, you can file a complaint directly with the Zanzibar taxi company. It is essential to keep all valuable information, as the taxi company might need a transfer receipt, holding the date, time, driver's name, etc.