Chiang Mai Taxi Service
Chiang Mai is slowly becoming one of Thailand's best travel destinations as more and more travellers discover the gem that is North Thailand. The combination of serene misty mountain landscapes and scattered ancient temples is truly a sight to behold and experience.
Getting around the city of Chiang Mai can be somewhat frustrating, however, as there is no major public transport infrastructure in effect. Travellers and locals, therefore, rely on alternative modes of transport like songthaews (converted pickup trucks), tuk-tuks and the limited city bus routes. Due to this, taking a taxi in Chiang Mai is for sure a great option to get around easily and see as much of the city as you can.
TRAINED DRIVERS
Hand picked & english speaking drivers
LOW PRICES
Same price as a regular Taxi from the line
FLIGHT MONITORING
Drivers are always on time
QUALITY SUPPORT
24/7 Email & Phone support
How much does a taxi cost?
Night time


(00:00 - 05:00)
Chiang Mai city centre to Chiang Mai City Arts & Cultural Center
Chiang Mai city centre to Doi Suthep Temple
Chiang Mai city centre to the Elephant Pride Sanctuary
FChiang Mai city centre to Warorot Market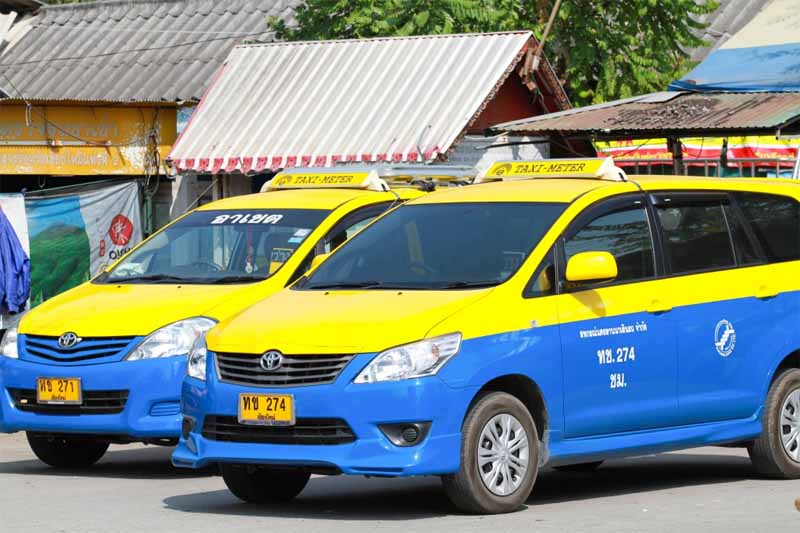 Chiang Mai taxi prices
The cost of a Chiang Mai taxi service can either be a fixed rate fare, which would need to be negotiated at the start of the transfer or calculated using a taximeter. All taxis should have a taximeter fitted but drivers don't always turn them on at the start of the journey, so passengers should ask the driver to turn the meter on as soon as they get in the vehicle. The current taximeter rates are as follows:
Initial base fee: €1.35 (THB 50)
Per km cost: €0.50 (THB 20) 
Waiting time charge per hour: €4 (THB 150)
All taxi and shuttle transfers from Chiang Mai Airport to the city should be at a fixed rate cost of €4.25 (THB 160). For a guaranteed fixed rate fare and no hidden fees or surcharges, you can pre-book your transfers with Welcome Pickups to all your destinations in Chiang Mai.
What our customers say about Welcome
How to get a taxi in Chiang Mai
A Chiang Mai taxi service is a very good travel option when wanting to move around the city, however, it can be difficult to wave a taxi down when you're on the street. The most convenient way to secure a taxi in Chiang Mai is to book your transfer in advance either through the hotel you are staying at or directly with one of the taxi companies that serve the city. Some of the most popular taxi companies in Chiang Mai include:
Cnx Taxi ChiangMai: +66 95 675 0676
Taxi Kingdom: +66 94 620 5134
Alternatively, you can find a taxi at one of the taxi ranks around the city. Taxi ranks can be found easily at key points in the Chiang Mai city centre, like the train station, bus stations and the larger shopping malls of the city.
Booking your Chiang Mai taxi in advance
It is highly recommended to book your Chiang Mai taxi or shuttle in advance as it can be very difficult to find a taxi on the street and wave it down. Furthermore, when booking your Chiang Mai transfer with a reputable company like Welcome Pickups, you can guarantee a fixed rate fare which you can pay in advance and therefore avoid having to pay in cash and dealing with the local currency. Moreover, that way you're securing a friendly local professional driver who can communicate in English and share their knowledge of the city for a more personalised and memorable experience.
Chiang Mai Taxi Tips
If you opt for a taxi service using a taximeter make sure that the meter is turned on and set to the correct base fee at the start of your journey. If the driver refuses to start the meter negotiate a rate for your journey before you commence your transfer.
It is not common practice to tip your Chiang Mai taxi driver at the end of your transfer. If you, however, choose to tip a driver for their excellent service, a reasonable tip would be between €0.80-2.70 (THB 30-100).
Haggling the cost of a taxi fare is a very common practice when taking a Chiang Mai taxi. Just make sure you agree on the fare at the start of your trip.
Wheelchair accessible taxis in Chiang Mai
Taxis in Chiang Mai do not have wheelchair access for motorised/electric wheelchairs, most taxis, however, will have enough space to transport a folded wheelchair. Travellers requiring a wheelchair-accessible vehicle will have to pre-book a private vehicle with a company such as Wheelchair Tours Thailand which specialises in transporting disabled and elderly people. It would also be worth enquiring with the local taxi companies based in Chiang Mai if they offer the option of a wheelchair-accessible vehicle when booking a taxi in advance.
Chiang Mai taxi safety and complaints
In general, using a taxi in Chiang Mai is a safe method of transport, taxi drivers drive safely and take care of their vehicles. What taxi users need to most be aware of, is to make sure that the driver turns on the meter at the start of the journey to avoid being overcharged for a transfer. You can also insist on having the meter turned on, and if the driver refuses to, you can choose to take the next available taxi. There is no formal complaint process for any issues that may arise when using a taxi, therefore anyone wishing to make a complaint should make a note of the name of the driver, the number plate and as much information as possible about the transfer and contact the associated taxi company directly.