Taxis in Tenerife
Attracting over six million visitors a year, Tenerife combines gorgeous resorts, clubbing and white sandy beaches with all-inclusive resorts. For travellers wanting to stay off the beaten track, Tenerife is also an island of extraordinary beauty and diversity, with remote mountain villages, pristine beaches and ancient towns. If you are here for a limited amount of time or travelling with family and young children, then you might want to save as much time as possible to explore Costa Adeje, Playa de las Americas, Puerto de la Cruz and other magnificent resorts. So book a Tenerife taxi today and soak in all the summer fun at your leisure. You can either directly hail one off the streets or simply book your taxi online in advance and let your driver do the rest.
TRAINED DRIVERS
Hand picked & english speaking drivers
LOW PRICES
Same price as a regular Taxi from the line
FLIGHT MONITORING
Drivers are always on time
QUALITY SUPPORT
24/7 Email & Phone support
How much does a taxi cost?
Night time


(00:00 - 05:00)
TENERIFE TO PLAYA DE LAS AMERICAS
TENERIFE TO PUERTO DE LA CRUZ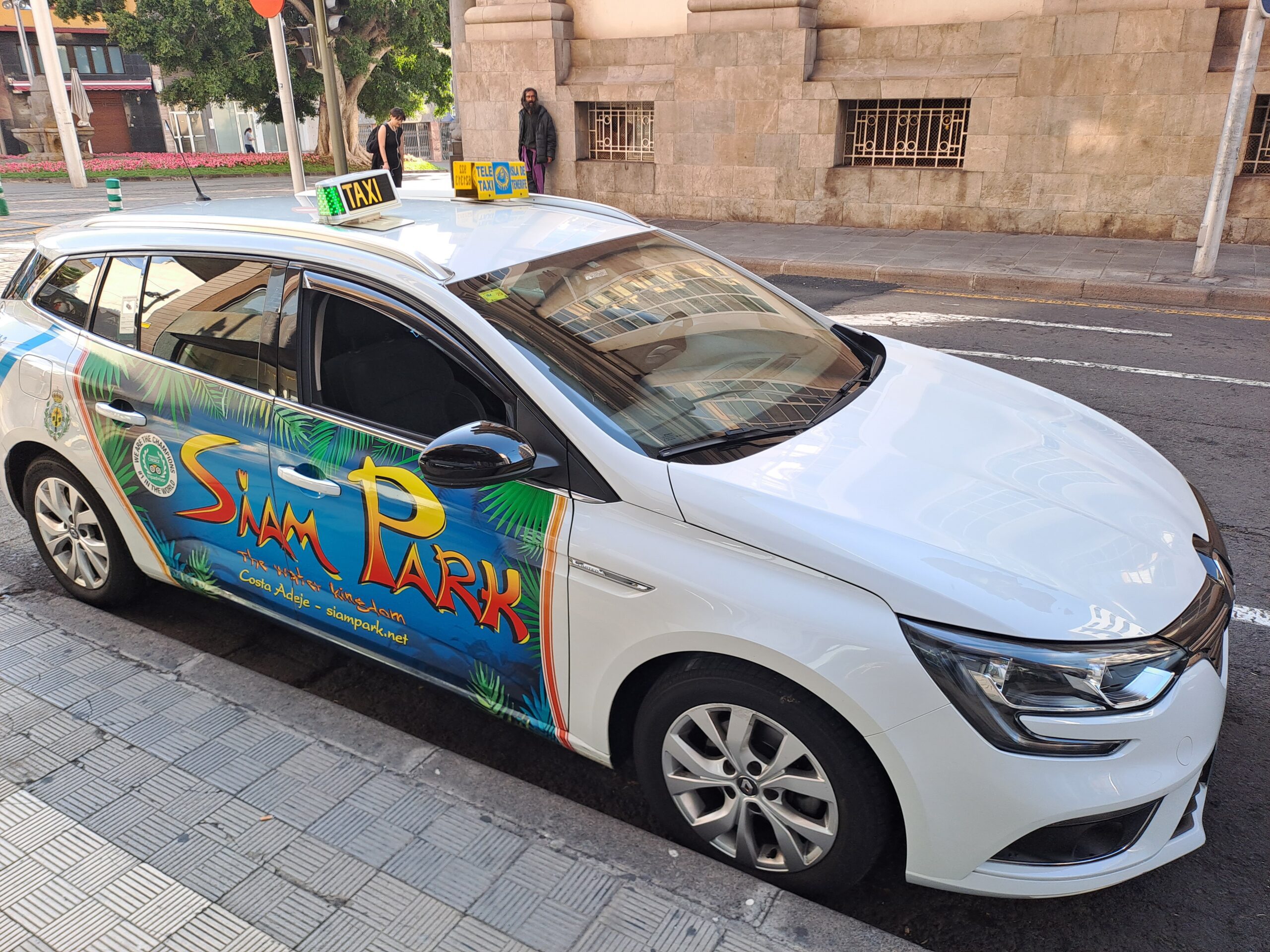 Cost of a Tenerife taxi
Finding a taxi is extremely easy in Tenerife. From the moment you step out of the airport gate, you will see them lining up outside the terminal; it is impossible to miss them! There are taxi stands in every single resort and they can be seen driving around all over the island. Taxis in Tenerife calculate their fares based on a taximeter system and fares are regulated by the government.
Not only are taxis in Tenerife easy to spot, but they are also very affordable. Local taxis operate on a 2-tariff system. Below are the prices for all Tenerife cabs:
Tariff 1 (Monday to Saturday 06:00-22:00):
Minimum fare – €3.15
Price per km – €0.55
Waiting time per 15 minutes – €3.76
Airport supplement – €1.70
Tariff 2 (Monday to Saturday 22:00-06:00, Sundays and holidays):
Minimum fare – €3.45
Price per km – €0.63
Waiting time per 15 minutes – €3.76
Airport supplement – €1.70
*Tenerife taxis generally only carry four passengers including children. If you have a bigger group than 4 people we suggest pre-booking a Tenerife private transfer.
What our customers say about Welcome
How to get a taxi in Tenerife
There are several ways to find a taxi in Tenerife. You can walk to the nearest taxi rank, hail a Tenerife taxi on the street or contact a local company such as Taxi Rivas. Ranks can be found everywhere, as there are many available in almost every town, resort, hotel or at the airports. At both Tenerife South Airport (TFS) and Tenerife North Airport (TFN) you will find taxi stands just outside the arrival terminals. Fortunately, there are usually lots of taxis lined up there and if there is a queue it tends to move quickly. You can also order a taxi at your hotel or apartment reception.
Tenerife's taxis are all white. They display a green light on the roof or in the windscreen and have an official licence plate with the letters 'SP' on them (which stand for "servicio público"). Drivers use officially calibrated taximeters that are regulated by officials. Tenerife is divided into municipalities and each has a certain number of taxis assigned to it. The taxis can pick passengers up only in their own municipality, but they can transfer to any part of the island. If you wish to visit a different town, it is possible to negotiate a fix​ed price in advance for a day trip or excursion.
*To know if a taxi is available, check for the green light on the roof. If it is on, that means that the taxi is empty and you can enter it and start the ride.
Benefits of booking a Tenerife transfer in advance
Finding your way around complicated public transportation systems or standing in long queues under the hot sun may ruin your stay. Instead of this, you can opt for the most stress-free transfer option from Tenerife Airport; a taxi. Once you've safely stored your personal belongings and suitcases in the trunk and settled into your air-conditioned taxi, you can sit back, relax and enjoy the ride while we take care of the rest.
So book an airport transfer to Puerto de la Cruz, Santa Cruz de Tenerife or Adeje and see the best of Tenerife with a Welcome driver today.
Tenerife taxi tips
Tips are not expected in Tenerife, but they are highly appreciated. If you liked the service that a driver provided, anything between 5% - 10% is more than enough.
Very few taxi drivers have credit or debit card machines installed in their vehicles. That's why you should ensure that you always carry cash and change with you.
It is a good idea to ask for an approximate price for your destination before entering the cab. The main taxi stands will give you an approximate price for the most popular destinations.
Wheelchair-accessible taxis in Tenerife
Tenerife has many wheelchair-accessible spots, such as Playa de las Vistas in Los Cristianos and Costa Adeje. In terms of transportation, Adeje taxis or Santa Cruz de Tenerife taxis are not specially equipped for people with mobility difficulties.
To order a wheelchair-accessible vehicle in advance, reach out to Official Taxi Tenerife. The company has a fleet of accessible vehicles, completely adapted for passengers with reduced mobility. You can also contact the company by phone on +34 (922) 397 074.
Safety and complaints for Tenerife taxis
Taxi drivers in Tenerife are reliable, polite and provide a high level of service at reasonable rates. However, some locals may still try to take advantage of unsuspected travellers by taking a longer route or not setting the taximeter on.
If you suspect that a Tenerife taxi driver tried to deceive you, stop the ride immediately and note down the license plate or call the company from which you ordered the taxi. You can also head to the local police station to make a complaint.