Taxis in Doha
With a mix of traditional charm and cosmopolitan sophistication, Doha has everything. Whether what you are looking for is a beach holiday, a city escape or an oriental adventure, the capital of Qatar won't disappoint you. This populous city simply checks all the boxes. So if you are visiting the city for the first time or travelling in large groups, simply hop in a Doha taxi and ensure you save time for your sightseeing tours. Nothing spells ease more than having a designated vehicle to take you to your Doha destination in absolute comfort.
TRAINED DRIVERS
Hand picked & english speaking drivers
LOW PRICES
Same price as a regular Taxi from the line
FLIGHT MONITORING
Drivers are always on time
QUALITY SUPPORT
24/7 Email & Phone support
How much does a taxi cost?
Night time


(00:00 - 05:00)
Doha Airport to Lusail Stadium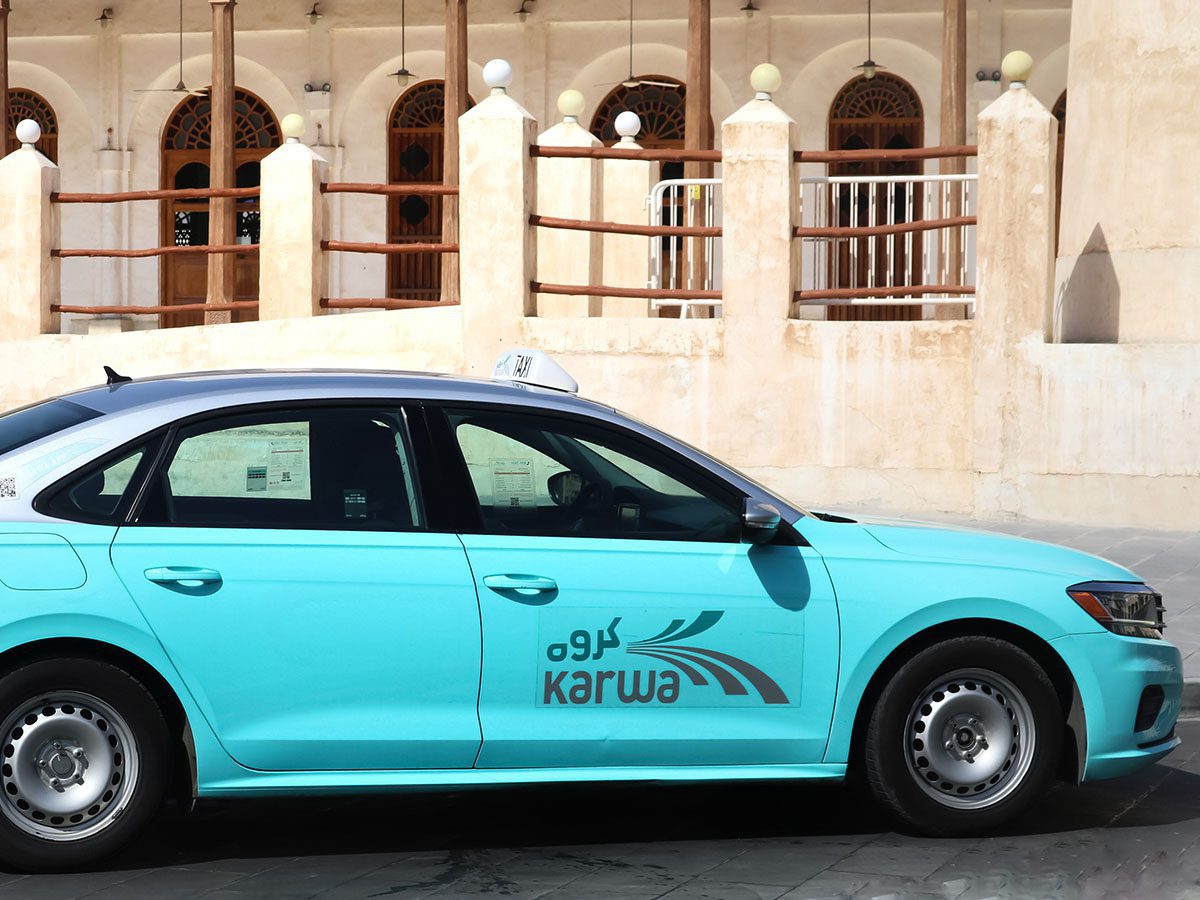 Cost of a Doha taxi
All Doha cabs are metered, with calibrated machines installed in the vehicles. Doha taxi prices are affordable with the total fare depending on the exact distance travelled and whether or not you're travelling during peak hours, seeing as traffic conditions may affect the final cost of your taxi. Below you can find the official Doha taxi tariffs:
Minimum fare: €6.30 (QR 25)
Per kilometre:
Day fare:€0.40 (QAR 1.60)
Night fare:€0.50 (QAR 1.90)
Fares from the airport to the city centre: €10 (QAR 39.50).
Taxis at the airport are called Karwa and are light blue. Please bear in mind that it is necessary to ensure you are carrying enough cash to pay for your Doha taxi, as they accept cash payments only in local currency.
What our customers say about Welcome
How to get a taxi in Doha
There are plenty of options for picking up a taxi in Doha. You can hail one off the street, walk to the nearest taxi stand, ask your hotel reception staff to book one for you, or download a taxi app.
Most of the taxis in Doha are affiliated with the government-owned Mowasalat company since 2004. They provide a fleet of contemporary taxis that are clean, reliable, efficient and air-conditioned. Karwa taxis stand out thanks to their bright turquoise colour, yet have different roofs depending on the taxi operating company.
Doha taxis can be found outside major hotel chains, city landmarks and in case of airport transfers, at the left end of the Arrivals Hall, in the Taxi Pavilion – at the designed taxi ranks immediately outside of the main terminal. If you don't want to wait outside under the hot sun, you can download a taxi app or phone a local company to request a pickup.
Qatar Taxi is a popular company offering this kind of service and they can be reached on +974 6677 8860.
Benefits of booking a Doha transfer with Welcome
Welcome Pickups offers a fleet of clean and comfortable vehicles specially designed to help you make the most out of your holiday. Our friendly English-speaking drivers are handpicked and trained to give you the best advice about the city and transport you to your destination in a safe, professional yet relaxed manner.
If you'd rather spend your time waiting to get into Souq Waqif than squeezing in the local public transport to get around the city, then opt for a Doha Airport transfer with Welcome. Our 5-star experience will stay with you for a long time.
Doha taxi tips
In Qatar, tipping a taxi driver is not obligatory but is recommended; a minimum of 5-10 Riyals tip is highly appreciated.
Doha cabs are perfectly safe, as all the rides are metered, and you won't get overcharged. Nevertheless, you can always note down the driver's plate in case you face any issues.
Taxis don't accept credit card payments, only cash in the local currency.
Wheelchair accessible taxis in Doha
Qatar in general is considered an accessible country. The company Mowasalat (Karwa) Qatar has specially designed taxis that are wheelchair friendly. The taxis are constructed in such a way up to two or three wheelchairs can be transported, featuring electric ramps, safety locks and non-slip floors. The cabs are also equipped with primary security gadgets, electric doors and safety keys.
They can be reached on +974 4458 8733 and it is recommended to book your accessible vehicle 1-2 days in advance to ensure availability.
Safety and complaints for Doha taxis
Doha taxis are considered comfortable and safe, whilst being equipped with the latest technology. The drivers are also generally friendly and polite. However, as quality may vary from one driver to another, if you happen to come across a driver who refuses to turn on the taximeter or you feel uncomfortable or unsafe at any point, you may report it.
We suggest you note down the driver's license plate and contact the associated company, or if you wish, head to the nearest police station to file a complaint. You can also call the local department at +974 4452 1111.