Taxi service in Punta Cana
The relaxing beach city of Punta Cana is the perfect place to enjoy the delicious Dominican cuisine, visit some beautiful local towns and spend some time soaking up the sun. When it comes to getting around this idyllic destination, you want it to be as easy and stress-free as possible. Taking a taxi in Punta Cana is truly the quickest and most comfortable way to explore the city. You can easily flag down a Punta Cana taxi in the street, walk to one of the taxi ranks, call one of the local taxi companies or even book your transfer in advance for a personalised pickup. 
TRAINED DRIVERS
Hand picked & english speaking drivers
LOW PRICES
Same price as a regular Taxi from the line
FLIGHT MONITORING
Drivers are always on time
QUALITY SUPPORT
24/7 Email & Phone support
How much does a taxi cost?
Night time


(00:00 - 05:00)
FROM PUNTA CANA AIRPORT TO BAVARO
HOTEL CLUB MED TO LA ROMANA
PUNTA CANA VILLAGE TO PLAYA JUANILLO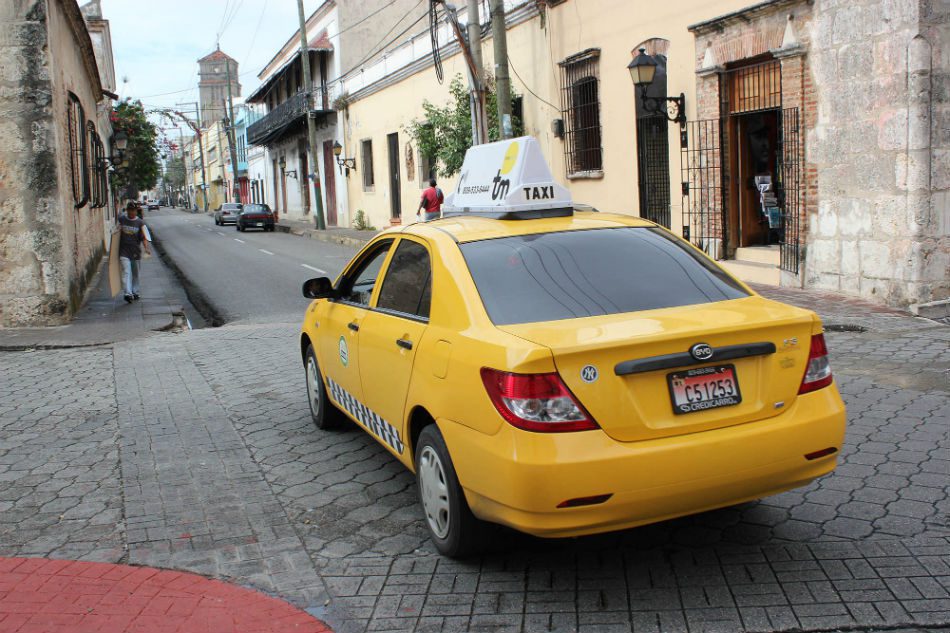 Cost of a Punta Cana taxi
Taking a Punta Cana taxi can cost you anywhere from €9 to €70 ($10 to $80 USD). The final price all depends on the distance between the ride-hailing place and your destination. The only regulated costs for a taxi in Punta Cana tend to be from the airport to set hotels and resorts. If you take a cab from the street or call one of the local taxi companies, the driver will decide on your fare based on your destination. If you feel confident, you can also haggle the cost of your journey with your driver before deciding to take the ride. You can use cash for your Punta Cana taxi ride and you can pay in both USD and Dominican Pesos, but you will be often given bad exchange rates for USD. 
What our customers say about Welcome
How to get a taxi in Punta Cana
There are plenty of taxis in Punta Cana that are available 24/7. The taxis come in many shapes and colours, depending on the network they're part of, but the local syndicate taxis are yellow with a checkered pattern along the bottom of the doors and a big white light on top. You can very easily find them lining up outside of all the shopping malls, restaurants, main plazas and by the popular beaches. If you're in the city centre of Bavaro, you can also hail one down in the street by sticking out your hand from the sidewalk. However, if you're not in the city, the weather is bad or you're travelling during peak times, you may not see many free Punta Cana taxis in the street. In that case, you can call one of the local taxi companies. A few top-rated ones are:
Taxi Bavaro Punta Cana: +1 809 552 0617
Taxi Turistico Beron: +1 809 466 1131
Siutratural: +1 809 221 2741
The benefits of booking your Punta Cana taxi with Welcome
Trying to plan your holiday or budget for a trip around Punta Cana can be stressful – especially when you don't know how much transport is going to cost. You could also end up wasting precious time of your trip, waiting for an available local Punta Cana taxi service. That's why it's so much more convenient to pre-book your Punta Cana taxi rides with Welcome Pickups. That way, you're not only securing unbeatable prices, but also securing your peace of mind with our guaranteed on-time pickups, exciting travel extras and English-speaking drivers, so there will never be any delays or miscommunication. Why not let us take the stress out of your Punta Cana transfers, so you can concentrate on making the most out of your moments in this stunning city?!
Punta Cana taxi tips
Ensure you discuss and agree on a price before getting into a taxi you have hailed down the road to avoid any unpleasant surprises.
Standard taxis in Punta Cana can take up to 4 passengers, the fare given will cover all passengers.
Baby seats are not given as standard in Punta Cana taxis, but you can bring and fit your own for free if you like.
Keep in mind that credit/debit cards are not accepted as a method of payment across the majority of Punta Cana taxis.
Make sure to bring enough change in USD or Dominican Pesos for short journeys, as the drivers don't usually carry change for large notes.
Wheelchair accessible taxis in Punta Cana
The local taxis in Punta Cana aren't wheelchair accessible. If you need an assisted vehicle, you will need to book with a specialist company like Dominican Limousine. They have fully wheelchair accessible Ford Econoline vans that come complete with hydraulic lifts, tie-downs, wheelchair seating and passenger seats. You can hire these taxis for point A to point B journeys, as well as for the day if you're looking to do a day trip in Punta Cana. To contact them, you can send an email to: [email protected].
Punta Cana taxi safety and complaints
Generally speaking, taking a taxi in Punta Cana is safe, as long as you travel in a clearly marked taxi. Most Punta Cana taxis are part of a syndicate, and they are very protective of their fleet and hard to get into, so there aren't many non-official taxis around. However, if you do experience any issues during your journey, or find yourself feeling unsafe or threatened at any time, you can make a claim with the Punta Cana Police by calling +1 809 686 8227. If you'd prefer to speak to someone face to face, there are 24-hour police stations next to the bus station in Bavaro and at Punta Cana Galerias near the airport. Just be sure to try and note your driver's name, ID number or taxi number before contacting the authorities so that your complaint is handled with more accuracy and effectiveness.