Top Transfers With a Basel Taxi
Basel is a fascinating city located in Switzerland, but bordering both France and Germany. Because of this, Basel is a melting pot of different cultures and cuisines from all three countries. While in the city, you won't want to miss the Medieval Old Town and Marktplatz, the haunting 12th-century Gothic cathedral or the stunning views across the river Rhein. To make sure you can pack in all the city has to offer, we recommend getting around in a Basel taxi. You can easily pick up a taxi service in Basel by hailing one in the street, walking to a taxi rank, booking your service in advance or calling a phone dispatch company. 
TRAINED DRIVERS
Hand picked & english speaking drivers
LOW PRICES
Same price as a regular Taxi from the line
FLIGHT MONITORING
Drivers are always on time
QUALITY SUPPORT
24/7 Email & Phone support
How much does a taxi cost?
Night time


(00:00 - 05:00)
FROM AIRPORT TO BASEL SSB
FROM CITY CENTRE TO SWISS RAILWAY STATION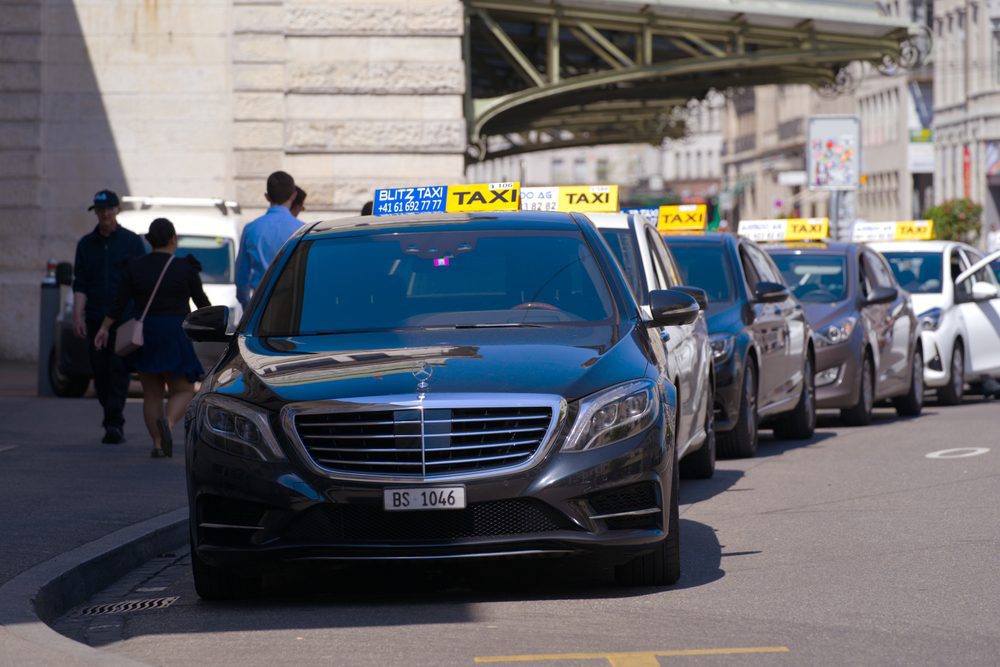 Cost of a Taxi Service in Basel
Although there are many different Basel taxi companies operating throughout the city, they must all adhere to officially set taxi tariffs. The official tariff ordinance was set in March 2011, and states all taxis in Basel must use an officially calibrated taximeter to calculate their fares. The rates are as follows:
Base fare: €6.50
Price per km / day (06:00 to 20:00): €3.80
Price per km / night (20:00 to 06:00): €4.30
It's worth noting that there may be additional charges for keeping your driver waiting for an hour (€70) and any tolls incurred during your journey. 
What our customers say about Welcome
How to get a Taxi in Basel
Getting a taxi service in Basel couldn't be easier, many different companies work throughout the city. You can choose to hail a taxi in the street by raising your hand, or walk to one of the many taxi ranks located throughout the city centre, at the bus and train stations, as well as at all the major shopping and tourist attractions. 
If you're looking to take a Basel taxi from outside the city centre or are travelling late at night, you can call a phone dispatch taxi to come and pick you up. Some of the top Basel taxi companies that offer this service are:
33er Taxi AG: +41 61 333 33 33
Taxi-Zentrale AG Basel: +41 61 222 22 22
Enzo Taxi Basel: +41 79 533 44 44
Mini-cab AG: +41 61 777 77 77
Why Book your Basel Taxi with Welcome Pickups?
Due to the fact that all taxis in Basel are run by different private companies, you can experience different levels of service and reliability. If you'd prefer to enjoy a ride with a company that provides 5-star service every time, we recommend booking with a trusted company such as Welcome Pickups. At Welcome, we offer guaranteed on-time pickups, 24/7 customer service, fluent English-speaking drivers and unbeatable rates. 
Basel Taxi Tips
Travelling during the night has a slightly higher price per km than during the day.
Most Basel taxi drivers accept card payments.
When travelling from the airport, be sure to keep your passport handy as you will cross a land border.
You can bring and fit a child's car or booster seat for free if needed.
Wheelchair Accessible Taxi Service in Basel
Unfortunately, most taxi services in Basel don't offer wheelchair-accessible vehicles. Although you can bring a foldable wheelchair for free in all Basel taxis, they don't have space or the necessary equipment for motorised wheelchairs. However, Enzo Taxi does have a few 'VW Caddy Maxi Wheelchair Taxi' vehicles that can transport passengers in motorised wheelchairs. To request this service, you can call them directly on +41 79 533 44 44.
Basel Taxi Safety and Complaints
Taking a Basel taxi is usually a very safe and pleasant experience. However, as all taxis in Basel are run by different companies, there can be varying levels of customer service. If you experience any issues during your journey, you should note down your driver's ID number, the taxi number and any other details about your journey, and report the matter directly with the company.