Taxis in Mahe
Mahe, Seychelles' largest and main island, is home to 70,000 people. Even if its economy largely depends on tourism, it still retains its pristine beauty thanks to the luscious Flora and Fiona, golden beaches and sky-high palm trees. Seychelles does not have an extensive network of local public transport, seeing as tourists have to rely on boats and planes to move from one island to another. However, if you're staying in one place, the best way to explore the nature and beauty of Mahe is by car and the most convenient and popular option, in this case, is getting a Mahe taxi service. That way, you get to explore the area in comfort, saving precious time and energy for more exciting activities.
TRAINED DRIVERS
Hand picked & english speaking drivers
LOW PRICES
Same price as a regular Taxi from the line
FLIGHT MONITORING
Drivers are always on time
QUALITY SUPPORT
24/7 Email & Phone support
How much does a taxi cost?
Night time


(00:00 - 05:00)
MAHE ISLAND AIRPORT TO VICTORIA
MAHE ISLAND AIRPORT TO KEMPINSKI SEYCHELLES RESORT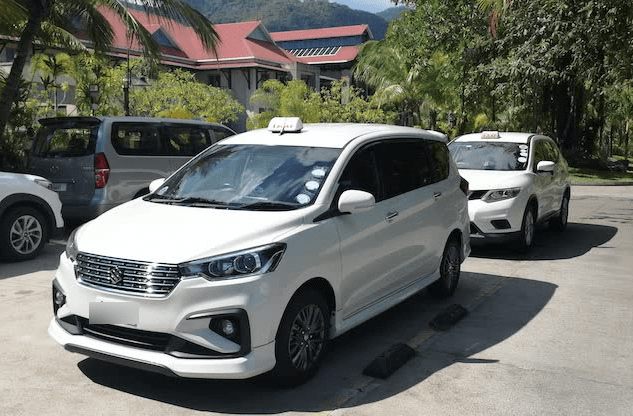 Taxi Prices in Mahe, Seychelles
The Mahe taxi service can be a little more expensive than what you usually get in European countries or other parts of the world. Still, drivers are delightful and know a lot about the island, so they can help you get around and share with you valuable information that is only known to locals. A taxi in Mahe, Seychelles does not have pre-set fares but relies on a taximeter to calculate the final price for your ride. Below are the average rates the driver will based the calculation of your fare on.
Taxi start: €7.30 (SCR 106)
Taxi per kilometre: €5.48 (SCR 80)
Taxi per 1 hour of waiting: €7.57 (SCR 110)
The final taxi prices in Mahe, Seychelles can therefore change depending on factors such as traffic, the time of day and your chosen taxi provider. For a set fare you can rely on and no hidden fees, you may wish to consider booking a Mahe taxi service in advance with a top-rated company like Welcome Pickups, for an English-speaking driver to pickup you up.
What our customers say about Welcome
How to Get a Taxi in Mahe, Seychelles
You can find taxis at the harbour, airport and other locations on the island. They come in a vast array of colours but most of them are white. To hop on an available taxi, simply hail one that is passing by, walk to the nearest taxi stand or order one via phone. You can also ask the staff at your accommodation or at a restaurant to call one for you.
Below are some popular taxi providers for the island of Mahe:
Mahé Cab Services: +248 252 6038
Seychelles Taxi Touring: +248 256 7276
Sey Discovery Tours: +248 263 0481
If you are hailing a taxi on the street, make sure to ask for an approximate fare for your destination as some taxis in Mahe are not metered.
Benefits of Booking a Mahe Taxi in Advance
Seychelles is a dream destination that most people only get to visit once in their lifetime. To avoid waiting under the hot sun for hours and ruining your vacation in this exotic place, consider taking a taxi to move around the island. Note, however, that taxi prices in Mahe, Seychelles, can get rather steep unless you choose to book a taxi in advance to secure a fixed fare. Welcome Pickups guarantees set-rate fares and no hidden fees for your utmost peace of mind. Moreover, we offer 24/7 customer support, guaranteed on-time pickups and kind English-speaking professional drivers, handpicked and trained by us!
Mahe Taxi Tips
Please bear in mind that some Mahe taxi service providers do not use taximeters. If that is the case, you should discuss the price in advance with the driver.
Standard taxis in Mahe, Seychelles are not equipped with card machines. Please carry cash in the local currency to be able to pay your driver.
Tipping cab drivers is not obligatory in the country. However, locals often round up the fare when paying for their taxi in Mahe, Seychelles.
Wheelchair-accessible Taxis in Mahe, Seychelles
If you have people with limited mobility in your travel group then booking a wheelchair-accessible Mahe taxi service is a must. Usual taxis on the island are not built to accommodate such needs as they lack the necessary equipment such as ramps and hydraulic lifts. To book a fully accessible vehicle, you can contact Kenneth Henderson in advance; simply fill in your personal details on their website including the date of your arrival to ensure vehicle availability.
Mahe Taxi Service Safety and Complaints
A word of caution – when moving around Mahe, you may come across taxis that are neither metered, nor have set fares. Travellers are advised to enquire with their driver what the estimated cost to their destination is before starting the ride to avoid surprises. In the unlikely event that you face an issue, simply ask the driver to stop, write down their name, registration number and license plate info and head to the nearest police station to file a complaint. Generally speaking, the vast majority of local drivers are legitimate, polite and won't give you any trouble.