Cabo Taxi Service
Cabo San Lucas is a beautiful beach city located on the very southernmost tip of Mexico's Baja California peninsula. Famous for its golden sand beaches, exciting water sports and marina, Cabo San Lucas is the perfect place to kick back, relax and enjoy the sun. The most relaxed way to get around the city is by taxi or private car. Cabo taxis are usually large vans that can hold around 10 people. They are readily available all over the city and can be hailed in the street, found at the designated taxi ranks or booked over the phone.
TRAINED DRIVERS
Hand picked & english speaking drivers
LOW PRICES
Same price as a regular Taxi from the line
FLIGHT MONITORING
Drivers are always on time
QUALITY SUPPORT
24/7 Email & Phone support
How much does a taxi cost?
Night time


(00:00 - 05:00)
FROM CABO SAN LUCAS TO SAN JOSE DEL CABO
FROM CABO SAN LUCAS TO THE CORRIDOR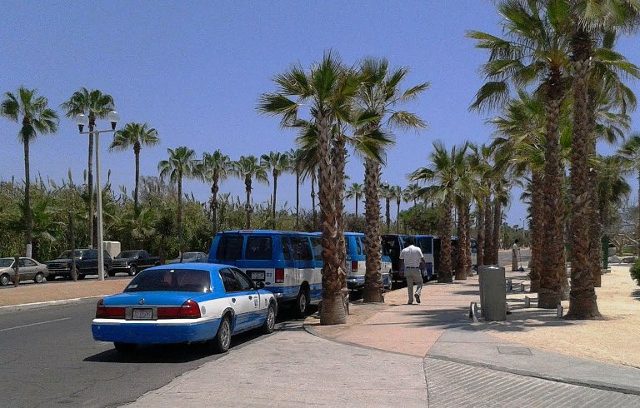 Cabo San Lucas taxi rates
The local taxis in Cabo San Lucas don't have a set-rate fare system, nor do they use a taximeter to calculate their fare. Instead, it's very common for taxi drivers to haggle with you to determine the price. The cost of a Cabo San Lucas taxi ride will depend on the distance you're travelling, but there are some average ride prices such as:
€38 (MXN $690) from Cabo San Lucas to San Jose
€14 (MXN $258) from Cabo San Lucas to The Corridor 
The price your driver gives you for your journey will cover the first 4 passengers, any passenger over this will be given a surcharge. Be sure to ask and agree on the price of your journey prior to getting into the taxi, if you don't like the price, you can find another taxi in the street to ask. 
What our customers say about Welcome
How to get a Cabo San Lucas taxi
Taxis in Cabo are easy to spot and there are thousands driving around the city. Cabo San Lucas taxis are not uniform in size or colour. You will need to look for one of the large van-like taxis, which always have the municipal stamp and the word 'TAXI' stamped on the door and back of the vehicle, or one of the smaller sedan taxis, which are white with a red stripe or blue with a white stripe. You can hail any of these taxis from the street or walk to one of the designated taxi ranks, also known as 'sitios'. These taxi ranks can be found at the marina, outside Walmart, close to the main beaches, and outside the shopping malls.
Alternatively, if you're travelling late at night or during the rainy season, it's best to call one of the local taxi companies or book your ride in advance. To secure a transfer with a trusted Cabo taxi service, we recommend booking in advance with Welcome Pickups.
Book your Cabo taxi service in advance
When you're relaxing on the beach, the last thing you want to think about is planning your transportation. Waiting around in the hot sun for a local taxi to pass or trying to navigate the public transport in Cabo San Lucas can be uncomfortable and stressful. That's why you should book your Cabo taxi service in advance with Welcome Pickups. We offer guaranteed on-time pickups, personalised transfers, English-speaking drivers and unbeatable prices. Make the most out of your vacation by enjoying the ease of Welcome's state of the art, air-conditioned private transfers.
Cabo San Lucas taxi tips
Be sure to agree on a price with the driver before entering a Cabo San Lucas taxi.
Cabo San Lucas taxis cover 4 people with their rates, additional people will be charged extra.
Taxis in Cabo don't accept card payments, so be sure to carry change with you.
Cabo taxi drivers accept payments in both USD and Mexican Pesos. However, they often inflate the exchange rate, so paying in USD will be more expensive.
If your driver gives excellent service, you can round up your fare to tip them, however, it's not obligatory.
Wheelchair accessible taxi in Cabo San Lucas
Unfortunately, the regular Cabo taxis aren't wheelchair accessible. You will need to call a private company and request a vehicle with a ramp or lift fitted. Both Inside Los Cabos and Transcabo (+52 (624) 163 7373) have excellent wheelchair accessible vehicles which you can book online or over the phone.
Cabo taxi safety and complaints
Although largely unregulated, taxis in Cabo San Lucas are usually very safe and easy to use. However, there have been reports of taxi drivers overcharging their passengers. If you feel your driver has been rude, you've been overcharged or feel unsafe during your ride, you can report your driver to the Tourist Police by calling +52 (624) 143 3977 or to the Transit Police by visiting Subcomandacia Transit at Calle Constituyentes, Lomas Altas, 23472 Cabo San Lucas, B.C.S., Mexico. Be sure to note down your driver's ID number, name and taxi number.