Sarajevo Taxi Service
Sarajevo is a relatively small city so moving around by taxi guarantees that you'll reach your destination quickly and comfortably. Compared to other European cities, taking a local 'taksi' in Sarajevo is relatively cheap, which makes it an ideal way of transport during your trip. Especially if you're arriving by plane, taking a Sarajevo Airport taxi will take a lot of the stress off you as you won't have to look for bus or train schedules in a foreign language. Taxis are available 24/7 and you can take one from an official taxi rank, hail one from the street or call one of the many taxi companies that operate in the city.
TRAINED DRIVERS
Hand picked & english speaking drivers
LOW PRICES
Same price as a regular Taxi from the line
FLIGHT MONITORING
Drivers are always on time
QUALITY SUPPORT
24/7 Email & Phone support
How much does a taxi cost?
Night time


(00:00 - 05:00)
Sarajevo city centre ➙ Baščaršija
Sarajevo city centre ➙ Hrastovi
Sarajevo city centre ➙ Ilidža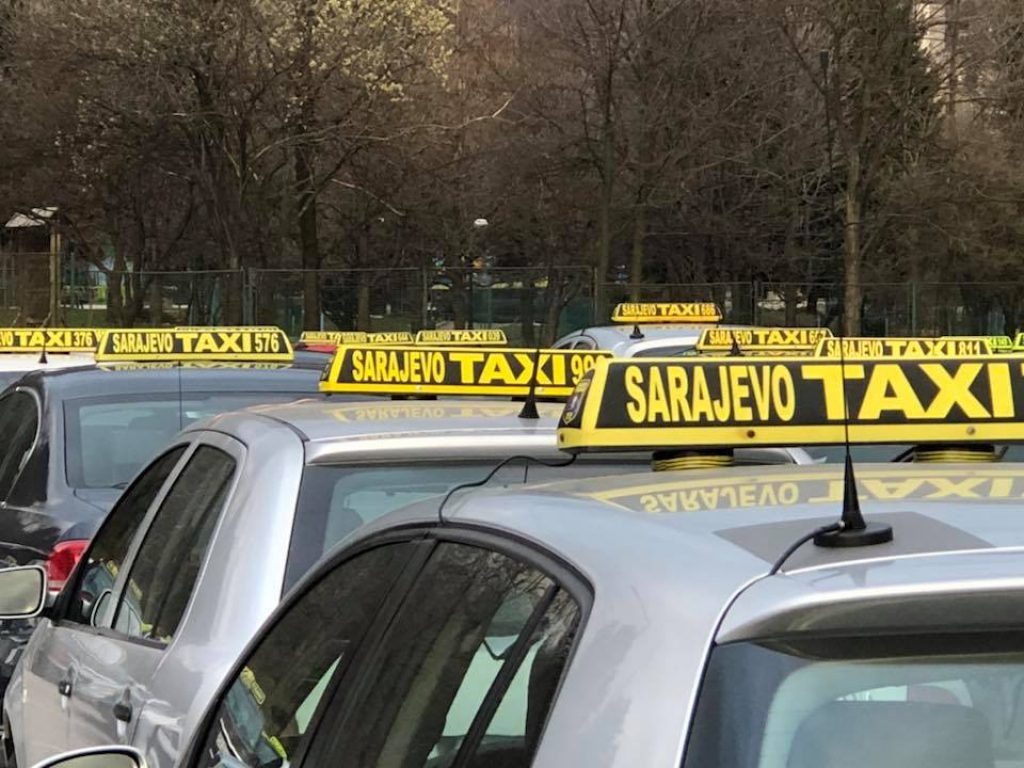 Sarajevo Taxi Fare
Taxis in Sarajevo are regulated by the state and the fare is calculated according to the total kilometres driven. All taxis are equipped with a taximeter, which the drivers are obliged to use during the whole ride and there is only one tariff throughout the day.
Base Fare – €1 (KM 1.90)
Minimum Rate/km – €0.60 (KM 1.20)
Keep in mind that there can be additional charges such as a waiting time fee of €6.50 (KM 12) per hour and €0.50 (KM 1) for each piece of luggage.
What our customers say about Welcome
How to Get a Taxi in Sarajevo
It's easy to find a taxi in Sarajevo at any time of the day. There are official taxi ranks near or outside busy locations like the airport or train stations but also tourist attractions. You can also hail a taxi from the street, just make sure that it's an official, licensed taxi. All official taxi vehicles have a lit TAXI sign on the roof and their license plate has the letters TA on them. Alternatively, you can pre-book your ride in advance or call one of the many taxi companies that are available in the city; the most popular ones are the following:
Sarajevo Taxi: +387 33 660 666
Crveni Taxi: +387 33 760 600
Kale Taxi: +387 33 570 900
Book your Sarajevo Taxi Service in Advance
To move around a foreign city in comfort, taxis are a great transportation option. Even though there are many different taxi companies in Sarajevo, having your taxi booked and paid for in advance and knowing that you'll get an English-speaking driver takes a lot of the stress off. That's what you get by pre-booking your Sarajevo taxi with Welcome Pickups; an enhanced travel experience, where you don't need to worry about waiting in lines, the local currency or being overcharged. Instead, you get a hand-picked professional driver, a private, modern vehicle and a friend on the ground who can even share tips about the city and the local culture.
Sarajevo Taxi Tips
Not all taxi drivers in Sarajevo speak English, so always make sure to have your address written down.
Most Sarajevo taxis don't accept card payments so always have some cash on you.
Once you enter the taxi, make sure that the driver sets the taximeter to the base fare of €1 (KM 1.90) and that it's in use throughout the ride.
It's best to ask for your receipt at the end of the ride, in case you forget any items in the taxi or face any issues.
If you're planning to head to Republika Srpska, be aware that the driver might take off the taxi sign as they're not allowed to drive on the ground with their taxi sign on.
Wheelchair Accessible Taxis in Sarajevo
Standard taxis in Sarajevo that you'll find at taxi ranks or that can be hailed from the street can fit a wheelchair in the trunk but aren't fully accessible to wheelchairs. To move around in comfort using a fully accessible taxi, you'll need to book one in advance, by calling the company Taxi 8 at +387 62 828 928. They are available 24/7 in Sarajevo and offer fully accessible vehicles equipped with ramps so wheelchair users can get on easily and travel safely.
Sarajevo Taxi Safety and Complaints
Taxis in Sarajevo are regulated by the state, which, overall, makes them safe to use as long as you use an official, licensed taxi. However, as service and work ethic may vary between the different drivers and taxi companies, if you think that you have been overcharged or you need to report a driver for unprofessional behaviour, make sure to ask for a receipt at the end of your ride and write down the driver's name, the company they work for and their registration number. You can then contact the Tourist Information Centre by calling +387 33 252 000 and they will guide you further on the necessary steps.