Taxis in Barcelona
Barcelona is a vibrant cultural capital with striking architecture, open green spaces, sandy beaches and countless attractions to discover. You will love getting lost in this colourful Catalan city. Feel the sand between your toes, marvel at Gaudi's quirky architecture or picnic in an idyllic park, the opportunities are endless. With so much to do and so little time, there's no need to wait in the heat or try to navigate the complicated public transport system, simply hop in an air-conditioned vehicle and enjoy a comfortable, hassle-free ride through the city.
There are over 10,000 black and yellow taxis serving the city of Barcelona, so you shouldn't have any problem getting around. Even though taking a taxi in Barcelona isn't the most budget-friendly option, it is the quickest and most convenient one. You can easily hail a Barcelona taxi from the street, find one of the many taxi ranks dotted around the city, book a private transfer in advance, or use an app.
TRAINED DRIVERS
Hand picked & english speaking drivers
LOW PRICES
Same price as a regular Taxi from the line
FLIGHT MONITORING
Drivers are always on time
QUALITY SUPPORT
24/7 Email & Phone support
How much does a taxi cost?
Night time


(00:00 - 05:00)
BARCELONA TO SANTS TRAIN STATION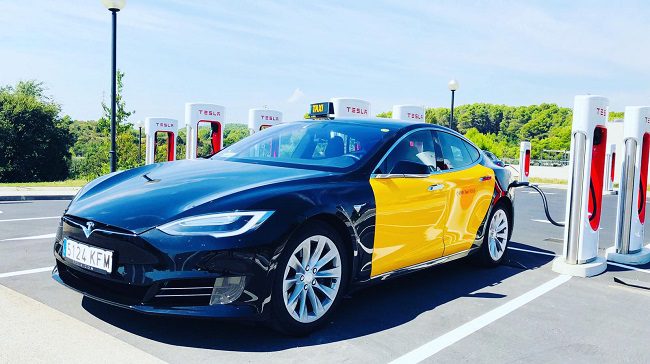 Barcelona taxis rates
Taxis in Barcelona have a standardised system based on a taximeter. There aren't any flat-rate fee journeys within the city of Barcelona as all routes are charged based on distance travelled and time taken. You can find the current fares and surcharges displayed on a yellow sticker in the rear passenger window of all the official taxis in Barcelona.
Base Fare: €2.55
Rate per km: €1.23
Rate per km (20:00-08:00, Sundays and public holidays): €1.45
*Extra charges apply for luggage (€1), travelling on New Year's or Christmas after 20:00 (surcharge of €3.10), keeping your taxi waiting for an hour (€24.60) and an extra €2.10 charge for taking a taxi from the ranks. A supplemental charge of €4.50 is added to journeys to and from Barcelona Airport and Barcelona Cruise Port, and a €2.50 charge applies for rides from Barcelona Sants Railway Station as well as an added fee of €3.10 for 4-8 passenger vehicles.
*Wheelchairs, strollers and guide dogs enter for free.
Please be aware that if you choose to take a Barcelona taxi from your hotel, prices may vary from those listed in the official list. Many hotels in the city have special deals with local taxis and private taxi companies, so if you book through your accommodation your journey might be a little more convenient but the prices could be higher due to hotel commissions.
What our customers say about Welcome
How to get a taxi in Barcelona
Taking a taxi in Barcelona is extremely easy. Whether you prefer to walk to a rank or simply hail one from the street, you won't have to wait long until you're on your way. Barcelona taxis operate 24/7 and you can find taxi ranks outside all of the major hubs such as hotels, bus stations, train stations, and even some tourist sites. Keep your eyes peeled for easily recognisable black and yellow vehicles with a taxi roof sign, you'll also see an identity card in the right corner of the front window and a yellow taxi fare sticker in the back right window. You can find taxi ranks directly outside Barcelona Nord Bus Station, Barcelona Sants Railway Station, the Cruise Port, in main squares and at set points throughout the city.
If you prefer to hail a taxi from the street, simply look for a taxi that has a green light in the window or to the side of the 'TAXI' sign on the roof, or you can use the official Barcelona AMB Yellow taxi app. There are also plenty of taxi apps available that you can use to book a taxi on the spot. Area Taxi (+34 666 76 3111) and Barcelona Taxi Service (+34 687 68 1942) are some reputable choices.
For customers who'd like to skip the search and favour a fully personalised, door-to-door service, we recommend booking a private transfer with Welcome Pickups to ensure a seamless experience.
Benefits of booking a Barcelona transfer in advance
Barcelona is a vibrant, busy city and if you want to see everything you can't hang about. If you prefer to pay a flat-rate fee in advance to avoid wasting time, or if you are planning a longer Barcelona transfer to the surrounding areas, you may want to pre-book a taxi.
There are countless Barcelona taxi and tour companies, but you can find some of the best rates and services with Welcome. There's no need to worry about hidden fees, language barriers or extra surcharges when you book with us, and you can even pay by card.
Our trusted, English-speaking drivers regularly operate several popular routes outside the city centre ring, including Lloret De Mar, Tarragona, Montserrat and Sitges. Not only that, but they can even take you on a fully customisable private tour to some epic destinations.
Barcelona taxi tips
Taxi drivers in Barcelona aren't obligated to carry more than €20 in change, so be sure to bring small notes.
Most taxis in Barcelona accept credit cards, but to be sure, simply look for the Mastercard/Visa logo in the passenger window.
Tips are always welcomed, but doing so isn't common in Barcelona.
Wheelchair Accessible taxis in Barcelona
Unfortunately, the standard taxis in Barcelona aren't fitted for wheelchair access. However, some companies specialise in wheelchair-accessible taxi cabs. A solid, reliable option is Taxi Amic (+34 93 420 8088). They are outfitted with spacious seating and an easy access ramp to comfortably accommodate any wheelchair size and run from 07:00 to 23:00 during the week and 08:00 to 22:00 on weekends.
Safety and complaints
Barcelona taxi drivers are generally reliable, however, some drivers may be dishonest and try to overcharge you using a few tricks or even shortchange you. You can find more details in Welcome's 'Safety tips and scams to avoid' section.
If your taxi driver does try to scam you during your Barcelona transfer, you can make an official complaint by calling or messaging Institut Metropolità del Taxi (+34 93 223 5151).
Be sure to keep your receipt as it contains important information such as the fare you paid, the taxi number, your driver's personal NIF number, the number plate number, the driver's electronic signature and the date.
If you left anything in the taxi, you can call Barcelona Taxi Lost Property (+34 93 707 0600) to try and locate it. The more information you have about your journey, such as the route, time and taxi number, the better.