Taxis in Lima
Lima offers an exotic range of emotions, sensations, colours and flavours; travellers can explore the colonial-era riches, enjoy the ocean, watch a gorgeous sunset or savour mouthwatering local dishes. That is why one visit to Lima can never be enough. But if you don't plan to visit the city twice, you might want to rethink your transportation. Public transport could be such a waste of time, especially if you are here for a few days. So hop in a Lima taxi and enter a world of luxury and convenience.
TRAINED DRIVERS
Hand picked & english speaking drivers
LOW PRICES
Same price as a regular Taxi from the line
FLIGHT MONITORING
Drivers are always on time
QUALITY SUPPORT
24/7 Email & Phone support
How much does a taxi cost?
Night time


(00:00 - 05:00)
Plaza de Armas to Miraflores
Plaza de Armas to San Isidoro
Plaza San Martin to Huaca Puchllana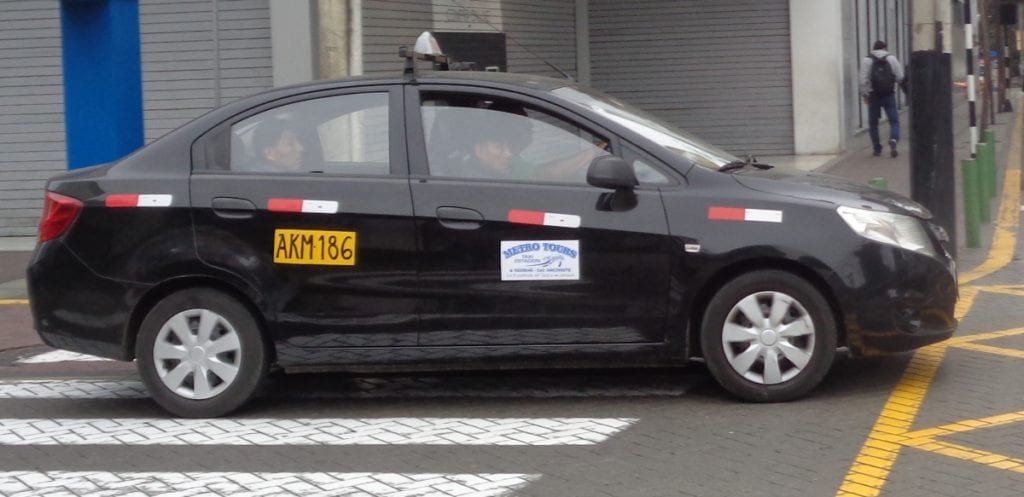 Cost of a Lima taxi
Unlike other large cities, Lima taxis lack meters and don't have a set price per kilometre, or a day/night fare. The final fare of your journey depends on the length of the journey, traffic conditions and your negotiation skills. Registered taxis generally tend to have higher rates.
Here are some rough estimates for common rides:
Lima Airport to Central Lima – €15 (PEN 59)
Lima Airport to Miraflores – €20 (PEN 79)
Lima Airport to San Borja – €22 (PEN 87)
*The good news is that you can haggle over fares (but it's harder during rush hour). If there are two or more passengers, be clear on whether the fare is per person or for the car.
The majority of taxis in Lima, Peru, are unregistered. At night, safety may become an issue, so better opt for a licensed driver. Official taxis should have checkers, a rectangular authorization sticker with the word SETAME on the upper left corner of the windshield and yellow paint.
What our customers say about Welcome
How to get a taxi in Lima
Lima is so full of taxis that it feels like every second car is a taxi. Finding one shouldn't be an issue. Registered drivers can be contacted by phone or found at taxi stands, such as the one outside the Sheraton in Central Lima or LarcoMar shopping mall in Miraflores. Travellers should take into account that registered taxis cost about 30% more but are a lot safer. Hopping directly into the taxi before you have agreed on a price is not a wise move. If you don't find the driver or his car trustworthy, it's better to politely say goodbye.
Drivers often wait outside popular tourist areas, the airport and major landmarks and often honk the horn to make you notice them. They can also be called by phone or booked in advance. Unfortunately, most of them have neither a taximeter nor GPS, so unless you head to a well-known destination or can give instructions to the driver, we'd recommend using a taxi app instead of just hailing a random cab in the street. You can use Uber, Cabify or Easy Taxi.
One of the safest options would be Taxi Rosenverg +51 (996) 312 529 and Taxi Real +51 01 (215) 1414. You can contact the latter at [email protected].
Benefits of booking a Lima taxi in advance
Lima's transportation system may not be the best one around. Travellers often report feeling unsafe when riding the metro or bus and complain about the low quality of the vehicles.
At Welcome, we believe that a wonderful vacation should be more than just staying on budget. Comfort is the name of the game and here at Welcome Pickups, we aspire to make you feel as if you're being driven around by a local friend.
Lima taxi tips
At night, it is highly advisable to call registered taxis for safety, which are recognisable by the license number on the side of the vehicle.
Don't get into the taxi before you have asked and negotiated the price, especially if this is your first time travelling to Lima.
90% of the taxi drivers in Lima don't speak English, so learning a few basic expressions in Spanish would guarantee a pleasant transfer.
Wheelchair-accessible taxis in Lima
Standard taxis in Lima aren't adapted for people with mobility issues. You could fold your chair and store it in the back if you're comfortable with that. Otherwise, to book a wheelchair-friendly taxi with a ramp, contact Yo Voy Peru at +51 (983) 405 421.
Safety and complaints for Lima taxis
Over the years, there have been reports of taxis being involved in robberies and kidnappings. Despite their reputation, registered drivers in Lima are very professional and friendly. Just make sure you enter a licensed car and note down the driver's ID in case you think you have been scammed. Then call the local police at +511 624 32 48.