Taxis in Miami
Finding a taxi in South Florida can be extremely tricky, but luckily, this isn't the case in Miami. There are thousands of yellow cabs in Miami ready to take you from point A to point B quickly and comfortably. Whether you're travelling from Miami International Airport, around downtown or between suburbs, it couldn't be easier to catch a cab. You can choose to hail a Miami taxi from the street, walk to a designated stand or call a radio taxi company.
TRAINED DRIVERS
Hand picked & english speaking drivers
LOW PRICES
Same price as a regular Taxi from the line
FLIGHT MONITORING
Drivers are always on time
QUALITY SUPPORT
24/7 Email & Phone support
How much does a taxi cost?
Night time


(00:00 - 05:00)
DOWNTOWN TO - SOUTH BEACH
DOWNTOWN TO - NORTH BEACH
NORTH BEACH TO - MIAMI SEAQUARIUM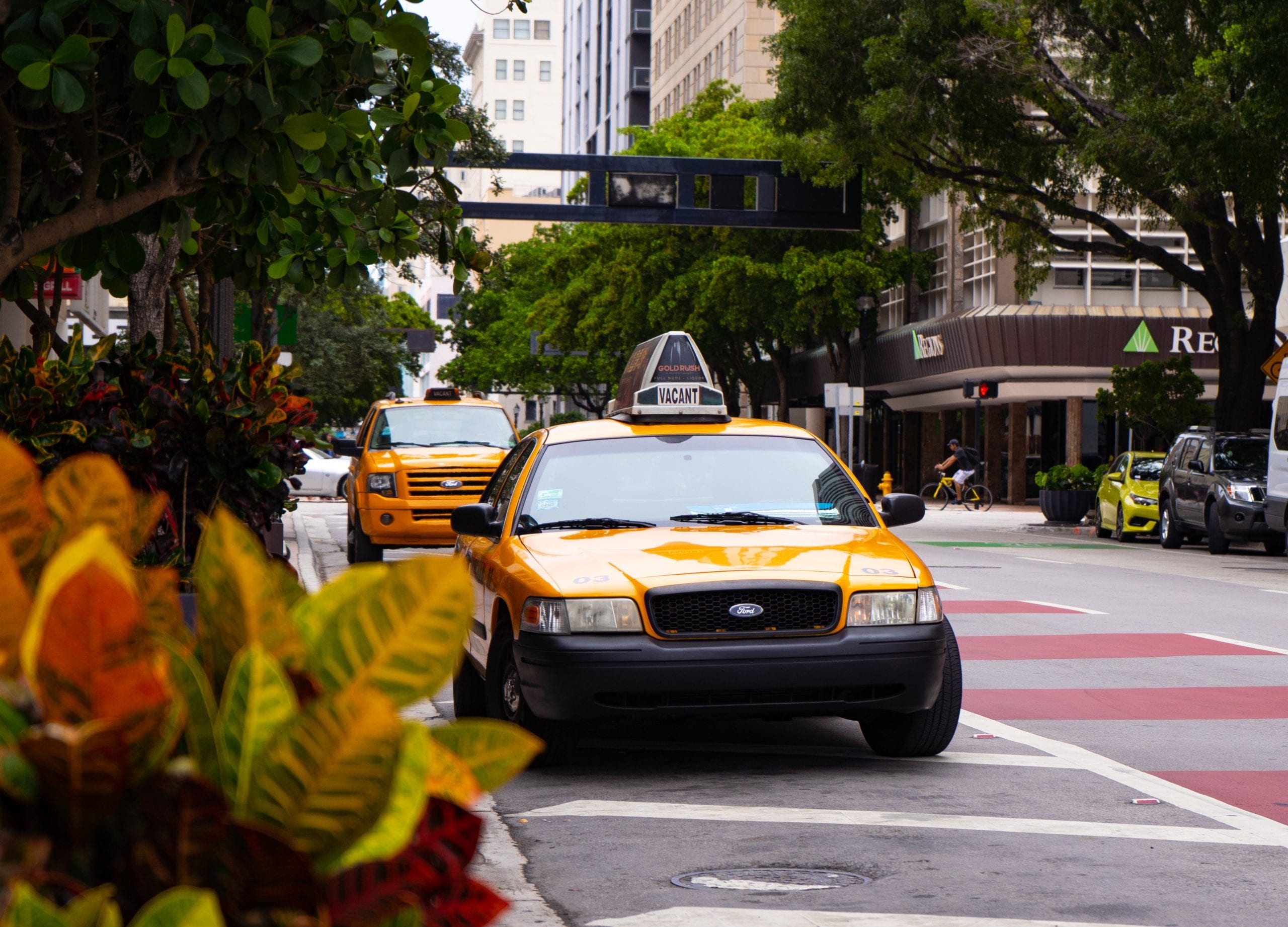 Miami taxi prices
Taxis in Miami usually calculate your fare using a taximeter. Although some taxi drivers may offer a set-rate fee for certain journeys, this is rare. Your driver should always have the meter clearly visible and running throughout your journey. You will then pay the fare shown on the meter once you reach your destination. 
Base Fare – €2.45
Price per 1/6 mile (up to first mile) – €0.70
Price per 1/6 mile (after first mile) – €0.33
It's worth mentioning that you may also be charged for things such as keeping your driver waiting (€0.33 per minute or €19.90 per hour), rides originating at the airport (€1.66) and any toll roads that you may pass through during your journey.
What our customers say about Welcome
How to get a taxi in Miami
Getting one of the yellow cabs in Miami couldn't be easier. You can hail one from the street by sticking out your arm when you see an empty vehicle, by calling a local company or walking to a taxi stand. 
If you're downtown, you can find the designated Miami taxi stands all over the city; outside shopping malls, major hotels, at Miami Beach, North Beach and the airport. Simply walk to the front of the line and tell the driver where you'd like to go. 
Calling for a yellow cab in Miami is a great idea if you're travelling late at night or are in the suburbs. Although there may be an additional fee for this service, the convenience and safety of waiting indoors can't be beaten. There are many radio taxi companies in Miami but here are a few of the most popular: 
USA Taxi: +1 305 897 3333
Super E-Z Taxi: +1 305 885 5555
Central Cab: +1 305 532 5555
Yellow Cab: +1 305 444 4444
Flamingo Taxis: +1 305 599 9999
Book your Miami taxi service in advance
Although there are plenty of yellow cabs in Miami, if you're travelling at night, during peak season or bad weather, you could have a long wait for a taxi. Instead, why not enjoy the peace of mind that all your trips and transfers are taken care of by booking your Miami taxi in advance. If you'd like the guarantee of on-time pickups, 24/7 customer service and knowledgable local drivers, why not book your Miami taxi in advance with Welcome Pickups?
Miami taxi tips
Most taxis in Miami accept credit card payments.
If you pay in cash, you can get a discount of €2.25.
Taxis in Miami don't charge extra for luggage.
Make sure your driver resets the taximeter to the base fare before beginning your journey.
Wheelchair accessible taxis in Miami
Unlike most other cities, Miami has a wide range of wheelchair accessible taxi companies available, some of which you may even be able to flag down in the street. The company with the largest fleet of wheelchair accessible vehicles is Super Yellow Taxi. They have over 25 vehicles that are equipped with either a ramp or electronic lift for wheelchairs. To book, you can call them on +1 305 888 7777.
A few other wheelchair accessible taxis in Miami are:
Springs Cab: +1 305 888 1111
Crown Taxi: +1 305 445 5555
Yellow Cab: +1 305 444 4444
Transportation Sunshine: +1 305 445 3333
Miami taxi safety and complaints
Although licensed taxis in Miami are safe and secure, there are many unlicensed ones driving the streets. To ensure you're taking a legal taxi service in Miami, check for the word 'TAXI' or 'CAB' written on the vehicle and the company's phone number and the taxi number clearly displayed. Once in the taxi, you should also see the driver's rate card and ID number. If you do experience any bad behaviour or feel you have been scammed, report it to the Miami Police by calling +1 305 579 6111 or visiting the station at 200 W Flagler St.