Get around safely in an Abuja taxi
The proud capital city of Nigeria sprawls out from under the watchful eye of the mighty Aso Rock. At its base, you will find the Presidential Complex, which is home to the president of Nigeria. Further to the south, you will find the heart of Abuja, filled with local eateries, museums, art galleries, breweries and stunning mosques. One of the most important mosques is the Abuja National Mosque, topped with a glistening golden dome, a must-see while in the city.
To get around this large capital city, we recommend using a reliable Abuja taxi service. You can easily hail an Abuja taxi in the street, use one of the taxi apps in Abuja, pre-book your rides with a private company or call for a phone dispatch taxi.
TRAINED DRIVERS
Hand picked & english speaking drivers
LOW PRICES
Same price as a regular Taxi from the line
FLIGHT MONITORING
Drivers are always on time
QUALITY SUPPORT
24/7 Email & Phone support
How much does a taxi cost?
Night time


(00:00 - 05:00)
FROM ZUMA ROCK RESORT TO JABI PARK
FROM NATIONAL ZOO TO ABUJA NATIONAL MOSQUE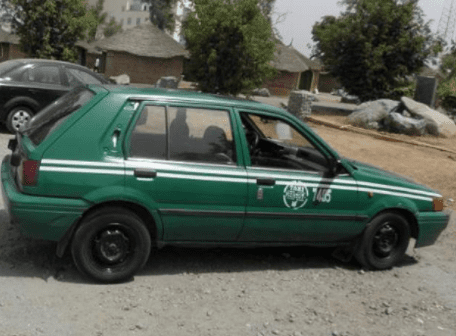 The average taxi cost in Abuja
When it comes to taxi prices in Abuja, this will depend heavily on your driver and whether they choose to use their taximeter or not. All Abuja taxis are supposed to be fitted with a taximeter that respects the Nigerian government's tariffs. However, many drivers prefer to switch off their meter and give you a set fare based on your destination. If your driver does use their taximeter, your taxi cost in Abuja will be calculated as follows:
Base fare: €0.60 (NGN 500)
Price per km: €0.30 (NGN 275)
Per 1-hour wait: €2.40 (NGN 2,000)
What our customers say about Welcome
How to get an Abuja taxi service
Taxis in Abuja are usually bright green in colour with the city emblem on the front door. However, some private companies are now choosing to paint their cars a different colour, most commonly dark blue with a yellow stripe down the middle. These taxis are usually only available via the available taxi apps in Abuja or over the phone. 
You can easily hail one of the green taxis in the street if you're in the city centre. However, if you're travelling late at night or from outside the main city ring, we recommend pre-booking your Abuja taxi service or calling one of the following phone dispatch numbers:
Cotrac Cabs: +234 812 228 1970
Parkwest Cabs: +234 809 221 2222
Bolt: ​​+234 012 279 179
Abuja Taxis: +234 902 450 0725
Why book your Abuja taxi with Welcome Pickups
Unfortunately, there are quite a few unlicensed taxi drivers in Abuja. This means that it can be a gamble when it comes to the quality of service and taxi prices in Abuja. To avoid these issues, we highly recommend pre-booking your door-to-door Abuja taxi service with a trusted company such as Welcome Pickups. All of our drivers are fully licensed and English-speaking. We also offer guaranteed on-time pickup times, fixed fares that can be pre-paid, and 24-hour customer service teams that will be there to answer any transport questions you may have during your stay in Abuja.
Abuja taxi tips
Be sure to only use an Abuja taxi service if the car has the city emblem and a clear taxi number on the door.
Abuja taxi drivers don't accept card payments, you will need to pay in cash.
To tip your driver, you can round up your fare to the nearest 100 NGN.
Phone dispatch Abuja taxis will usually give you a fixed fare rather than using a taximeter, be sure to ask for a fare estimate when booking.
Wheelchair-accessible Abuja taxi service
Unfortunately, there are no official wheelchair-accessible taxis in Abuja. The standard taxis are sedan vehicles that don't have space for a wheelchair user and aren't equipped with lifts or ramps. If you're in need of a fully outfitted, wheelchair-accessible Abuja taxi service, we suggest pre-booking with a private company or via a travel agency before landing in Nigeria.
Abuja taxi safety and complaints
In Abuja, there are both government-registered taxis and private companies. When booking your Abuja taxi with a private company, be sure to ask for the taxi number and price before finalising the booking, to ensure you are getting a fair deal. With the Green Government Abuja taxi services, you will need to check that the car has the official government emblem on the front door and that there is a clear taxi number printed on the vehicle.
When taking an Abuja taxi, only get into the car if you see the driver's ID clearly displayed and it matches the driver of the vehicle.