Accra taxi service; the best way to travel
From museums and parks to golden sand beaches and vibrant nightlife, the capital city of Ghana has so much to offer. Accra is located on the Atlantic coast of West Africa, so has some spectacular beaches to enjoy. Labadi Beach is the perfect place to relax during the day, then after sunset, it comes alive with many bars, live music and clubs. Be sure to also check out the city's largest and most colourful bazaar, Makola Market, for some locally crafted gems. To get around this huge city, the quickest and safest way to travel is by taking an Accra taxi service. You can hail a taxi in Accra in the street, pre-book your transfers or call one of the local taxi stations for a pickup.
TRAINED DRIVERS
Hand picked & english speaking drivers
LOW PRICES
Same price as a regular Taxi from the line
FLIGHT MONITORING
Drivers are always on time
QUALITY SUPPORT
24/7 Email & Phone support
How much does a taxi cost?
Night time


(00:00 - 05:00)
FROM NATIONAL MUSEUM TO LABADI BEACH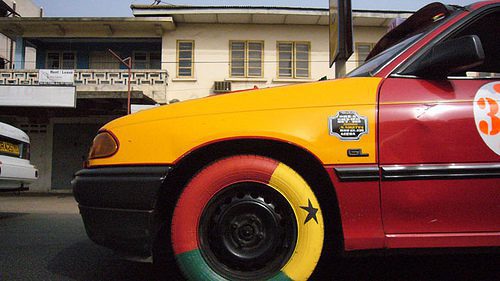 How much is a taxi in Accra?
There are no fixed rates or taximeters in Accra. When taking a taxi in Accra, be prepared to haggle with the driver, especially if you're a tourist just arriving in the city. During the evenings and weekends, the drivers tend to up their prices slightly, but as a general rule of thumb, you can expect to pay anywhere between €1 to €2.50 (GHC 10 to 30) for short journeys from one place to another around the city centre.
What our customers say about Welcome
How to get a taxi in Accra
Taxis in Accra can come in all colours and shapes, but they always have a bright orange block painted at the front and rear of the car. You can hail a Taxi in Accra in the street if you see an empty one drive by, book your rides in advance for a more personalised transfer, or call a local Accra taxi dispatch company. Some of the better-rated taxi ranks to call are:
MissTaxi: +233 555 050 950
Brigade Taxi Rank: +233 205 070 187
Tsui Bleoo Taxi Station:​​ +233 247 254 414
Tebibiano Taxi Station: +233 552 299 995
Benefits of booking your Accra taxi service with Welcome
Having to haggle with local drivers or wait in the street for an empty taxi to pass can be very frustrating. To avoid this, why not pre-book your Accra taxi service with Welcome Pickups? All of our local drivers speak fluent English, offer fixed-rate fares and guarantee on-time pickups, every time. We also have a dedicated 24-hour customer service team, should you have any questions or problems during your stay.
Accra taxi tips
Make sure you agree on a price with your Accra taxi driver before getting into the taxi.
Accra taxi drivers may increase their prices at night, though this isn't an official increase.
You must pay for your Accra taxi service in cash in the local currency, card payments are not accepted.
Rounding up your fare to tip your Accra taxi driver if you enjoyed their service is always appreciated.
Wheelchair-accessible taxi in Accra
Standard Accra taxis aren't wheelchair accessible. However, there are dedicated companies that offer fully wheelchair-accessible vehicles, complete with ramps and hydraulic lifts. If you're in need of a specialised vehicle, you can book with Medical Taxi by calling +233 246 945 697.
Accra taxi safety and complaints
When taking a taxi in Accra, it's very important to only get in a vehicle that is official and registered. Many taxis in Accra are old and don't have a valid taxi license. Be sure to only get in taxis that look well-maintained and where you can clearly see the driver's up-to-date taxi ID.
Keep note of the vehicle's license plate in case you face any issues, to support any complaints.