The best taxi service in Ahmedabad
The sprawling city of Ahmedabad is the largest in the Gujarat state of India. You can spend your morning walking along the scenic banks of the mighty Sabarmati River, then explore some of the fascinating museums found along the riverside. After a delicious traditional lunch, you can visit the Sabarmati Ashram, the home where Mahatma Gandhi spent a lot of his childhood. To explore all of the incredible cultural sites of Ahmedabad, the best way to get around the city quickly and safely is to use a taxi service in Ahmedabad. You can hail a cab in the street, pre-book your transfers or call one of the many different private Ahmedabad taxi service providers.
TRAINED DRIVERS
Hand picked & english speaking drivers
LOW PRICES
Same price as a regular Taxi from the line
FLIGHT MONITORING
Drivers are always on time
QUALITY SUPPORT
24/7 Email & Phone support
How much does a taxi cost?
Night time


(00:00 - 05:00)
FROM AHMEDABAD JUNCTION TO GANDHI ASHRAM
FROM SABARMATI RIVERFRONT FLOWER PARK TO PARIMAL GARDEN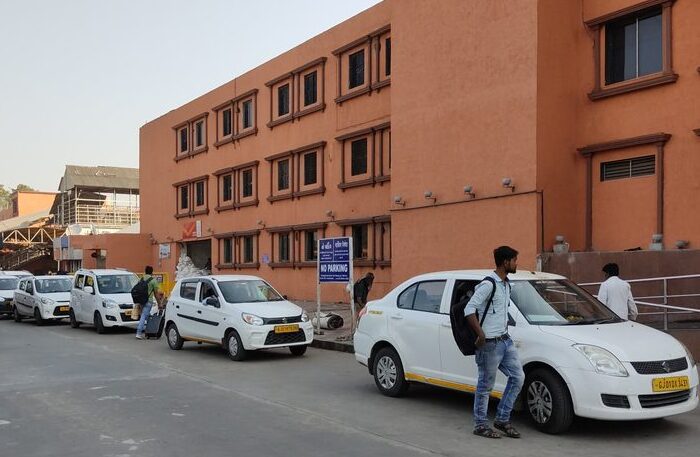 Cost of an Ahmedabad taxi service
Taking a taxi service in Ahmedabad is an economical way to travel compared to most other major cities. However, there are no officially set rates, so each taxi company will choose its own fares and tariffs. Many Ahmedabad taxi drivers will simply give you a set fare based on your destination, however, some may use a taximeter.
If your Ahmedabad taxi service provider uses a taximeter, the tariff will depend on things such as the vehicle type, if your driver uses the air conditioning, the time of day and the number of passengers. To hire a taxi driver in Ahmedabad for an 8-hour day, fares usually start at €34 (INR 3,000).
What our customers say about Welcome
How to get a taxi in Ahmedabad
There are many taxi services in Ahmedabad to choose from, so getting a taxi in Ahmedabad is easy. Unlike many other major cities, there are no official government taxis, they are all owned by private companies. You can usually hail an Ahmedabad taxi in the street if you're in the central area, and you will find taxis waiting in groups at tourist spots, the airport, the train and bus stations. 
If you're travelling late at night or would prefer a more personalised service, you can pre-book your transfers or call one of the phone dispatch taxi services in Ahmedabad. Some of the better-rated Ahmedabad taxi companies you can phone are; 
Rajputana Cabs: +91 978 395 7913
Chiku Cab: +91 844 844 5504
Bharat Taxi: +91 969 600 0999
Ahmedabad Taxi: +91 875 815 6592
Booking your taxi service in Ahmedabad with Welcome
As there are so many different Ahmedabad taxi companies available, the levels of service can really differ. If you're a single woman travelling alone, many taxi services in Ahmedabad may even refuse to give you a ride. To avoid these issues and enjoy a safe and pleasant experience every time, we suggest pre-booking your taxi service in Ahmedabad with Welcome Pickups. We offer guaranteed on-time pickups, friendly, English-speaking drivers, 24-hour customer support and competitive fixed-rate fares for your convenience and peace of mind.
Ahmedabad taxi tips
Try to agree on a price with your Ahmedabad taxi driver before getting in the taxi to avoid being overcharged.
Not all taxis in Ahmedabad will give rides to single women travelling alone.
For your safety, only get in a taxi with a very clear taxi ID and taxi number on the side.
A standard taxi service in Ahmedabad is for up to 4 people.
Wheelchair-accessible taxi service in Ahmedabad
Although the standard taxis in Ahmedabad aren't wheelchair accessible, there's a dedicated company that has made travelling around the city easy for those in need of an adapted vehicle. Ability on Wheels has fully accessible vehicles for a wheelchair user and one to two other passengers. You can book with them online or by calling them at +91 704 603 3888.
Ahmedabad taxi safety and complaints
When taking a local Ahmedabad taxi service, it's important to only book with reputable companies. Ensure the taxi has a clearly marked taxi number and that the driver has their official ID showing. If you do experience any issues during your journey, you will need to report it directly to the company you travelled with. The name and number of the company are usually posted on the side of the vehicle or inside on a sticker.