Using a taxi in Alexandria
Alexandria is a famous port city lying on the Mediterranean coast and the second largest city in Egypt. It used to be home to one of the Seven Wonders of the World, the great lighthouse, the Pharos of Alexandria and still remains an interesting city to explore during your Egypt trip.
Using a taxi in Alexandria is a convenient option to get from one point of interest to the next whether it's within the city centre or to a nearby destination. It's a popular option among tourists who wish to avoid using public transport and you should be able to find an available Alexandria taxi cab 24/7 wherever you are. Although taxi service in Alexandria Egypt is regulated by the local authorities and a taximeter should be used to calculate the fare, many drivers don't adhere to this rule; it's therefore recommended to agree on the fare before you start the ride and you can negotiate if you think the price that the driver suggests is too high. If that sounds like too much trouble and you prefer to know the exact fare in advance, it's a good idea to pre-book an Alexandria taxi with a company like Welcome Pickups for a smoother experience and a fixed rate that you'll pay in advance.
TRAINED DRIVERS
Hand picked & english speaking drivers
LOW PRICES
Same price as a regular Taxi from the line
FLIGHT MONITORING
Drivers are always on time
QUALITY SUPPORT
24/7 Email & Phone support
How much does a taxi cost?
Night time


(00:00 - 05:00)
ALEXANDRIA CITY CENTRE ➙ LIBRARY OF ALEXANDRIA
ALEXANDRIA CITY CENTRE ➙ CITADEL OF QAITBAY
ALEXANDRIA CITY CENTRE ➙ ROYAL JEWELRY MUSEUM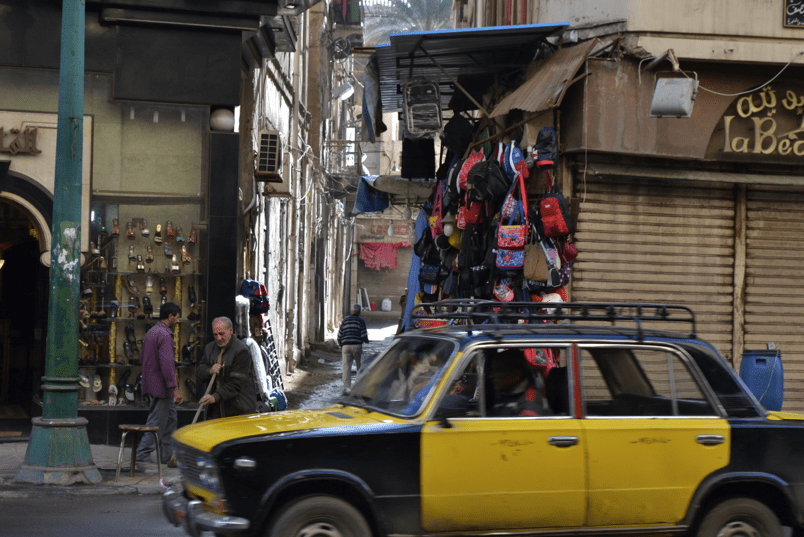 Alexandria taxi prices
Many travellers choose to use Alexandria taxi cabs as their main transportation option to move around the city quickly and comfortably. Local authorities regulate Alexandria taxi service to prevent scams and an attempt has been made to make the use of taximeter mandatory, similar to other cities in Egypt. There are still drivers, however, who don't use their taximeter and will give you a fixed fare instead, depending on your destination. You can use the following rates as a reference to ensure you're not being overcharged:
Avg. base fee – €0.18 (EGP 6)
Avg. rate/km – €0.07 (EGP 2.55)
Note that each operator might charge differently depending on the number of passengers, luggage and/or time of day. It's highly recommended to ask how much the fare will be before you enter the taxi or pre-book and pre-pay for your Alexandria taxi to ensure a fixed rate.
What our customers say about Welcome
Finding taxi service in Alexandria, Egypt
Taking a taxi in Alexandria is a very convenient transportation option to move around the city quickly and comfortably. You can usually find an Alexandria taxi 24/7 in most locations; you'll easily recognise them as most official taxis are black and white or black and yellow with a taxi sign on the roof.
If you're in need of a taxi, you can simply wave over to the driver and if they're available they'll pull over to pick you up. If you're near a busy location or a tourist attraction, you'll also most probably see taxis lined up waiting to pick up passengers. Another option to find a taxi in Alexandria is to order one online; there are operators that give you the option to order a taxi through their application on your mobile.
Keep in mind that in Alexandria, besides private operators offering shuttle service, taxis are not really run by big companies and there is no unique Alexandria taxi number to order a taxi over the phone.
Pre-book your taxi in Alexandria
Having your transfers pre-arranged instead of looking for a taxi on the spot, can offer a smoother and stress-free experience during your trip. Whether you want reliable door-to-door service after arriving at Alexandria Airport or a friendly, English-speaking driver to explore the city and nearby destinations, you can pre-book your Alexandria taxi with Welcome Pickups. You'll have a driver whenever you need a ride without having to locate the nearest rank or call any Alexandria taxi number that might not be available in English. With Welcome, you'll enjoy professional service, but what's best is that you'll ensure a fixed fare that you'll know and pay for in advance; no need to negotiate the fare or worry about sketchy drivers who might try to overcharge foreigners.
Alexandria taxi tips
Not all Alexandria taxi drivers speak English; it's best to have your destination or any other important information written down in Arabic.
Tipping your driver isn't customary or expected but it's always welcomed; you can simply round up the fare if you are happy with the service received.
If you don't see a taximeter on the dashboard or the driver doesn't turn it on, make sure to ask how much the fare will be and negotiate if needed.
In Egypt, it's common for taxi drivers to pick up additional passengers along the way. There's no reason to be alarmed but if you feel uncomfortable, you can politely say to the driver that you prefer a private ride.
Wheelchair accessible Alexandria taxi service
Alexandria and other major cities in Egypt are suitable for all travellers, including wheelchair users. With some proper planning, you'll be able to enjoy all the city has to offer. A standard Alexandria taxi that you'll find on the street can fit a foldable wheelchair in the trunk but local taxis are rarely fully accessible. If you require a fully accessible vehicle during your trip, you can make arrangements with a local travel agency or tour operator to confirm your transportation in advance and enjoy peace of mind during your trip.
Alexandria taxi safety and complaints
The Alexandria taxi service is a safe transportation option in general, as long as you can spot and avoid a sketchy driver. It's common for drivers to not use a taximeter so that alone should not be a reason to be alarmed; just be ready to ask how much the ride will cost and don't hesitate to negotiate if the fare seems high.
If you encounter any issues with the pricing at the end of the ride or the driver shows unprofessional or inappropriate behaviour, you can reach out to the local police. Most taxi drivers in Alexandria don't work for big companies, so make sure to write down the driver's name, registration number and license plate; this will help the police locate the driver.