Algiers Taxi Service
Algiers, the capital of Algeria, is a city with a rich history and culture that attracts visitors from around the world. Located on the Mediterranean coast, Algiers is known for its stunning beaches, colourful markets, and beautiful architecture. The city is home to a number of important historical and cultural sites, including the Kasbah of Algiers, a UNESCO World Heritage site that dates back to the Ottoman period. Visitors to Algiers can also explore the National Museum of Algerian History, which showcases the country's diverse cultural heritage. The city is also known for its vibrant nightlife, with a variety of clubs, bars, and restaurants offering live music and entertainment.
With so much to explore in Algiers, you will need a way to get around easily and efficiently. A taxi or private transfer is the fastest and most convenient way to navigate the bustling city. There are plenty of cabs on the streets of Algiers, so you won't have any trouble finding one. However, as the quality and cost can vary significantly between the different Algiers taxi drivers and companies, we recommend booking in advance with a reputable provider so that you can secure a fixed rate for your transfers.
TRAINED DRIVERS
Hand picked & english speaking drivers
LOW PRICES
Same price as a regular Taxi from the line
FLIGHT MONITORING
Drivers are always on time
QUALITY SUPPORT
24/7 Email & Phone support
How much does a taxi cost?
Night time


(00:00 - 05:00)
Martyr's Memorial to Bardo National Museum of Prehistory and Ethnography
Casbah of Algiers to Church of Notre Dame of Africa
National Museum of Antiquities and Islamic Art to Botanical Garden Hamma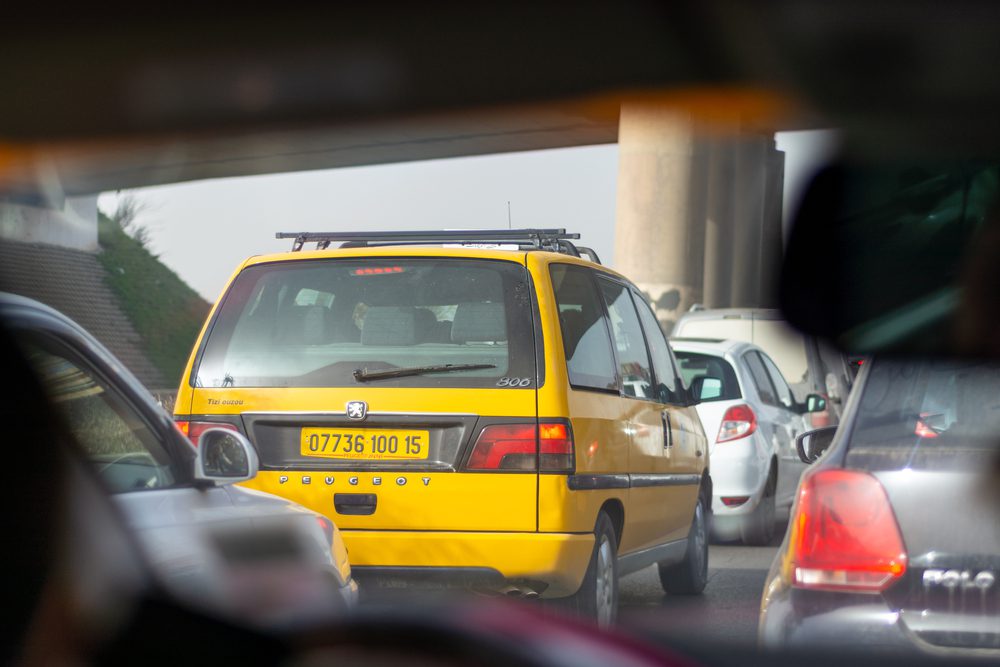 Algiers Taxi Prices
Although many taxis in Algiers may be fitted with taximeters, few tend to use them. Most commonly, drivers will provide a fixed fee depending on the destination, but the fare can vary significantly. For this reason, it's best to estimate what the trip will cost so that you can negotiate the final price with the driver before getting into the cab. You can search online to get an idea of the fares but, as information is limited, we recommend asking your hotel concierge for a more accurate estimate.
Day rates
Initial fare:  €0.30 (DZD 50)
Price per km: €0.30 (DZD 50)
Waiting tariff per hour: €4 (DZD 600)
Due to a lack of available information, all rates should serve as rough estimates only. For the same reason, we are unable to provide you with night rates at this time, but please note that Algiers taxis have higher tariffs during night hours. Local taxi rates are subject to change and there could be additional charges, so we advise enquiring about surcharges in advance with your chosen provider. For your peace of mind and a competitive fixed-rate fare guarantee, you can always book in advance with Welcome Pickups.
What our customers say about Welcome
How to Get a Taxi in Algiers
Finding a taxi in Algiers is simple as there are a lot of cabs driving around the city. However, as Algiers taxis are poorly regulated, visitors are advised to avoid taking a cab from the street, and instead, book any transfers with an official, highly-rated taxi company. There are several taxi companies operating in Algiers and we've listed some of the top-rated ones you can phone for a pickup service below. Keep in mind that you should always ask about surcharges and a fixed rate or cost estimate before booking. In recent years, there are also Algerian taxi apps available, such as Yassir or TemTem, which are preferred among locals although you may only pay in cash, in most cases.
Taxi Alger: +213 (0) 561 61 60 01
Lotus cab: +213 (0) 555 83 55 66
1er Mai: +213 (0) 554 70 82 10
Pre-Book your Algiers Taxi Service
The simplest and most convenient way to make the most of your time in Algiers is to book a private transfer with Welcome. Our personalised services guarantee on-time pickups, 24/7 customer support, and high-quality door-to-door transfers with hand-picked professional local drivers. A reliable and comfortable transfer can offer you the peace of mind you deserve so that you can enjoy this incredible city to the fullest!
Algiers Taxi Tips
It is recommended that tourists book with respectable cab companies instead of using a taxi from the street.
Algiers taxi cabs do not accept cards, so you will have to have cash in the local currency to pay for your rides.
Tipping your driver is not customary in the city of Algiers, but should you want to, you can round up the fare to the next 10 dinars.
As taximeters are not commonly used in Algiers, we strongly recommend that you negotiate with the driver and agree on a set price for the trip before getting into the taxi to avoid surprises.
Wheelchair-Accessible Taxis in Algiers
Sadly, although the standard taxis in Algiers may accommodate a folded wheelchair in their trunk, there currently isn't a fully wheelchair-accessible taxi in Algiers at this time. It's worth contacting your preferred tour provider to enquire if a more comfortable option can be offered upon request for your local transfers.
Algiers Taxi Safety and Complaints
Taxis in Algiers are poorly regulated, so visitors are advised to only use trusted companies for their transfers instead of hailing a cab in the street. Should you need to file a complaint or require police assistance, you can contact the Algiers Police by calling 1548 or speaking to a traffic police officer on the street.